Creative Portfolio Workshop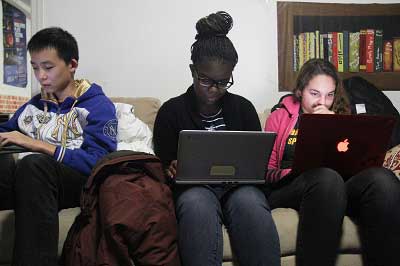 Writopia Lab's Creative Portfolio workshops challenge high school writers to broaden and deepen their writing by developing a multi-genre body of work over the course of the school year.
Participation includes
33 weekly workshop sessions over three school-year trimesters

No makeups for weather or absences

A one-day Submissions Prep workshop in December
One hour per trimester of Portfolio Review one-on-one between the writer and their instructor
Option for early registration to WriCampia summer sleepaway camp
Internship

Participants must commit to completing at least one trimester-long internship during the school year
Creative Portfolio places an emphasis on understanding how writing in a variety of forms (narrative, poetry, memoir, script) enriches and informs every writer. Workshops are fun, engaging, and designed to expand skills. Students are challenged to set and achieve writing goals: completing multiple well-developed, polished pieces in different genres throughout the school year. Through our innovative workshop method, we empower students as peer leaders as they gain skills in writing, editing, analysis, and effective communication. The workshops allow a community of teen writers to find each other, connect via their literary passions, and have lots of fun.
Workshops are student-centered and author-led. Our students flourish in these multi-genre workshops where they can gain exposure to diverse styles and voices. Sessions are peppered with original and fun writing exercises, but focus primarily on writing—and completing—stories. It is a true workshop in which students get to share their writing in a safe and supportive space; students learn how to give and receive insightful feedback.
Please contact RegisterNYMN@Writopialab.org for questions or to enroll in a Creative Portfolio workshop for the 2017-18 school-year.
The fee for the school-year is $1,846. If you cannot afford this fee but would like to participate, please contact RegisterNYMN@Writopialab.org for sliding scale information.