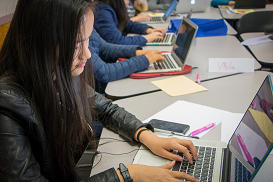 Writopia Lab's
National Write In and Write-a-Thon!
When

Sunday, April 22nd, 2018

Where

Manhattan
Upper West Side
(address coming soon!)

Brooklyn
Park Slope
(address coming soon!)

New York Metro North
Hartsdale
104 North Washington Avenue
Hartsdale, NY 10530
Washington, D.C.
(address coming soon!)

Chicago
West Loop
(address coming soon!)
Los Angeles
Westside
(address coming soon!)
San Francisco Bay Area
(address coming soon!)

Details

Join other dedicated writers for an all-day writing session at one of Writopia's labs across the country. You'll meet with nationally recognized writers, work with Writopia's professional writing instructors, and bond with writers from across your region. Whether you're an experienced Writopian or have never heard of us, if you're excited to spend a day writing, we're excited to host you!

Includes:

Quiet, uncensored writing spaces
A community of dedicated, passionate writes
Writopia instructors
We'll have plenty of laptops!
A 20-minute poetry (un)slam
A celebrity author visit
Pizza and snacks
$20 per person
Region specific details coming soon! For questions about this event, please contact us.