PRESS
---

Friday, April 9, 2010
Our Radiant Windows community project was covered by Time Out New York, with an article featuring Daniell Haas Freeman, and a picture of her and her family. Congratulations Danielle! And thank you for being part of this great project.
---

Wednesday, February 17, 2010
Writopia Lab founder and executive director, Rebecca Wallace-Segall, was honored to be invited to speak at Hunter College High School's PTA meeting last month. Hunter Hilites recapped her lecture on page 9 of its latest issue:
---
Wednesday, December 23, 2009
---

Tuesday, October 27, 2009
---

Wednesday, July 1, 2009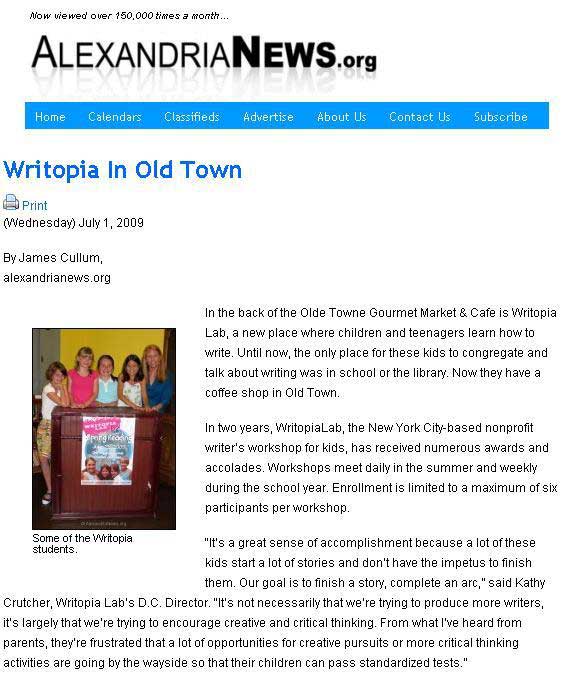 Read the rest of the article on the Alexandria News site.
---
Wednesday, December 10, 2008
Blog of Note: Writopia Lab Interesting and noteworthy Blogger-powered blogs, compiled by the Blogger Team. For historical context, see Concerning the Historie and Nature of Blogs of Note.
---
November 28, 2007





In Praise of 'Thought Competition'
By REBECCA WALLACE-SEGALL
November 28, 2007; Page A23

Monday: After a long day at his New York City private school, Ben, 16, heads to my creative writing lab to work on his heartfelt memoir about his parents' bitter divorce. Tuesday: Alison, 15, rushes from her elite private school in the Bronx to work on her short screenplay about a gifted, mean and eccentric boy. Lily, 13, pops in whenever she can to polish her hilarious short story narrated by an insomniac owl.

Ben, Alison and Lily, along with another few dozen who attend my afterschool writing program, also attend top-notch New York private schools that cost upwards of $25,000 a year. So why, one might wonder, do these kids need an extracurricular creative writing coach? The answer is simple, though twisted: Their schools -- while touting well-known athletic teams -- are offshoots of the "progressive education" movement and uphold a categorical belief that "thought competition" is treacherous.

Administrators of these schools will not support their students in literary, science or math competitions, including the most prestigious creative writing event in the country: the Scholastic Art & Writing Awards. So we at Writopia Lab help these kids to join the 10,000 young literati from across the country who are hurrying to meet the event's January deadline, as well as deadlines for other competitions.

For decades now, psychology and pedagogy researchers have been debating the impact of competition on young people's self-esteem, with those wary of thought competition taking the lead. Most New York parents of public or private school students have felt the awkward reverberations of this trend -- which avoids naming winners -- when Johnny takes home a certificate for "participation" in the school's science fair. (Do you hang that one up on the wall?)

But some, and ironically those who attend some of the most desirable schools in the region, feel the reverberations in deeper, more painful ways. "Two years after my son left a school that prohibited him from entering a national math competition," says one mother, "he still writes angry essays about why the jocks in his former school were allowed to compete throughout the city while he wasn't allowed to win the same honors for his gifts." Sam, her son, felt uncool in the eyes of his peers, and undervalued (and sometimes even resented) by the administration.

"We don't want kids to compete individually, put themselves in vulnerable positions as individuals," explains a leading administrator. "They can compete within teams," explains another. "So the focus is on community building rather than on personal value."

But what about Sam's sense of personal value? Aren't human beings fabulously varied in their gifts and sensibilities? Excellent teamwork can be important, but is it the only admirable achievement? Should any school in the United States prevent broader acknowledgment of a young, creative mathematician?

Mel Levine, a professor at the University of North Carolina and one of the foremost authorities in the country on how children learn, believes the impact of the collaborative education movement has been devastating to an entire generation. When students are rewarded for participation rather than achievement, Dr. Levine suggests, they don't have a strong sense of what they are good at and what they're not. Thus older members of Generation Y might be in for quite a shock when they show up for work at their first jobs. "They expect to be immediate heroes and heroines. They expect a lot of feedback on a daily basis. They expect grade inflation, they expect to be told what a wonderful job they're doing," says Dr. Levine.

What is most surprising about the brand of educational progressivism that denies creative and innovative teens the right to compete for public acknowledgment is the seeming lack of interest in distinguishing between positive or negative competitions. Positive competitions award a good number of entries with a range of awards, and, in some cases, send constructive comments back with the manuscripts. Negative competitions, on the other hand, may charge high fees to enter or award only the top three entries.

Last January, 28 of my students rigorously workshopped, edited and entered 45 submissions to the Scholastic event, and 28 pieces won recognition on the regional level and another five on the national level. In April, 24 of these students went to New York University to have honors bestowed upon them by famous writers, and another five went to Carnegie Hall to receive national awards.

Still, students would quietly ask me over the following year why one of their pieces was or wasn't recognized. We would compare how much time they put into one piece over another, the risks they took in one, the original elements of another, and how new a genre was to them. But most importantly, the conversation turned to a defining aspect of an artist's world: the reign of arbitrary judgment. My students know that they don't each share the same response to their peers' work, and they proudly tout individually refined sensibilities. So the real questions they should be asking themselves are: Did they try their best? Have they learned in the process? Are they excited to try again?

The goal of positive competitions is to help young people identify their strengths, overcome their limitations to the best of their ability, and process their disappointments. Luckily, there is an extraordinary range of projects -- both collaborative and competitive -- that inspire kids to produce their best work, bond with their peers and prepare fully for adulthood.

Ms. Wallace-Segall is a New York-based writer.
---
August 7, 2007
Bryant Park, Manhattan's summer staple, caters a Saturday afternoon especially for young ones.
Writopia Lab, an organization that brings opportunities for literary inspiration to kids and teens, takes over the reading room after Laramee packs up his gear. Parents and elementary schoolers should register for this workshop in pairs, as both kids and guardians will be asked to engage in reflective writing. Prepare to discuss a meaningful, funny or otherwise poignant experience with your young classmate and translate it onto the page through use of scenes and dialogue. Allow the historical locale and bustling afternoon crowds to set off your imagination.
---
July 10, 2007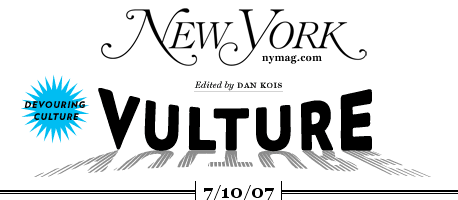 Contrary to popular trend pieces, not all urban parents dream of their tween joining a punk band. Some of them would rather raise a little novelist and should probably be introduced to WritopiaLab founders Rebecca Segall and Dan Kitrosser. This journalist and playwright lead a workshop tomorrow as part of Bryant Park's summer outdoor literary program, teaching the elements of storytelling to both kids and curious parents.
---
May 18, 2007
Click on the image above to read the Jewish Week's review of the writing program, the May 10th reading at Barnes & Noble, and our "eloquent, funny, and profound" writers!
---
TESTIMONIALS
"Working with Rebecca Segall was among the most rewarding intellectual adventures my children have ever had. They came to her as good writers. The work they produced for Rebecca reached whole new depths of insight, clarity and expression. Rebecca cultivated a love of language and ideas, and made them feel safe to write with real honesty about their passions and their inner life -- no small feat with adolescents. My children spent hours with her in small seminars of their peers, and left hungry for more."
—Barton Gellman, Pulitzer Prize Winner, 2002 and 2008, Washington Post Reporter, and Ferris Professor of Journalism at Princeton University
---
"From the moment I stepped into the winter workshop, the environment was nothing but fun, creative, and friendly. We all immensely enjoyed reading one another's pieces, and receiving the great feedback we got from Rebecca and each other. In just four days of two-hour sessions, (sometimes running a little late due to the fact that we were so engrossed and did not want to leave) I was able to hone my science fiction story into a much better state than the raw material that entered the workshop. Aside from that, I perfected a poem I had been working on, and was so enthusiastic about gaining constructive responses from my peers that I wrote a memoir from scratch to share in between sessions. I could see that the work of my friends had also significantly improved, some of it from suggestions I myself had offered. All in all, the writers workshop was a wonderful learning experience and a lot of fun, the whole time your mind abuzz with newfound creativity. I will definitely be coming back for another seminar if one is offered."
—Lily Gellman, 12, Scholastic Regional Gold Key Winner, Poetry, Silver Key Winner, Memoir, 2007
---
"The summer workshop was amazing! I learned so much about writing short stories, articles and poetry in just two weeks. It was wonderful having this experience and a great time all at once. I'd do it again for sure!"
—Rebecca, 14, A.J. Heschel Middle School, Scholastic Regional Silver Keys Winner for Poetry and Short Story, 2007
---
"The summer workshop was an amazing experience! While expressing your creativity and building your skills, you were chilling and laughing the whole time! I am so glad I was a part of it... My work began to transform to art."
—Milana, 14, A.J. Heschel School, Scholastic Regional Gold Keys Winner for Memoir, 2007
---
"Rebecca has amazing lingual intuition – she knows how words feel and sound, and this enables her to work with all kinds of writing, from short stories to poems to essays... When she makes a suggestion, she is not offended if you don't agree. She listens and considers your perspective as the writer. She can give general ideas and overall feedback as well as specific analysis, so that the writer is free to use her ideas but interpret them and write them their own way... Rebecca is an awesome (for lack of a more specific word of praise) editor and writer, and an equally amazing person. The gift of working with her is a double bonus – her amazing skill as a writer and editor, and her warm, smiling, funny, happy, wonderful personality."
—Noa Bendit-Shtull, 15, Bard College High School, Scholastic National Gold Key Winner for Short Story, 2006. Check out Noa's story at the scholastic site.
---
"My daughter loved learning to write with Rebecca... Rebecca inspired her to write award-winning fiction. Long after working with her, my daughter continues to write with great enthusiasm.
—Ora Shtull (Noa's mother)