Partnership Workshops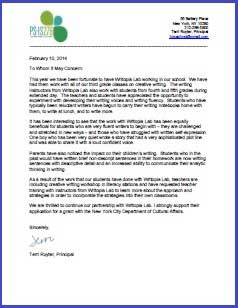 Click the image above to read a testimonial from the principal of NYC's PS 276
Writopia Lab partners with public schools, private schools, camps, and community-based organizations, working closely with administrators and teachers to meet their individual needs -- from long-term after-school creative writing workshops to one-time one-hour projects.
Please contact us so we may learn about your needs, answer all of your questions, and plan an in-school program at your school together!
Modules:
One-day sessions
Week-long sessions
Semester-long residencies
Four-year residencies
and many more, please inquire
Sample programs:
Creative Writing
Playwriting
Memoir
Essay Writing
Social Justice Writing
Bereavement Writing
and many more, please inquire
Writopia Lab is currently running weekly or one-day in-school workshops across New York City, New York Metro North, and the greater DC Metro, Chicago, and Los Angeles areas.
Our New York City in-school and CBO locations include:
NestM, the Ethical Culture School, Hartley House, Montclare Children's School, Success Academy, Fieldston Lower, United National International School, La Scuola d'Italia, PS 165, PS 276, Explore Charter School, PS 166, PS 85, and PS 234 in Queens, PS 58 (The Carroll School in Brooklyn), Homes for the Homeless at the Saratoga Family Inn, Aichhorn Treatment Centers in Brooklyn and Manhattan, and Mount Sinai Hospital. We also run workshops throughout the New York Public Library during the summers.
With the support of the The Pinkerton Foundation, we will bring the Writopia Lab Training Institute to Goddard Riverside, Lincoln Square Neighborhood Center, and University Settlement House in the fall of 2016 to run workshops and train their staff in the Writopia method.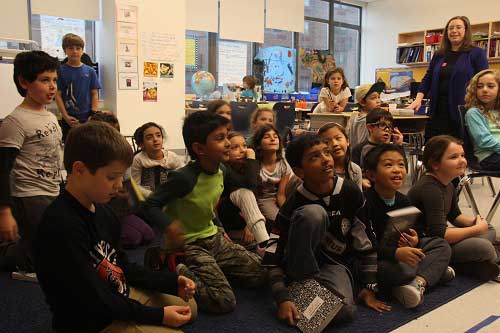 In partnership with the NYC Department of Youth and Community Development, we bring the Writopia method to additional CBO's and after school sites through our professional development and training sessions with their staff.
Our New York Metro North locations include:
Fox Lane Middle School, John Jay High School, Mount Kisco Elementary, Saints John Paul School, Core Homeschool Collaborative (Greenwich, CT), Katonah Elementary, Scarsdale Middle School, and Solomon Schechter.
Our Washington D.C. locations include: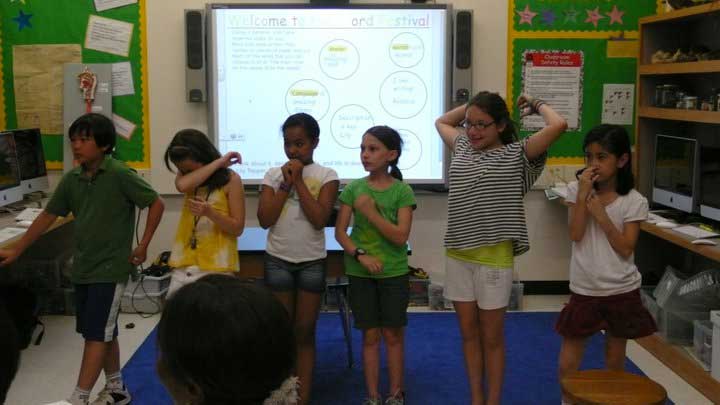 Anacostia High School, Ballou Senior High School, Richard Wright School for Journalism and Media Arts, Sidwell Friends, Virginia Madison Recreational Center, The SEED School, Thomas Jefferson High School, Maret, Woodrow Wilson High School, Cesar Chavez Parkside Middle School, Alice Deal Middle School, and Kelly Miller Middle School in the capital; Hyattsville Middle School and Richard Montgomery High School in Maryland; and Wakefield High School, Swanson Middle School, The Episcopal High School, TC Williams High School in Virginia, 100 Black Men, Phoenix House
Our Chicago and Los Angeles schools include:
Central School in Wilmette, IL; The Realm Creative Academy, Canfield Avenue Elementary School, Encino Charter Elementary School, and Los Angeles Center for Enriched Studies (LACES)