Graphic Novel Mentor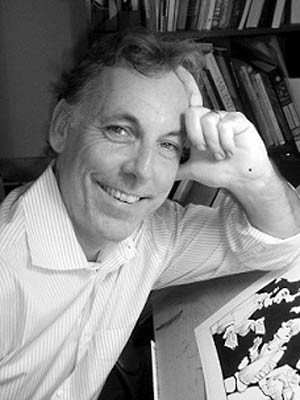 Steve Ross is an artist, illustrator and writer whose work has appeared in many magazines and periodicals including the Wall Street Journal and the New York Times. He is the creator of two popular graphic novels: Marked, a re-imagining of the Gospel of Mark and Blinded, an idiosyncratic take on the misadventures of St. Paul of Tarsus. He and his son, Allen (a proud Writopia alum), are also the creators of the online web comic www.SeventyOfSeventy.com.
Steve began his professional career as a teenager in San Antonio, Texas, selling pictures of angst-ridden, dark and disturbing surrealist art to his friends and teachers. Soon after high school he landed a job drawing dining room tables for a local furniture company, and was surprised when the owner became upset that he was drawing dark and disturbing surrealist furniture for the company's newspaper ads. They parted company.
You can visit Steve and see more of his work at www.StevenTracyRoss.com.