Assistant Instructor
Operations Specialist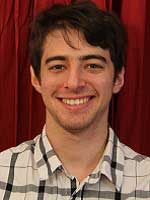 Peter is thrilled to finally be a full-time member of the Writopia team. He has interned at Writopia for many summers, and used to be a student at Writopia during high school. He's always enjoyed writing and frequently uses it to unwind (and justify procrastinating). Combined with his love of working with kids, Writopia is the perfect place for him. Peter was initially drawn into Writopia before there even was a Writopia. Rebecca Wallace-Segall, Writopia's Executive Director, was his 7th grade English teacher. She encouraged him to submit his stories to the Scholastic Writing Awards, and, in turn, he won multiple regional and national Scholastic Awards during that time. Rebecca helped him realize that writing was more than just a hobby. Now Peter is able to help transmit that lesson to the hundreds of students who attend Writopia's classes every week. Peter graduated from SUNY Binghamton in May, 2014.