Writopia Lab at Portland Public Schools for Summer 2022
Two creative, thought-provoking, and super fun programs for middle school writers in Portland, Oregon.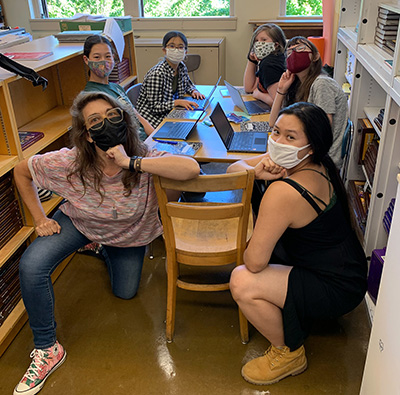 Fiction and Fun
In the mornings, young writers work in small age-based groups with a published author or produced playwright on developing and completing a short story, poetry collection, one-act play, or another piece of writing that's important to them. In the afternoon, writers will explore various writing genres and forms, such as comedy, mystery, spoken word, poetry walks around the neighborhood, flash fiction, zinemaking, and screenwriting. The weeks will culminate in a public reading of brand new work by talented young writers.
Playwriting and Performance
Young playwrights spend the mornings developing brand new plays or musicals under the guidance of a professional playwright. In the afternoons, they dive into the world of performance, with mini-workshops in character creation, theatrical design, voice and speech, and a look at acting fundamentals as they take on roles in their peers' plays. The week will culminate in a live performance of original one-act plays written and performed by these young dramatists of tomorrow.
Dates: Tuesday, June 21st 2022 to Friday, July 1st 2022
Location:
Marshall - Benson Site
3905 SE 91ST Ave
Portland, OR 97266
Cost: Free!
*This program is available only to Portland Public School students
Thank you Portland Public Schools for allowing us to provide free programming to Portland Public Middle Schoolers!