Chicago Regional Manager
Instructor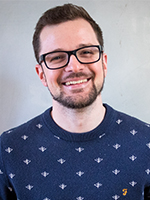 Michael Alessi is Writopia's Chicago Regional Manager. Over the past six years he has served literary communities around the country as a college-level writing instructor, high school workshop leader, and managing editor of several university-housed and independent literary journals. He is thrilled to share his experience with young writers of all ages.
Michael's poetry and prose has earned awards and recognition from the Academy of American Poets, the University of Memphis, Louisiana State University, and the AWP Intro Journals Project. He holds dual BAs in English and Economics from the University of Michigan and an MFA in Fiction from Old Dominion University, where he was selected as a David Scott Sutelan Fellow. His stories have appeared or are forthcoming in such literary journals as Mid-American Review, Passages North, The Pinch, the minnesota review, Paper Darts, and New Delta Review, among others. He is currently at work on his first novel, set in the rural hollows of his home state of Virginia.