This summer, Writopia is partnering with the Poetry Society of New York to host the 2019 Youth Poetry Festival on July 27th and 28th from 11 AM to 5 PM. Join us on Governors Island for free Teen Poetry Workshops, staged readings, an island-wide scavenger hunt*, and more! For teens ages 13+ interested in attending the 1-day (either Saturday or Sunday) poetry workshops, please register here. Upon registration, teens will have an opportunity to submit up to 5 poems for consideration in Writopia Lab's new teen curated literary magazine.
*The all-ages scavenger hunt does not require registration.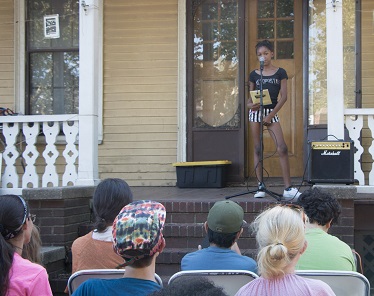 When

Dates: Saturday, July 27th and Sunday, July 28th
Time: 11:00 AM to 5:00 PM
Scavenger Hunt: All day (Complete at your own pace!)
Teen ages 13+ Poetry Workshops: 12:00-5:00 PM
Staged Readings:

Where

Governors Island
Colonels Row

What

For Teens ages 13+: Register for a 1-day (either Saturday or Sunday) poetry workshop taught by a published poet. Participants will meet in age-based groups to write and revise original poetry, and explore the island on a poetry hike. Each day will culminate in a staged reading for family and friends. Participants must bring their own lunch.

12:00 PM to 1:30 PM: Workshop 1 - Creating content
1:30 PM to 2:00 PM: Lunch break
2:00 PM to 3:00 PM: Poetry hike around the island
3:00 PM to 4:00 PM: Workshop 2 - Revision and performance techniques
4:00 PM to 5:00 PM: Staged reading

For All: Island-wide scavenger hunt. Read, write, and find poetry (at your own pace) throughout the island and make your way to Colonels Row where participants can add a line or two to the 2019 Youth Poetry Festival collaborative poem. Participants can also sign up to read their original writing at our staged readings taking place at 4:00 pm both Saturday and Sunday.

Please email Abby@WritopiaLab.org for more information!