Teen Filmmaking Seminar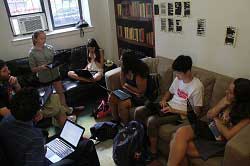 Writopia offers two filmmaking seminars in the summer that give participants the opportunity to take part in a film-school style workshop. While the focus remains on the writing aspect of filmmaking, the two-week structure for each seminar allows for more depth into the technical aspects of the artform as well. Participants will gain better proficiency with professional-grade cameras, sound and lighting kits, editing software, and the experience of working with professional actors who bring the scripts to life.
The seminars are taught by Jon Zimmerman, a full-time screenwriter and USC graduate, as well as Ethan Shafran Moltz, a professional editor and videographer.
Application Only, due June 1st.
For your enjoyment, please take a moment to watch these past productions that were created in our filmmaking electives, camps, and workshops.
The trailer for Writopia: The Haunting was selected for the 2015 TriBeCa Film Festival's Downtown Youth Behind the Camera!