Teen Portfolio Intensives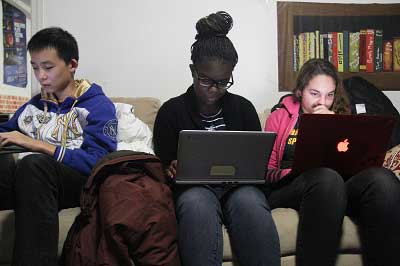 Writopia Lab's Teen Portfolio Intensive workshops (ages 14 and above) challenge teen writers to broaden and deepen their writing by developing a multi-genre body of work. These intensives place an emphasis on understanding how writing in a variety of forms (narrative, poetry, memoir, script) enriches and informs every writer. Workshops are fun, engaging, and designed to expand skills. Students are challenged to set and achieve writing goals: completing two well-developed, polished pieces in different genres throughout the course of their workshop. We place an emphasis on understanding how practice in a variety of writing forms (narrative, poetry, memoir, scripts) enriches and informs every writer. Through our innovative workshop method, we empower students as peer leaders as they gain skills in writing, editing, analysis, and effective communication. The workshops allow a community of teen writers to find each other, connect via their literary passions, and have lots of fun.
Workshops are student-centered and author-led. Our students flourish in these multi-genre workshops where they can gain exposure to diverse styles and voices.
Sessions are peppered with original and fun writing exercises, but focus primarily on writing—and completing—stories. It is a true workshop in which students get to share their writing in a safe and supportive space; students learn how to give and receive insightful feedback.
We recommend taking at least one Creative Writing Workshop before enrolling in a Teen Portfolio Intensive.