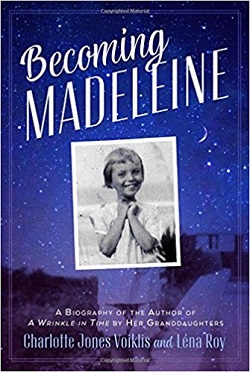 Anderson's 16th Annual Children's Literature Breakfast
When

- Saturday, February 24th, 2018
8:00 AM - 12:00 PM

Where

Bobak's Signature Events
6440 Double Eagle Drive, Woodridge, IL 60517


Details

Longtime Writopia instructor Léna Roy and her sister Charlotte Jones Voiklis (also a Writopia mom) are celebrating the release of their middle grade biography of Madeleine L'Engle: Becoming Madeleine: A Biography of the Author of A Wrinkle in Time by Her Granddaughters. Join Léna and Charlotte at Anderson's 16th Annual Children's Literature Breakfast, where they will be keynote speakers!

Buy tickets for the Children's Literature Breakfast here.
A Wrinkle in Time Creative Writing Workshop in LA
When

Tuesday, February 27th, 2018
5:00 PM - 6:30 PM

Where

Writopia Westside Lab (Los Angeles)
10642 Santa Monica Blvd Suite 210, Los Angeles, CA 90025


Details

Through personal and group writing and dramatic exercises, participants in this workshop explore their relationship to individuality, diversity, and community, and create their own piece based on some of the themes put forth in Madeleine L'Engle's classic A Wrinkle In Time. Led by Writopia'a East Coast Léna Roy with LA's very own Lyndsay Hall.
An Evening with Charlotte Jones Voiklis and Léna Roy at Once Upon A Time Bookstore
When

Wednesday, February 28th, 2018
7:00 PM

Where

Once Upon a Time Bookstore
2207 Honolulu Ave, Montrose, CA 91020


Details

Join Léna and Charlotte in a conversation with moderator Alyson Beecher, a nationally recognized children's literature expert and educator, about Becoming Madeleine. The discussion will be followed by an audience Q&A and book signing!