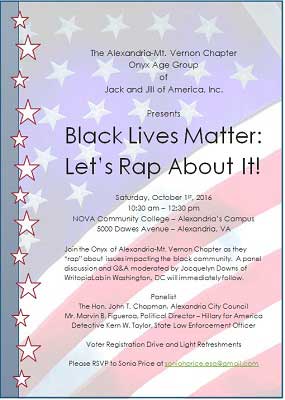 When

Saturday, October 1st, 2016
10:30 AM — 12:30 PM

Where

5000 Dawes Avenue, Alexandria, VA

Details

Writopia's Regional Manager, Jocquelyn Downs, will be moderating a panel discussion and Q&A organized by Jack and Jill of America's local chapter as part of their presentation of "Black Lives Matter: Let's Rap About It."

If you have questions, please email Jocquelyn@Writopialab.org.

To RSVP, please email Soniaprice.esq@gmail.com.