Historical Fantasy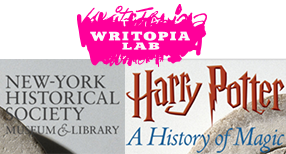 In partnership with New York Historical Society's "Harry Potter: A History of Magic" exhibit, Writopia Lab is offering Historical Fantasy workshops for kids and teens this fall!

For writers ages 8-10 and 11-13: One-Day Weekend Workshops

Young writers are invited to take part in a special weekend workshops at the New York Historical Society. Writers will tour the exhibit to learn about the sources that inspired J.K Rowling's magical world. They will then work closely with Writopia Lab instructors to develop their own original historical fantasy fiction. Find out more and register at the New York Historical Society.

Learn more at the NYHS site.

To register, please visit our half-day schedule page here.

For writers 14+ Application-Only Teen Semester-long Workshops

High school aged writers who are interested in delving deeper into historical fantasy and speculative fiction are invited to apply to this semster-long, in-depth exploration of fantasy fiction. Incorporating several visits to the Harry Potter: A History of Magic exhibit at the NYHS, writers will spend the semester discussing how to use historical sources and folklore as a springboard for their own own original fantasy fiction.

Click below to view the schedule and apply.