Family Memoir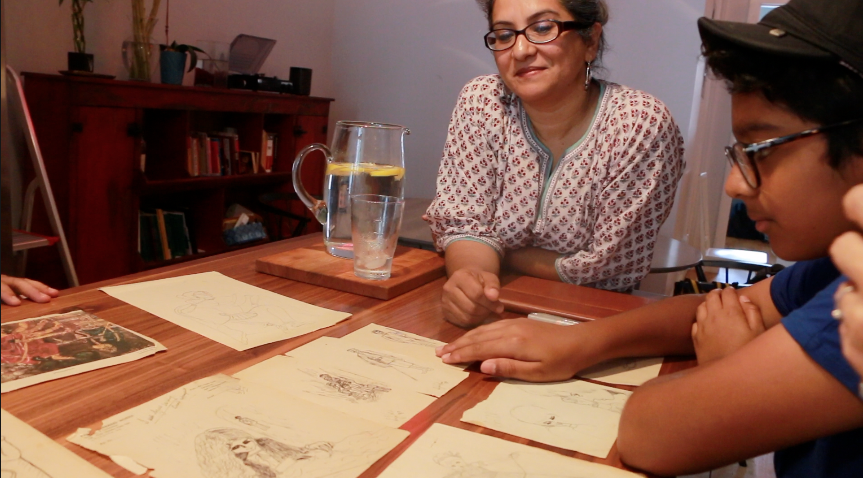 Writing Close to Home
It's easy to assume that "memoir" means "all about me" and is even narcissistic or vain. However, more often the opposite is true. Memoir can be a tool for connecting to other people and strengthening bonds between friends, strangers, and family members. In Family Memoir, teens and kids all come to workshop together with their parents, guardians, siblings, cousins, or whoever is part of their family. Within family clusters, participants decide upon a shared family experience to write about, each from their own perspective. Then, participants share their memoir pieces with their families and often with the group. The one rule: you cannot say to each other, "that's not how it happened!" Sharing stories allows participants to see the same event through someone else's perspective -- the result can be thoughtful, hilarious, emotional, sweet, or some combination, but it is always enlightening for every family member who comes to strengthen the complex bond that ties families together.
Love Letters Anthologies
Volume I: African Diaspora/Continent Anthology
We're excited to announce a free workshop (for all ages) and a new anthology series we will be publishing called: Love Letters. This series seeks to amplify our writers' distinct voices, offering authentic narratives in response to divisive political commentary.
Many children and adults in our community expressed hurt recently when African countries, Haiti, and peoples of the African diaspora were moved into the center of American public discourse. Thankfully, our writers have personal insight that can help shift this conversation into a more positive and meaningful direction.
Families who are native to, or feel deeply connected to these nations or who are part of the diaspora at large: Please join our free, two-hour-long family memoir workshop, and/or submit your writings for publication. Pieces will include tributes to loved ones (especially mothers, fathers, guardians), poems about favorite places, memoirs and fictional pieces that capture life in these lands, and essays. (Pieces must be no longer than 2000 words. There is no minimum length.)
At Writopia, we strive to provide a supportive community to our writers because we value their written words and ideas. With so much negativity directed toward African countries, Haiti, and the African diaspora at large, we want to create an intersectional platform that gives our writers from those countries the space to heal and exist. We hope through this anthology our writers are able to have a voice and can say, "I matter, I am visible therefore my voice deserves to be heard."

Awa Soumahoro, Co-Editor of Love Letters Volume I