Narrative Podcast
Writopia Lab is launching a narrative podcast, and we want you to be part of it! Come join us to be part of writing, recording, and producing a new podcast. Writers work individually or in collaboration to create scripts around a central theme.
Stage plays and Narrative Podcast share many similarities: both are written works that are intended to be performed aloud. One key difference between these two media forms is that a play is performed live in front of an audience while a Narrative Podcast is a pre-recorded work to be played for an audience at a later date.
In this specialty workshop writers focus on how to write for radio!
Writers consider questions like:
How do we convey a space through its sounds?
Through dialogue alone, how do we keep track of who is in the room?
With Malcolm Knowles' guidance, writers will learn the magic and freedom of writing for a purely auditory medium.
Malcolm Knowles
Program Coordinator
Instructor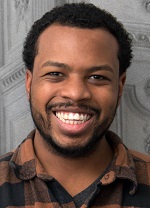 Malcolm Knowles has been part of the Writopia Lab team for two years. He is a writer and multi-instrumentalist originally from Houston, Texas, where he learned to record and release music during his teenage years. He later attended Sarah Lawrence College with a focus in jazz guitar, composition, and radio. During the summer, he leads the songwriting elective at both the Writopia day camp and WriCampia and is currently developing the Songwriting Studio Program for the Fall, Winter, and Spring trimesters. When not teaching, you can often find him next to the closest musical instrument.