Essay Writing
Young writers put the Say back in Essay at Writopia Lab!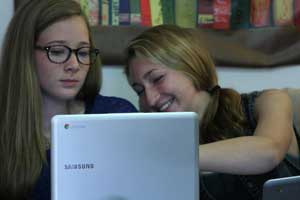 Through Writopia's teaching method, students overcome the fear of writing an essay and discover writing as an engaging and empowering activity that requires creative thinking and clear expression. Writers learn to research material, do close readings, analyze evidence, craft arguments, and structure and organize their ideas.
We must ask young writers to express what they believe and think. Every essay written, be it for school or extracurricular, is a chance to express themselves. We ask young writers to think critically and give them tools to effectively present and organize an argument. Writers will not only have more fun, but also their writing will benefit through their personal investment. Our aim is to allow our writers to feel more comfortable and more open to writing an essay.
Youth Essay Writing Conference
At this conference, the next generation of thinkers, writers, and leaders shared the ideas and research that they are most passionate about with a panel of their peers and the community at large. The panels formed organically from a pool of critical essays we received from writers ages 12-18 from all over the New York Tri-State area, which highlighted the concerns and commentary of the next generation. Click here to find out how to participate!
Engaging Creativity to Enhance Essays
We integrate creative writing into essay writing instruction because we believe that the critical and analytical thinking that goes into creative writing helps writers develop skills they need to become strong essay writers. We infuse workshops with creative writing games: 50 percent essay and 50 percent creative. We encourage writers to approach essay writing with creativity, liberty, and their unique personality.
When we promise creativity and joy to our essay writers, we don't mean to suggest that writers should subvert the form of an essay. We give our writers the tools to succeed in middle school, high school, and college. We stress the importance of a thesis statement and clear structure in an essay.
Participants often choose to explore and write on topics including, but not limited to, history, humanities, social sciences, politics, and sciences. They also come to workshop to receive preparation for essay writing on exams, admissions applications, or school assignments.
Workshops and Private Sessions
Students can receive essay writing instruction at Writopia through the Essay Writing Workshop or Private Sessions. Workshops have a maximum of six participants. Essay writing programs are only available to students who are 10 and older.
The goal for each writer is to develop an essay with a coherent and meaningful argument. Sessions are peppered with original and vibrant writing exercises, but focus primarily on exploring essay topics, drafting, completing, revising, and polishing essays. When coming up with project ideas, writers can choose subject matter that interest them.
In the interdisciplinary essay writing workshops, writers brainstorm ideas, explore material, work to use fluid language opposed to stilted language, and discuss the logic of various structural choices and the virtues of applying key literary tools.
"Our teen is thoroughly enjoying Writopia and we are seeing it translate into better work at his school. His teachers are commenting on how good his writing is this year and he seems to be much more confident in his abilities……so thank you!"

Mother of 13-year-old