Registration Support
Assistant Instructor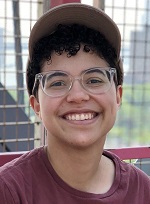 Sarah joined Writopia full time the summer of 2017 after spending the summers of 2015 and 2016 assistant teaching at our workshops and camps as an intern. She graduated from Haverford College with a BA in English in May, 2017. At Haverford, Sarah had a concentration in Creative Writing and spent her senior year writing a creative thesis. When she graduated, she was awarded the Terry M. Krieger '69 Memorial Prize for her achievements in writing. Sarah attended Writopia workshops as a high school student, so Writopia has been a part of her life for a long time. At Writopia, Sarah is a part of the registration team and an assistant instructor. She is also an enthusiastic member of the team who brings fantasy and adventure to young writers through Worldbuilding, where the young writers create their own interactive worlds and stories. YA fantasy is Sarah's genre of choice for both reading and writing, but nothing inspires her like the stories written by Writopia's young writers.