Regional Manager Instructor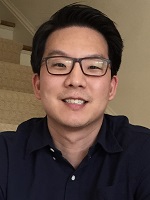 David Kim is delighted to be a member of the Writopia family. He received his MFA in Creative Writing at the University of Maryland, where he served as a reader for local literary magazines, taught an undergraduate course in Asian American Literature, and completed a collection of linked stories that he hopes never to see again. After graduate school, he spent considerable time in the nonprofit sector, coordinating, designing, and teaching creative writing workshops and reading enrichment classes for the Harlem Children's Zone.
He is also a former New York City teaching fellow and has taught English Language Arts at high schools in both Brooklyn and Baltimore. Most recently, he taught creative writing and English composition at a community college in Bloomington, Indiana. He is excited to return to the DC metro area and for the opportunity to work again with young writers. His favorite authors are Junot Diaz, Elizabeth Strout, and Yiyun Li, names he hopes his students will be familiar with shortly. When David is not reading, writing, or teaching, he is most likely listening to Kendrick Lamar or watching Good Will Hunting for the hundredth time.