Assistant Office Manager
(and D & D Dungeon Master)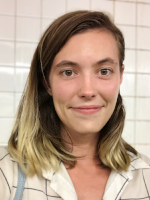 Alison is so excited to join the Writopia Lab team! After initially starting at Writopia as the Office Management Intern, she is thrilled to come on board as the Assistant Office Manager. Alison is a Washington, DC native who currently lives in Brooklyn. In May 2018 she graduated from Reed College, located in Portland, Oregon, with a B.A. in Theater and Literature. Upon moving to New York City, she dove into the theater world, working as a PA for 59E59th Theaters and stage managing for Cave Theater, Access Theater, Art House Theater, and the Paradise Factory. However, she couldn't be happier to start applying her organizational skills to Writopia's mission. In her free time she likes to read Roosevelt biographies, explore the city with her friends, and work on her miniature building.