Chava Pearl Lansky
Instructor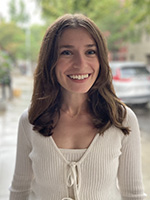 Chava Pearl Lansky has been an essay writing instructor at Writopia Lab since 2021. A former editor at Pointe magazine, she writes about culture, with emphases on dance and food. Originally from Amherst, MA, Chava holds a B.A. in Dance and English from Barnard College and an M.A. in Biography and Memoir from the CUNY Graduate Center.
Chava is a contributing writer and proofreader at Dance Magazine, where she writes a monthly cooking column. Her work has also been published in Tablet, Playbill, Fjord Review, Scholastic Art, Hey Alma, Musical America, and Dance Teacher Magazine, among others. Chava takes on regular ghostwriting projects, and is working on a collection of personal essays on chronic illness, beauty, and control.
Join the Team!
If you love writing and want to share that love with young writers, apply today to join Writopia Lab! Click here to learn more!