DC Regional Director
Instructor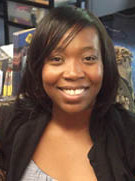 Jocquelyn Downs is very excited to be a part of the Writopia family. Jackie obtained her MFA in Film from Howard University and her Bachelors of Arts in Broadcast Communications from Johnson C. Smith University. In 2011, Love Languages, her thesis film, was showcased in the Cannes International Film Festival's Short Film Corner. She's also written, directed and produced original plays and musical productions that have been produced at McGlohon Theater at Spirit Square in Charlotte, North Carolina. Jocquelyn has also worked as an Associate Producer for WSOC-TV and served as Producer for the Saturday Morning 8am Show. In her spare creative time, Jackie writes and performs spoken word poetry.
Jackie has also been working closely with students on their creative writing for ten years in Washington DC and around the country. She has developed curricula for a variety of courses and agea groups ranging from middle school to college. As a high school Fine Arts instructor, over a period of six years Jackie taught courses including Creative Writing, Theater Arts, Public Speaking and Music Appreciation. She has led directing workshops at high schools in the Washington DC area and has worked as a Dramatic Arts Teaching Artist for the Capitol Hill Arts Workshop in Washington DC. She is currently juggling a few creative projects that are in post-production and is excited to start this next phase of her life with Writopia.