WriCampia 2018
Join Writopia Lab for twelve days at our creative, fun, and productive sleepaway camp in the Poconos from August 13th through August 24th!
At WriCampia, writers will spend their mornings in intimate writing workshops led by published authors and produced playwrights, their afternoons participating in their choice of over 20 artistic and active electives, and their evenings at campfires, scavenger hunts, and readings. Photos from WriCampia can be viewed on our Facebook page.
Registration will open soon!
See a Typical Camp Day Schedule.
Review our Frequently Asked Questions.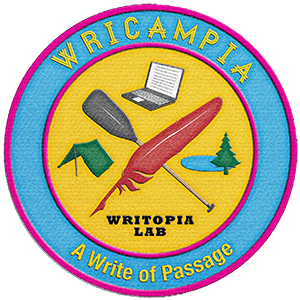 &nbsp
Location
We will be returning to IHC in Honesdale, Pennsylvania.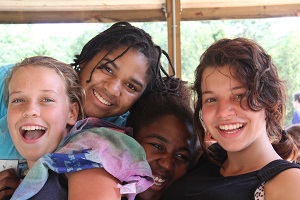 Dates
August 13th, 2018 to August 24th, 2018
Transportation
We will provide buses to and from WriCampia for all campers. Buses will be leaving from and returning to Manhattan, Washington, DC, and Westchester County, NY.
Cost
$3,550 ($1,750 for WriCampiaJr). Limited financial aid is available. To apply for financial aid, please register now and complete the financial aid application in Camp Doc.
Ages
We welcome rising 5th graders* through rising 12th graders. Bunks and workshops will be organized by grade.
* Rising 3rd and 4th graders may join our six-day WriCampia Jr! Dates for WriCampia Jr are August 19th through August 24th. Tuition is $1,750.
As CITs, all of our rising 12th graders will receive additional leadership opportunities that prepare them for professional experiences in the future.
A Typical Camp Day
7:15 AM Wake Up Call
8:00 AM to 8:45 AM Breakfast
9:00 AM to 12:00 PM Writing Workshop (led by published author or produced playwright)
12:00 PM to 12:45 PM Lunch
12:45 PM to 1:25 PM Free time (at bunk & main line)
1:25 PM to 2:50 PM Electives period 1
2:50 PM to 4:15 PM Electives period 2 *
4:15 to 4:25 PM Group gathering & snack
4:25 PM to 5:40 PM Electives period 3 *
5:45 PM to 6:30 PM Dinner
6:30 PM to 7:30 PM Shower hour and free time
7:30 PM to 9:00 PM Evening activity **
9:00 PM Lower Camp curfew (lights out 9:30 PM)
9:00 PM to 10:00 PM Middle Camp Evening Electives
9:00 PM to 10:30 PM Upper Camp Evening Electives
10:00 PM Middle Camp curfew (lights out 10:30 PM)
10:30 PM Upper Camp curfew (lights out 11:00 PM)
Electives: Filmmaking, zine making, spoken word, poetry hikes, illustration, roleplaying games, graphic novels, playwriting, ceramics, woodworking, musical theater, jewelry making, tie-dye, waterslide, songwriting, dungeons & dragons, literary sports, gymnastics, spin, step, dance, memoir, novel writing, swimming, boating, ropes course, zip-lining, photography, and more.
** Evening Activities include: Scavenger Hunts, Escape the Room, Improv, Campfires, Spoken Word, Dance Party, and more!
---
WriCampia 2018 FAQs
What are the dates?

August 13th through August 24th

How do I apply?

We use CampDoc, a purpose-built camp registration system. Registration will open soon!

I'm having trouble with the application process. Can you help me?

If you are having any technical trouble with the website, you can use any of these options:
click on the life preserver in the upper right area of the browser window,
email support@campdoc.com, or
call 734-636-1000.
They have trained staff on hand who will be able to help you get past that page!

When is payment due?

A deposit of $350 per session is due upon registration (unless you are applying for financial aid). Payment is due in full by 3/31.

What is your refund policy?

If you withdraw from WriCampia before May 1st, and if we can fill the spot with another camper in your camper's age range, then we can refund the fee minus the deposit. There are no refunds after May 1st.

Is financial aid available?

Yes, we have limited financial aid available.

How do I apply for financial aid?

This all happens on CampDoc. To apply, fill out your WriCampia application, indicate that you are applying for financial aid, and submit your complete financials via CampDoc. If you are applying for financial aid, you will not be required to pay the deposit, however we will only be able to hold your spot for two weeks if you have not submitted your financials. Please do not email financial data to sleepaway@writopialab.org.

Will Writopia provide transportation?

Yes. All campers will travel to and from WriCampia on buses that will leave from Washington, DC, Manhattan, and Westchester County, NY.

When does enrollment close?

When camp fills up—which will be soon! We will accept registrations onto a waiting list, but we cannot make any guarantee about a spot opening up.

How many writers are attending?

We will host 180 writers.

How can I see what my child is working on?

We will be sending home a video featuring each camper.

Where will camp be held?

IHC, about ten miles north of Honesdale, PA. Their website has tons of great information.

Where are most of the campers from?

The majority of our campers come from New York City and its NY, CT, and NJ suburbs and from the greater Washington, DC area. Other campers come from all over the east coast, and from as far away as Texas and California.

What is the camper to adult ratio?

Three to one. Plus kitchen, grounds, and support staff!

How many campers will be sleeping in each bunk?

There will be 8 to 14 campers and two counselors in each bunk.

Can I send my camper a package?

No. WriCampia is a no-package camp. Letters and cards will be delivered to campers. Other items will be held at the camp office.

If your camper forgot something he or she needs, please reach out to the camp directors and we will make arrangements to help you get things to your camper.

Can my child bring his or her own food?

The kitchen staff on campus is very accommodating, always providing vegetarian and gluten free options. If your child needs (because of allergies or dietary restrictions) to bring her or his own meals or snacks, please let us know ahead of time. All food must be stored in the kitchen. No food may be kept in the bunks.

How are the workshops organized? What is the atmosphere of the workshops?

Morning workshops will have a ratio of eight writers to one instructor. All workshop leaders are published writers or produced playwrights who are experts in helping young writers understand and implement elements of plot and key literary tools. Sessions are peppered with original and fun writing exercises, but focus primarily on writing—and completing—creative pieces.

Are the campers allowed phones or other electronics?

Campers may bring phones for the duration of the bus trip only, but please note that all technology will be turned over to counselors upon arrival at camp. This includes laptops; every writer will be given a Writopia laptop for workshop and writing. No personal laptops will be allowed at camp.

Will I be able to speak with my child during camp?

Writers can, and are encouraged to, email home every day. Campers will be calling home on Sunday, August 19th. They will call the phone numbers you supply when you register for camp.

Will there be swimming?

There is optional swimming on most days. In addition to a swimming pool, IHC also offers boating activities on the lake and a waterslide. Pool and lake activities are only permitted when lifeguards are on duty.

Does my child have to bring his or her own bedding?

Yes. Campers must bring their own sleeping bags, blankets, sheets, pillows, pillowcases, and towels.

Is there air conditioning?

The bunks have fans but not air conditioners. Most workshop spaces have air conditioning.
I can not express my gratitude. I haven't seen this boy look so filled with joy, love and security. WriCampia allowed my son to find his voice, face his demons and commune with some of the kindest, open-hearted and talented people he may ever meet. He finally felt a part of something wonderful.

Parent of a three-year WriCampia veteran
Writopia sleepaway camp was the best experience of my daughter's life. It changed her. She had never done sleepaway camp before, so we didn't know if she would like being away from home for a week. She said had never been with a group of kids where she felt like she could be completely herself.

S.E., 2013 Parent
I would like to thank you for what was probably the best week of my summer. I had such an amazing time working and creating with my fellow writers, young and old, male and female... I loved the amount of professionalism among the staff, but also the positive and loving attitudes of all the counselors. Thank you, especially my workshop leader, for helping me so much with writing a story with an extremely mature topic that I was hesitant to explore. You exude a vibe that lets all campers know how okay it is to write from the heart, and to not hold back. So, once again, thanks to everyone for an awesome experience.

Ben R., age 16, 2013 Camper
This week has been one of the best weeks of my life. Wricampia is amazing not just because of all the writing and the awesome location, the churros and the cool electives mostly because of my fellow campers and counselors. My fellow campmates are some of the coolest, smartest, nicest people I have ever met in my life. It's a well-known fact that writers, nerds and geeks are fabulous people to be around, but upon coming to this camp, I was astounded at how friendly and accepting everyone was and still is .... I've made more friends than I have in well, ever. Not just my new sisters in Cabin 27 other campers: young or old, boy or girl very the counselors too. Everyone here is unfailingly sweet and caring. They are all so friendly to me and I couldn't be happier that I signed up for this camp one lazy June morning.

Caroline V., age 16, 2013 Camper