The Writopia Lab Training Institute
NYC DOE-Certified Professional Development
We are thrilled to join the DOE's After School Professional Development Program this fall. Writopia Lab will be offering a PD course called "Bridging the Gap Between Creative and Essay Writing in ELA." You may start the registration process now by filling out our online form. Registration may be completed through the ASPDP's course catalog.
This eight-week class runs from Tuesday, September 12th through Tuesday, November 21st from 6:00 PM to 7:30 PM at 155 West 81st street. Our education partner fee is $260 per teacher. Please submit payment here. Teachers earn P credits and can apply this course toward their NY State CTLE requirements.
Please reach out to alexandra@writopialab.org with any questions.
Other Professional Development Opportunities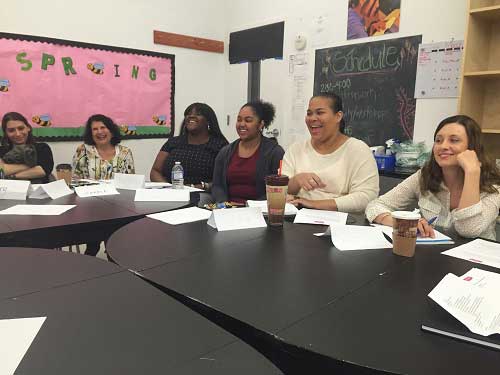 Thanks to the Pinkerton Foundation, Writopia launched the Writopia Training Institute in 2016. We have since partnered with many public and private schools and community-based organizations in New York City and Washington D.C. to share our most effective methods with hundreds of classroom teachers and after school education directors. Our mission is to give classroom teachers and after-school educators instructional tools to help their students fall in love, or deepen their love, of writing and improve their literacy and literary skills along the way.
We train classroom teachers and nonprofit leaders from organizations that serve low-income youths and graduate-level volunteers from NYC's graduate schools.
We offer in-person sessions with administrators, teachers, and community based organizations in the tri-state area. These sessions can happen on-site at the school or organization, as well as at Writopia Lab's National Headquarters in Manhattan.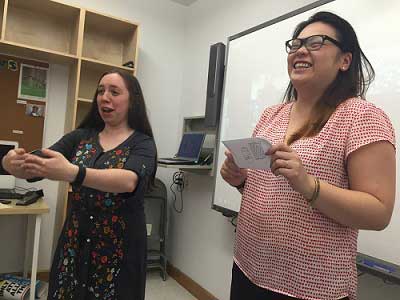 We have provided professional development to teachers from Stuyvesant High School, La Scuola d'Italia, Association to Benefit Children, Goddard Riverside, University Settlement House, and many other schools and organizations through the NYC Department of Youth and Community Development. For schools and organizations further afield, we offer online sessions for local, national, and international schools. Our fees vary depending upon the location of the school.
Schools and nonprofits can request tailored enrichment training sessions for their staff. To inquire further and bring the training program to your school, please contact alexandra@writopialab.org.