The Writopia Lab Training Institute
Professional Development for Educators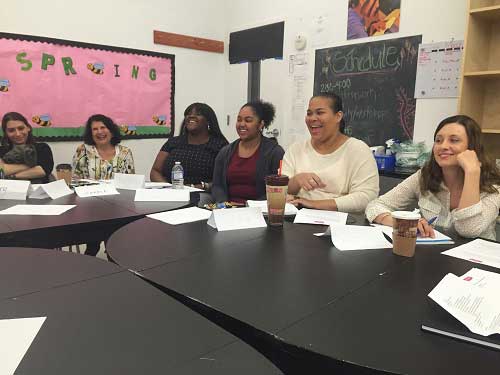 Thanks to the Pinkerton Foundation, Writopia launched the Writopia Training Institute in 2016. We have since partnered with many public and private schools and community-based organizations in New York City and Washington D.C. to share our most effective methods with hundreds of classroom teachers and after school education directors. Our mission is to give classroom teachers and after-school educators instructional tools to help their students fall in love, or deepen their love, of writing and improve their literacy and literary skills along the way.
We train classroom teachers and nonprofit leaders from organizations that serve low-income youths and graduate-level volunteers from NYC's graduate schools.
We offer in-person sessions with administrators, teachers, and community based organizations in the tri-state area. These sessions can happen on-site at the school or organization, as well as at Writopia Lab's National Headquarters in Manhattan.
We currently work with Stuyvesant High School, La Scuola d'Italia, Association to Benefit Children, Goddard Riverside, University Settlement House, and many other schools and organizations through the NYC Department of Youth and Community Development. For schools and organizations further afield, we offer online sessions for local, national, and international schools. Our fees vary depending upon the location of the school. To inquire further and bring the training program and certification to your school, please contact alexandra@writopialab.org.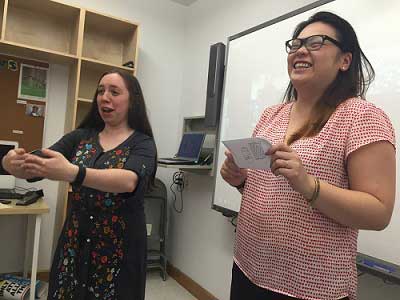 Schools and nonprofits can request tailored enrichment training sessions or more extensive training through the Writopia Lab Certification program, a nine-hour program that includes hands-on, genre-specific trainings and three monthly, 45-minute-long reflection meetings for teachers who are currently implementing the Writopia Method. All teachers who participate in the nine hours of training will receive certificates that remain in effect a two-year period.
Writopia Lab Certification Program
The Writopia Lab Certification program is only available to volunteers who participate in our Pinkerton Foundation-funded WLTI-CBO training program. Within this program, MFA students and education students have the opportunity to gain the skills they need to further support and instruct kids and teens in the public, charter, and private school systems. We work with CBOs to embed the Writopia way into the culture of afterschool programs. Volunteers lead student-centered, strength-based writing instruction that fosters high-level, fluent, joyful writing.
Our method cultivates an uncensored, critical thinking-driven workshop culture that encourages students to simultaneously explore seemingly silly or frivolous ideas alongside difficult and controversial themes and topics through fiction and nonfiction. The afterschool space transforms into salons where students can express their worldviews and insights through a literary and intellectual platform. As Writopia volunteers facilitate this training process, they become empowered to demonstrate to students how to consider eclectic opinions and different life experiences through the lens of original fictional characters, thoughtful discourse, and coherent written argument.
We design custom Professional Development programs based on the needs of the school. Therefore, fees vary. Please email alexandra@writopialab.org for further information.
Writopia Lab Certification Renewal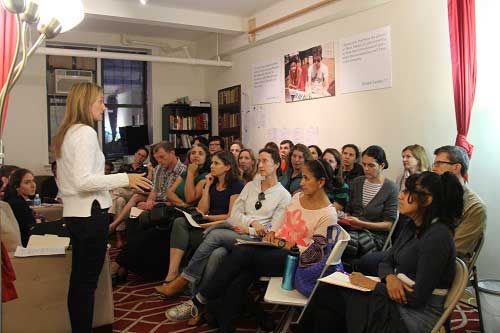 To renew initial certification, teachers and nonprofit leaders participating in the Writopia Training Program will need to complete six seminar hours of instruction every two year period. These six hours will consist of some specified requirements: two hours of instruction review on genres (fiction, memoir, poetry, playwriting, and/or language play), two hours of workshop, one hour of the Writopia Method, and one hour of cultural diversity (i.e. LGBTQ; low-income; low-literacy sensitivity training). Each year, Writopia will provide an updated list on the Writopia Lab website of teachers and nonprofit leaders currently trained in our method.
The Benefits of Becoming Certified
Literacy through Creative Writing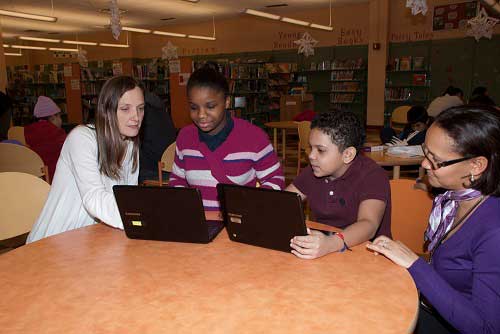 As an active certified member of the Writopia Training program, teachers will have access to a multitude of resources provided by our unique methodology. They will receive on-going support from full-time staff members and learn how to effectively implement Writopia instruction into their lessons. Our training process helps demystify the art of fiction writing and explains how to help students begin stories and break through writer's block. We also focus on how to identify students' literacy levels, including strengths and weaknesses, as they work on their individual pieces. Writopia training will discuss effective ways that lead students to identify what their stories may lack, to develop complex endings, and to integrate proper usage of mechanics and spelling.
Facilitating an Effective Workshop Space
Furthermore, our Training Program provides teachers with integrative and dynamic tools to approach behavioral challenges or difficulties that may arise in the classroom during this style of literacy instruction. Our behavior management techniques inspire intrinsic motivation within the students to focus on their writing and to give each other thoughtful feedback. These techniques cultivate and foster a supportive, productive, and creative atmosphere within the classroom that helps writers create invaluable connections and positively engage within an intellectual community.
At the culmination of these training sessions, teachers and nonprofit leaders will have the ability to work with writers from all different backgrounds, including but not limited to, lower literacy youths from low-income households. Teachers certified under the Writopia Training Program will play an integral role in addressing the needs of all students, from the most prolific to the ones who struggle with low-literacy levels. In addition, the Writopia Method gives teachers the opportunity to connect with each individual student, not only focusing on educational and skill-based support, but also guidance and mentorship.
Certification Eligibility
There are three different ways individuals can qualify for the Writopia Lab Certification program. Applicants must be:
a licensed school teacher or school administrator working in a public, charter, or private school;
an education director or administrator at a community-based organization; or
a graduate or college student volunteer through The Writopia Training Institute (Coming in 2016).