WriCampia 2016: Enrollment is OPEN! Click here to sign up now!
Already registered? You can log in to your Camper Profile at any time through the link above to edit your profile, upload documents, and make payment.
Join us for one or two weeks of WriCampia
---
This video was shot and produced by kids and teens while at WriCampia 2014.
Campers develop short stories in daily author-led workshops and enjoy dozens of athletic and artistic elective offerings in the afternoons. (Graphic noveling, songwriting, filmmaking, zinemaking, illustration, poetry hikes, playwriting/performance, yoga, boating, tie-dye, literary sports, just to name a few!)
See a Typical Camp Day Schedule.
Review our Frequently Asked Questions.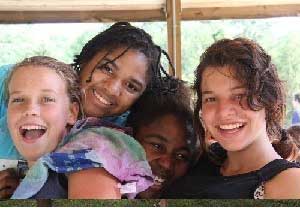 Where
IHC, Honesdale, Pennsylvania.
---
Dates for WriCampia 2016 are as follows...
Session 1: 8/15 to 8/20
(Drop-off from 12 PM to 1 PM on 8/15)
(Pick up follows 11 AM show on 8/20)
Session 2: 8/21 to 8/26
(Drop-off from 12 PM to 1 PM on 8/21)
(Pick up follows 11 AM show on 8/26)
Both Sessions (including intersession programming) 8/15 to 8/26
---
Fee
Session One: $1,600
Session Two: $1,600
Both Sessions: $3,400 ($200 intersession fee includes field trip and one night between sessions)
Limited financial aid is available.
---
Ages
We welcome campers ages 9 to 18 (rising 4th graders and above). Bunks and workshops will be organized by grade.
---
Camp enrollment will be opening soon!
A Typical Camp Day
8:00 AM to 8:45 AM Breakfast
9:00 AM to 12:00 PM Writing Workshop (led by published author or produced playwright)
12:15 to 1:00 PM Lunch
1:00 to 1:45 PM Rest Hour
1:50 Group Gathering
2:00 PM to 2:50 PM Elective (Boating, Climbing, Poetry Hikes & Tie-Dye, Sports, Yoga, Dancing, and more.)
3:00 PM to 3:50 PM General Swim and Snack
4:10 PM to 5:30 PM Art Elective (Historical Fiction, Page to Stage! (Playwrighting, directing, acting, producing), Illustration, Graphic Noveling, Jewelry-making, Zine Making, Filmmaking , Songwriting, Genre-Specific Electives, and more.)
5:45 PM to 6:30 PM Dinner
6:30 PM to 7:30 PM Shower Hour
7:30 PM to 7:45 Group Gathering
7:45 PM to 9:00 PM Evening activity (Scavenger hunts, Improv, Campfires, Spoken Word, Camp Party and more.)
9:00 to 10 PM Canteen
Sponsor a Young Writer
Many of our 2016 participants and campers will be applying for financial aid. Please help us give this life-changing opportunity to dedicated writers in need of financial assistance.
Thank you!
"Writopia sleepaway camp was the best experience of my daughter's life. It changed her. She had never done sleepaway camp before, so we didn't know if she would like being away from home for a week. She said had never been with a group of kids where she felt like she could be completely herself."
— S.E., 2013 Parent
"I would like to thank you for what was probably the best week of my summer. I had such an amazing time working and creating with my fellow writers, young and old, male and female... I loved the amount of professionalism among the staff, but also the positive and loving attitudes of all the counselors. Thank you, especially my workshop leader, for helping me so much with writing a story with an extremely mature topic that I was hesitant to explore. You exude a vibe that lets all campers know how okay it is to write from the heart, and to not hold back. So, once again, thanks to everyone for an awesome experience."

—

Ben R., age 16, 2013 Camper
"Thank you for an amazing week for Sam at WriCampia! I had a feeling Sam would enjoy the program, but not to the point of him whining all weekend that he misses camp! Spending a week doing what he loves and being surrounded by so many like minded kids and adults was truly transformative for him. My kids have both been to camp before, but the feeling I experienced on Friday during my visit was something I had not experienced before. It's hard to put it into words, but seeing the camaraderie between the kids and staff, the acceptance and support of each other and staff who genuinely seemed to care about the kids and their work/art melted my heart."

—

S. H., WriCampia 2015 Parent