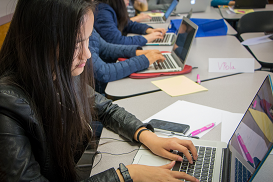 The Write-In
Write all day, make friends, meet your writing goals.
October 27th
See below for locations and times
$20 per person (includes pizza!)

Dedicated, passionate writers ages 12 to 18 join together for an all-day writing session in every Writopia region across the country. Participants meet with nationally recognized writers, work with Writopia's professional writing instructors, and bond with writers from their area. Whether you're an experienced Writopian or have never heard of us, if you're excited to spend a day writing, we're excited to host you!
The Write-In includes:
quiet, uncensored writing spaces,
a community of passionate writers,
preparation for NaNoWriMo,
genre rooms,
feedback stations from instructors,
a surprise special guest author, and
completion certificates.


&nbsp &nbsp
Write-In Fee
Region specific details coming soon! For questions about this event, please contact us.
Write-In Locations
NYC (UWS)
10 AM to 4 PM
155 W. 81st Street, Suite A
New York, NY 10024
New York Metro North
10 AM to 4 PM
104 North Washington Avenue
Hartsdale, NY 10530
Washington, D.C. Metro
12 PM to 5 PM
4000 Albemarle St, NW, 3rd Floor
Washington, DC 20016
Chicago (West Loop)
11 AM to 2 PM
641 W Lake St
Suite 200, Chicago IL 60661
Los Angeles (Westside)
10 AM to 3 PM
10642 Santa Monica Blvd Ste 210
Los Angeles, CA 90025