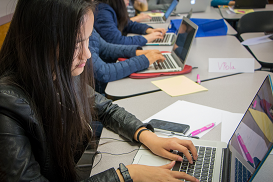 National Write-In
and Write-A-Thon!
On April 22nd, Writopia Lab will lead two programs: 1) a National Write-In at seven locations across the country for writers ages 12-18 and/or 2) a Write-A-Thon, during which writers of all ages across the country help raise funds to bring writing workshops and ongoing literacy support to families in homeless and domestic violence shelters.
The Write-In

Write all day, make friends, meet your writing goals.

Dedicated, passionate writers ages 12 to 18 join together for an all-day writing session in every Writopia region across the country. Participants meet with nationally recognized writers, work with Writopia's professional writing instructors, and bond with writers from their area. Whether you're an experienced Writopian or have never heard of us, if you're excited to spend a day writing, we're excited to host you!

The Write-In includes:

quiet, uncensored writing spaces,
a community of dedicated, passionate writers,
Writopia instructors,
laptops (though you can bring your own if you would like to),
a 20-minute poetry (un)slam,
an author visit,
pizza and snacks, and
an opportunity to help raise funds to support teen writers through the Write-A-Thon (not required).

&nbsp &nbsp

Region specific details coming soon! For questions about this event, please contact us.
Write-In Locations
NYC (UWS)
The Dome
486 Amsterdam Avenue
New York, NY 10025
New York Metro North
Writopia Lab
104 North Washington Avenue
Hartsdale, NY 10530
Washington, D.C. Metro
4H National Conference Center
7100 Connecticut Ave
Chevy Chase, MD 20815
Chicago (West Loop)
641 W Lake St
Suite 200, Chicago IL 60661
Los Angeles (Westside)
Writopia Lab
10642 Santa Monica Blvd.
Suite 210, Los Angeles, CA 90025
San Francisco Bay Area
Oakland
5951 College Ave,
Oakland, CA 94618
The Write-A-Thon
Whether you're writing at one of our locations or writing from home, or whether you're six or sixty six, you can help raise the funds needed to continue bringing our programs to resident kids and teens at domestic violence shelters and Homes for the Homeless family shelters.
Participants will solicit donations based on the number of words they write during the day, as we work to raise $35,000 for school-year off-site programs and summer scholarships. For example, someone who contributes ten cents per word to a writer who writes 1,000 words, would end up giving $100.
Please visit the Write-A-Thon page to register, learn about the process, and download a pledge sheet.
Thank you so much for your support! You can learn more about the work we do at Homes for the Homeless and other programs we run on our outreach page.
Click here to Register now for the Write-In and/or Write-A-Thon!