Writopia Lab's Worldwide Plays Festival 2023:
"Bravery MakeBelieve & Language"
*The deadline for the 2023 Worldwide Plays Festival has passed.
Acclaimed Playwright Sarah Ruhl once wrote "Theatre is, at its roots, some very brave people mutually consenting to a make believe world, with nothing but language to rest on." Now in our 14th year of the Writopia Lab Worldwide Plays Festival, we want our playwrights to imbue that same sense of fearlessness and imagination into the crafting of their plays. For a playwright to create a world, whether it's one they know or one they imagine, all they need is their words. Write deeply! Write fiercely! Write politically and personally! And don't be afraid to write with a sense of play – they are called plays, after all.
To that effect, playwrights should write a play – 8 minutes maximum – of any genre or style. The only guideline is that they must incorporate at least 1 of the following props or costumes. (Please note, if their play is chosen for production, these are the ONLY props and costumes available).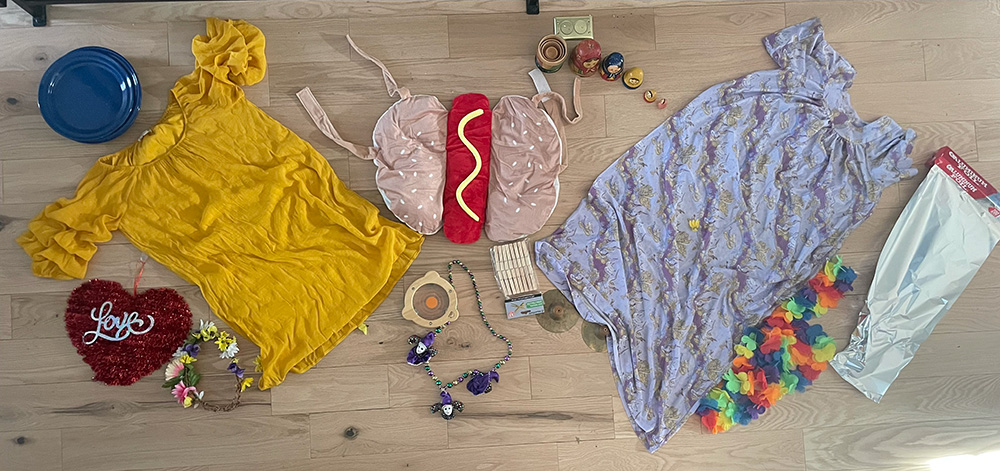 Guidelines
Props & Costumes
There will be a table and four chairs available to use as a set. Additionally, playwrights must use at least one of the props and costumes displayed in the image above. They may use more than one prop, but they may not request other props or costumes than those in the picture.
Blue plates
A yellow blouse
A Valentine's heart with the word "Love"
A flower crown
A plush hotdog
A Mardi Gras bead with jester heads
A pack of clothespins
Russian nesting dolls
A set of miniature cymbals
A lavender blouse
A lei
A roll of aluminum foil
Characters
Plays should have no more than three characters. Please include a character breakdown at the top of your play. In the breakdown, you can be as specific as you'd like about their demographics (age, ethnicity, gender, etc.) or as general or magical as you'd like (Carl is a fish).
Genre
The play can be any genre—comedy, drama, horror, polemic, tragedy, historical, docudrama, solo play, interactive, sci-fi, musical, or anything you dream up.
Format
There is no standard playwriting format in the world of theater. Feel free to use the Writopia Lab Playwriting Format as a model, if that works for you.
Narrators
There can be no narrator of the play who is not emotionally invested in the story. (i.e. Ramona can tell her story to the audience, but an unnamed narrator cannot tell her story to the audience.)
Length
Plays should be no longer than eight minutes in length. With dialogue, that evens out to about one minute per page. However, if you have longer monologues or speeches, it might be less. One way to make sure it doesn't go over eight minutes is to read it aloud by yourself or with friends and time the reading.
Who Can Submit?
Submissions for the Worldwide Play Festival are open to all playwrights between the ages of 6 and 18.
Submission Deadline
The deadline for the 2023 Worldwide Plays Festival has passed.