College Essay and Personal Essay
Click your preferred schedule type below.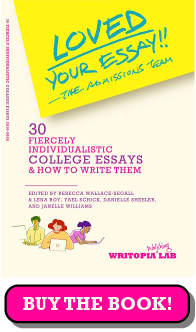 We help every applicant, no matter their prior comfort level with writing, compose a powerful personal essay that transmits who they are in the most important ways. Everyone has a story to tell. We work with students at our labs in small-group workshops, private sessions, and also at schools and partner CBOs.
Our approach is time-tested, joyful, and effective. Students can receive Writopia Lab college essay writing instruction at our labs through a College Essay Workshop or Private Sessions. Workshops at our labs have a maximum of seven participants. College Essay Workshop programs are only available to students who are high school juniors or seniors. Personal Essay/Pre-College Essay Workshops are available for freshmen and sophomores.
Our Approach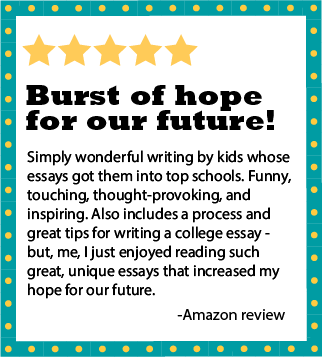 Our approach to college essay helps writers reduce stress, identify the most important stories they have to tell, and engages them in the student-centered storytelling process through the sharing of a diverse range of unusual, highly celebrated college essay samples written by other Writopia writers. We use inspiring, proprietary writing exercises, and a dynamic, discussion-driven revisions process.
Rebecca Wallace-Segall, our Executive Director, has spoken on multiple panels with directors of admissions from various universities and colleges since 2009, and our approach reflects the insights she has gained through more than a decade of engaging this robust process. She, along with a team of highly-trained Writopia Lab instructors, has helped thousands of high school juniors and seniors write their college essays and supplements, many of whom have received positive comments on their acceptance letters about their essays and have even received phone calls and emails commending them on their essays from directors of admissions.
We serve students who have not yet begun the college application process, students who may already have a draft they want to polish, and students who are anywhere in-between.
Feedback on a Writopia College Essay
Hi Theodore,
I have been working in college admissions for a really long time and have read thousands of essays. Today, I read yours and I loved it so much, I decided to stop what I was doing so that I could write to you. I laughed out loud – I loved the scene you set, your insight, your sensitivity. I have a complete and detailed mental picture of the parking lot, the neighbors, the tension. It was really fabulous. I then decided to show it to others on my staff and they all laughed in the same places, nodded in others, and handed it back saying, "Awesome."
So, you have not only made my day, but you did so for a bunch of my colleagues as well!
I hope you enjoyed writing it as much we enjoyed reading it.
Cheers,
Director of Admissions (A top school)
We will not write essays for students. Each and every word is the student's own. We allow students to find their voices and give them the confidence to use them, and we ultimately provide guidance on structure and editing. At Writopia Lab, we witness the power of authentic young voices every day. Students will not only have completed a college essay but will have discovered a new confidence in their own writing.
We are thrilled to report that in recent years, our college essay students have won admittance to:
Barnard College, Binghamton University, Boston University, Bucknel University , Colorado College, Harvard University, LeMoyne, Loyola, New School, New York University, Northwestern, Oberlin, Pace, Pace University, Seton Hall, Skidmore, Stanford, SUNY Albany, Swarthmore, Temple University, Tufts University, University of Chicago, University of Maryland, University of Minnesota, University of Pennsylvania, University of Texas Austin, Washington University, Yale University, and many more!
"The staff from Writopia created a personalized, genuine writing experience for our students. They patiently guided students through the anxieties surrounding college admission essays, validated students' experiences, and motivated them to turn those experiences into eloquent, personal statements. The students walked away feeling confident about the essay writing process, and so did I. I highly recommend their services!"

Chano LaBoy - Director, College Bound - Chess in the Schools
"My daughter worked with Writopia for her Common App essay and it was an absolutely wonderful experience. She benefitted immensely from the individual work with her Writopia instructor who made her feel valued and confident. As a result, my daughter was able to write an essay that clearly communicated who she is both as a student and a person. Our only mistake was not starting to work with Writopia earlier."

Karen - Writopia Parent
Check back soon for the 2022-2023 School Year schedule. We expect the Fall trimester to start on or by the week of September 12th. To be notified about the upcoming school-year schedule and other Writopia Lab programs, sign up for our mailing list.
See our summer schedule here.
Half-Day workshops generally meet for 3 hours and run on school breaks and holidays. If there are no listings on the schedule below, contact register@writopialab.org to inquire about when this program will be offered again, or set up a private session by filling out this form.
Half-Day workshops generally meet for 3 hours; Full-Day camps meet for a 3-hour workshop, a 1-hour lunch, and 3 hours of electives. If there are no listings on the schedule below, contact register@writopialab.org to inquire about when this program will be offered again, or set up a private session by filling out this form.