Program Logic Model
At Writopia Lab, youth have made Social-Emotional Learning gains in areas such as Positive Identity, Academic Self-Efficacy, Social Skills, and Self-management, which are directly linked to long-term positive behavior, thriving youth, improved academic performance, and improved workforce readiness.
Here is Writopia's Program Logic Model, a graphic that presents what we do, how we do it, and the short-term and long-term effects on our youth.
Activities
Multi-genre Writing Workshops for youth ages 3 to 18.
Summer full-day camp and Sleepaway Camp
One-on-One Literacy Support and Mentorship
Literary gatherings, events for the community, and an annual professional play festival.
High school and college level internships
Literary Magazines
Effective Practices
Professional writers (Instructors) provide strengths-based feedback to our youth's writing.
Instructors encourage writers to choose writing projects that matter to them and set their own writing goals.
Instructors lead our youth through writing games that promote joy, reflection, and collaboration, and also teaching craft concepts on an intrinsic level.
Youth provide positive and constructive feedback on one another's writing and collaborating on group writing games and stories.
Youth share their writing at readings, performances, and through the publication of our online literary magazines.
Short-Term Outcomes
Improved Social-Emotional Learning Skills
Increased joy, critical thinking, self-esteem, confidence, leadership skills, social skills, and empathy
Improved self-management skills and ability to set and evaluate goals
Increased academic self-efficacy and Self-expression/Creativity
Improved Writing and Literacy Skills
Admission to a High School and/or College of the Youth's Choice
Increased Publications/Awards/Recognition
Long-term Outcomes
Thriving Youth
Continued Positive Behavior
Decreased Risky Behavior
Improved Academic Performance
Improved Workforce Readiness
Lifetime love of writing
Continued Positive Association with Writing
Confidence to share work and thoughts with peers and in public scenarios
Impact Spotlight 2019
Check out the latest 2019 Impact Details!
Read the WriCampia Impact Spotlight Report!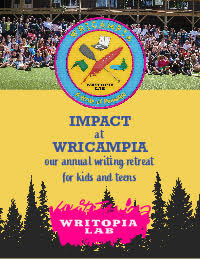 Our Donors
We are so grateful to the donors who have made our outreach programs possible. Writopia Lab relies on their--and your--contributions to ensure that young writers most in need receive the support they deserve.