Writopia's Youth Essay Conference: A Celebration of Ideas Across Disciplines
---
Submissions Now Open for Writopia's 2019 Youth Essay Writing Conference Panel
We are pleased to announce Writopia's 2019 Youth Essay Writing Conference: A Celebration of Critical Thinking Across Disciplines. At the panel segment of the conference, we welcome the next generation of thinkers and writers (ages 12 to 18) to share their ideas, passions, and research with their peers and the community at large.
Submission for papers are now open. We are calling for essays on literature, history, science, politics, philosophy, and more. Persuasives, analytical, position, opinion, and research papers are welcome. If you have a paper that is outside of these categories but that you would like to submit, e-mail essays@writopialab.org to see if your paper is eligible for inclusion.
When: Sunday, February 3rd
Location and Time: TBA
To submit, please fill out this form and send an email with your paper attached to essays@writopialab.org by Monday, December, 3rd.
---
Writopia's Winter 2018 Youth Essay Conference: A Celebration of Ideas Across Disciplines
Writopia's Winter 2018 Youth Essay Conference was hosted by the Center for Experimental Humanities at New York University. The event was held at NYU's Silver Center for the Arts and Sciences on February, 4th from 1:00pm to 4:00pm.

At this conference, the next generation of thinkers, writers, and leaders shared the ideas and research that they are most passionate about with a panel of their peers and the community at large. The panels formed organically from a pool of critical essays we received from writers ages 12-18 from all over the New York Tri-State area, which highlighted the concerns and commentary of the next generation.

Panels included: The Feminist Critical Lens America Revisited Psychology and Ethics Race and Media Technology and Society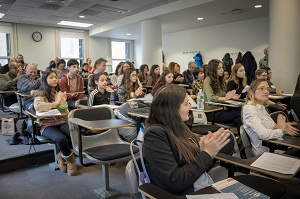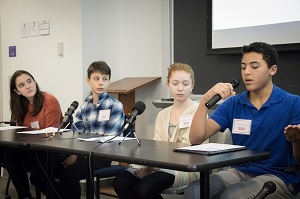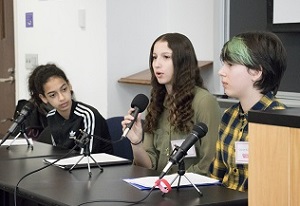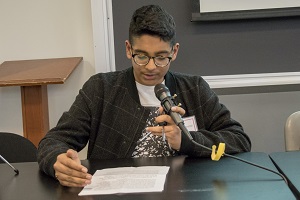 Panels and Participants
The Feminist Critical Lens
Energy, Empowerment, & Entrepreneurship: Female Figures in American Literature by Sofia Caruso

Dinah's Voice Must Always Be Heard; A Speech Examining Vayishlach (Genesis 34) Through A Feminist Lens by Galaxy Scheuer

The Benefit of Female Education on the World by Maleeha Rahman

Frankenstein, Not Gloria Steinem by Ariana Reichler
America Revisited
Change and Continuity in Apocalyptic Thought by Ella Berg
The Vietnam War by Allie Smithie
Columbus Day: The Genocide of Thousands Day by Heidi Forbes
Why the United States Constitution Established a Just Government by Mackenzi Berner
Psychology and Ethics
The Dilemma of a Debater's Moral Integrity by Talin Schell
Romeo and Juliet Revisited by Alice Goyer
Good Night, Bad Night: The Black Night in Macbeth by Dexter Pakula
A Mindful Macbeth: How "Hand" is used in Macbeth to represent a Relationship Between Mind and Body by Delilah Shapiro
The Influence of the Rise of the Trump Administration on the NCAM Subculture by Sierra Blanco
Race and Media
The Murder of Mary Phagan: Race and Class Tensions in Atlanta in 1913 by Eve Cohen
Whitewashing: Bringing Color to the Screen by Jared Klegar
To Be Free by Arjun Mazumdar
The Dangers of Stereotyping by the Media by Mayeesa Rahman
Technology and Society
Schoolwork Aiding Websites: Innocent Aid, or Devious Cheating? by Benjamin Samuels
Work of Tomorrow by Noah Phillips
You Could Be Next by Jasmine Berger