Writopia's Youth Essay Conference 2020: A Celebration of Critical Thinking Across Disciplines
Submissions for the Essay Conference are due on December 19th, 2019.
The Conference will be held at The New School on February 2nd, 2020.
---
Writopia's 2019 Youth Essay Conference: A Celebration of Ideas Across Disciplines
Writopia's Winter 2019 Youth Essay Conference was hosted by the Eugene Lang College of Liberal Arts at The New School on February 3rd from 1:00pm-4:00pm. At this conference, the next generation of thinkers, writers, and leaders shared the ideas and research that they are most passionate about with a panel of their peers and the community at large. The panels formed organically from a pool of critical essays we received from writers ages 12-18 from all over the New York Tri-State area, which highlighted the concerns and commentary of the next generation.
Panels included: America Revisited Art and Artifice Gender Studies Individual and Society Revolts and Revolutions
America Revisited
9/11 A New York Tragedy
by Maggie Hanrahan
Complicating the Declaration of Independence: An Analysis of Three Case Studies
by Yanna Glogov
APUSH It Out!
by Ashley Ware
The Forgotten Cowboys
by Lydia Wei
A Brief History of the Salem Witch Trials
by Jason Milch
The Negative Impacts Eyewitness Misidentification has had on American Society
by Ashanti Benons
Racism
by Carson Stultz
Art and Artifice
Superheroes
by Noah Um
What is Constructive Criticism and Why is it Important?
by Greer Welte
Linguistic Relativity: the Impact of Language & Society
by Ella Berg
Separating Art from the Artist in the Age of #MeToo
by Abigail Sylvor Greenberg
The Ancient World and The Future World: Yesterday and Tomorrow
by Lilly Elliasevich
Definitive Characterization: The Insidious Corruption of High Art
by Benjamin Samuels
Gender Studies
What is sexisim?
by Sofia Gonzalez

"

Spinsters, Damsels, and Green-Skinned Space Babes: An Analysis of Female Representation in Sci-fi Film
by Nancy Yao

"

Consent: Hidden in the Length of My Skirt?
by Julia Sperling

Nolan's Inception, Shakespeare's Macbeth, and the Femme Fatale
by Oscar Tirabassi

Margaret Sanger: Role Model or Racist Eugenicist?
by Eloise Harcourt
Individual and Society
Home Is Where the Heart Is: The Meaning of Two Distinct Words
by Stella Geller
The Concept Of Roleplaying
by Finn Hamre-Myers
Sorry, I can't Eat That
by Sarina Motwani
The Girl Behind the Wheelchair
by Jocelene Ramnanan
"Good" Schools
by Sophia Ghantous
What's the Tea?
by Daido Ouattara
Revolts and Revolutions
Feel the Heat: How Qatar is Converting to Solar Energy
by Aparna Viswanathan
How is the Winner of the Nobel Peace Prize Determined?
by Kristen Billings
Lenin's Declaration: A Reflection of the Toiling People's Anger
by Lyon Kim
Populism: Fighting for Liberalism without Liberals
by Luke Widenhouse
Conspiracy Theories
by Julien Gotay
The North Korean Missile Crisis
by Miles Erdly-Liang
---
Writopia's Winter 2018 Youth Essay Conference: A Celebration of Ideas Across Disciplines
Writopia's Winter 2018 Youth Essay Conference was hosted by the Center for Experimental Humanities at New York University. The event was held at NYU's Silver Center for the Arts and Sciences on February, 4th from 1:00pm to 4:00pm.

At this conference, the next generation of thinkers, writers, and leaders shared the ideas and research that they are most passionate about with a panel of their peers and the community at large. The panels formed organically from a pool of critical essays we received from writers ages 12-18 from all over the New York Tri-State area, which highlighted the concerns and commentary of the next generation.

Panels included: The Feminist Critical Lens America Revisited Psychology and Ethics Race and Media Technology and Society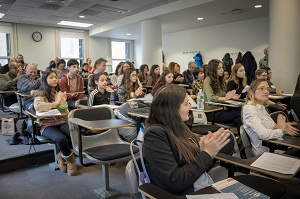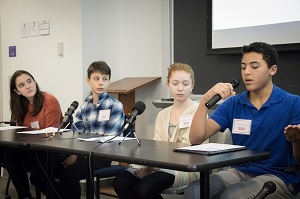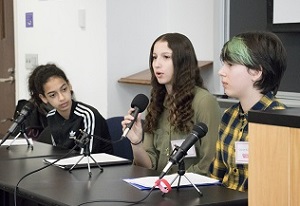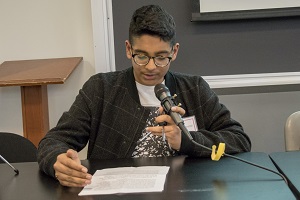 Panels and Participants
The Feminist Critical Lens
Energy, Empowerment, & Entrepreneurship: Female Figures in American Literature by Sofia Caruso

Dinah's Voice Must Always Be Heard; A Speech Examining Vayishlach (Genesis 34) Through A Feminist Lens by Galaxy Scheuer

The Benefit of Female Education on the World by Maleeha Rahman

Frankenstein, Not Gloria Steinem by Ariana Reichler
America Revisited
Change and Continuity in Apocalyptic Thought by Ella Berg
The Vietnam War by Allie Smithie
Columbus Day: The Genocide of Thousands Day by Heidi Forbes
Why the United States Constitution Established a Just Government by Mackenzi Berner
Psychology and Ethics
The Dilemma of a Debater's Moral Integrity by Talin Schell
Romeo and Juliet Revisited by Alice Goyer
Good Night, Bad Night: The Black Night in Macbeth by Dexter Pakula
A Mindful Macbeth: How "Hand" is used in Macbeth to represent a Relationship Between Mind and Body by Delilah Shapiro
The Influence of the Rise of the Trump Administration on the NCAM Subculture by Sierra Blanco
Race and Media
The Murder of Mary Phagan: Race and Class Tensions in Atlanta in 1913 by Eve Cohen
Whitewashing: Bringing Color to the Screen by Jared Klegar
To Be Free by Arjun Mazumdar
The Dangers of Stereotyping by the Media by Mayeesa Rahman
Technology and Society
Schoolwork Aiding Websites: Innocent Aid, or Devious Cheating? by Benjamin Samuels
Work of Tomorrow by Noah Phillips
You Could Be Next by Jasmine Berger