Creative Portfolio for Teen Writers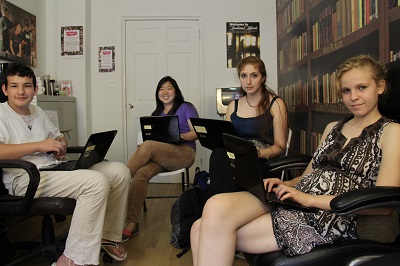 Creative Portfolio places an emphasis on understanding how writing in a variety of forms (narrative, poetry, memoir, script) enriches and informs every writer. Workshops are fun, engaging, and designed to expand skills. Students are challenged to set and achieve writing goals: completing multiple well-developed, polished pieces in different genres throughout the school year. Through our innovative workshop method, we empower students as peer leaders as they gain skills in writing, editing, analysis, and effective communication. The workshops allow a community of teen writers to find each other, connect via their literary passions, and have lots of fun.
Workshops are student-centered and author-led. Our students flourish in these multi-genre workshops where they can gain exposure to diverse styles and voices. Sessions are peppered with original and fun writing exercises but focus primarily on writing—and completing—stories. It is a true workshop in which students get to share their writing in a safe and supportive space; students learn how to give and receive insightful feedback.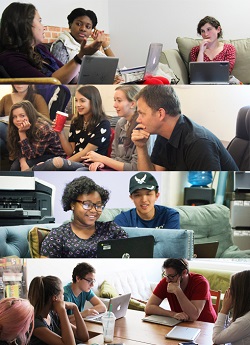 Participation in the school-year Creative Portfolio program includes:
33 weekly workshop sessions over three school-year trimesters

No makeups for weather or absences

A one-day Submissions Prep workshop

This one-day workshop in December is held for writers creating and preparing works for the Scholastic Writing Awards deadline

Three hours of Portfolio Review one-on-one between the writer and their instructor to be taken at any point during the year

For example, we recommend that seniors take advantage of their three sessions in the fall for college essays
Others may want to spread their Portfolio Review sessions over the year or focus on meeting particular submissions deadlines

Payment for this school-year-long commitment can be made one of two ways

Pay at the beginning of the school-year (with a big discount)
Pay-by-Trimester
For those who need to make payment in parts, or wish to use our sliding scale, payment can be made at the beginning of each fall, winter, and spring trimester
Requirements for the school-year Creative Portfolio program:
An eagerness to be challenged
Internship

Participants commit to completing at least one trimester-long internship during the school year
Attend mandatory Intern Training once a trimester
Internship provides teens with valuable experience in leadership and organization, and adds to their college application resume
Complete at least one trimester-long workshop internship during the school year, under the supervision of a workshop instructor
Engage in at least one committee to run one or more school-year events
Seniors have the option to fulfill High School senior internship placement
Creative Portfolio tuition:
For families who choose to pay in one sum for the whole school-year, the fee is $2,114 (saving more than $300 from a $2,443 value), and can be paid before we start in September.
For families who need to make payment in parts, or wish to use our sliding scale, payment can be made at the beginning of each fall, winter, and spring trimester.

Sliding scales tiers, per trimester

$814 (full fee)
$670
$527

If you need another payment schedule or have questions, just let us know. We want everyone to be able to participate. Please contact Register@writopialab.org with any questions.