Creative Portfolio for Teen Writers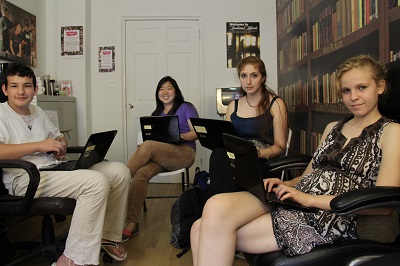 The Creative Portfolio program places an emphasis on understanding how writing in a variety of forms (narrative, poetry, memoir, script) enriches and informs every writer. These workshops challenge teen writers to set and achieve writing goals: completing multiple well-developed, polished pieces in different genres throughout the school year.
In-person and online options are available.
By building a community of teen writers connected via their literary passions and having lots of fun, we empower students as peer leaders, developing skills in writing, editing, analysis, and effective communication.
Application Only
Please include a writer's statement demonstrating commitment and an eagerness to be challenged, and a 5 page writing sample


Apply Here!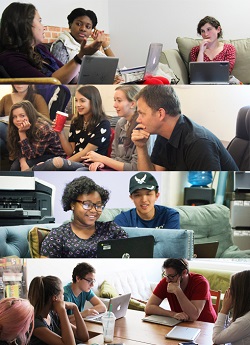 Participation in the school-year Creative Portfolio program includes:
33 weekly workshop sessions over the school-year
Six online Master Classes, monthly (October through April, with genres below subject to change) on Thursdays from 7:00 to 8:30 PM Eastern Time, 4:00 to 5:30 PM Pacific Time

Oct 13, 2022: Comedy
Nov 17, 2022: Memoir
Jan 19, 2023: Playwriting
Feb 16, 2023: Writing Diverse Characters
March 16, 2023: Screenwriting
April 20, 2023: Speculative Fiction

A one-day online Submissions Prep workshop

This one-day workshop in December is held for writers creating and polishing works for the Scholastic Writing Awards deadline

Two hours of one-on-one Portfolio Review sessions between the writer and their instructor to be taken at any point during the school-year
A bound copy of the Creative Portfolio Yearbook — an anthology of writing curated by Creative Portfolio teens
Option (for an extra fee) to attend the Creative Portfolio Retreat over Memorial Day weekend 2023. Location TBD.
Creative Portfolio members will
Be challenged to explore new genres
Attend peer community events
Receive weekly communications from Director of Teen Programs with relevant information, reminders, sign ups and planning will be sent each Tuesday

"Epistles" with relevant information, reminders, sign ups and planning will be sent each Tuesday

Complete an internship — mandatory for Creative Portfolio Teens 10th grade and up

Participants commit to completing at least one trimester-long assistant teaching internship during the school year under the supervision of a workshop instructor OR
Join a committee for the school year, such as

Turning the Page: a social justice committee meeting bi-weekly on Tuesdays from 7:15 to 8:00 PM Eastern Time to plan round tables and curate an anthology
Editorial Internship: working with Writopia Lab's litmags
Community and Literary Event Committee: meeting bi-weekly on Thursdays from 7:15 to 8:00 PM Eastern Time to help plan and organize regional in-person regional meetups and events including field trips
Teen Writers Summit: organizing a community event in the fall
Yearbook: organizing a project in the spring

Alternately, Seniors have the option to fulfill High School senior internship placement
Creative Portfolio Tuition
Payment for this school-year-long commitment can be made one of two ways:

Pay at the beginning of the school year (with a discount)

For families who choose to pay in one sum for the whole school year, the fee is $2,355 (compared to a $2,600 value), and can be paid before we start in September.

Pay at the beginning of every trimester

For families who need to make payment once per trimester, or wish to use our sliding scale, please reach out to register@writopialab.org. Everyone is able to participate in Writopia Lab programs, despite economic constraints
Make-Up Policy
Creative Portfolio writers are expected to commit to their workshop time throughout the school year and there are no make-ups for absences. However, as we are a national community and Creative Portfolio workshops are online, we are able to make some exceptions if you have a schedule change/conflict. If you have another extracurricular that will absent you from three or more workshop sessions, we can work with you if we are given ample notice.