Creative Portfolio for Teen Writers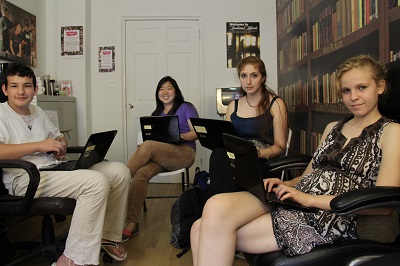 Creative Portfolio places an emphasis on understanding how writing in a variety of forms (narrative, poetry, memoir, script) enriches and informs every writer. These hybrid workshops are fun, engaging, and designed to expand skills. Weekly workshops are online, and also include monthly, regional in-person meetups. Students are challenged to set and achieve writing goals: completing multiple well-developed, polished pieces in different genres throughout the school year. Through our innovative workshop method, we empower students as peer leaders as they gain skills in writing, editing, analysis, and effective communication. The workshops allow a community of teen writers to find each other, connect via their literary passions, and have lots of fun.
Workshops are student-centered and author-led. Our students flourish in these multi-genre workshops where they can gain exposure to diverse styles and voices. Sessions are peppered with original and fun writing exercises but focus primarily on writing—and completing—stories. It is a true workshop in which students get to share their writing in a safe and supportive space; students learn how to give and receive insightful feedback.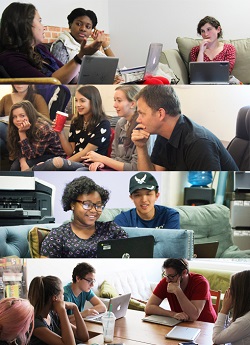 Participation in the school-year Creative Portfolio program includes:
33 weekly zoom workshop sessions over three school-year trimesters

Choose one workshop time for the year

Mondays 6:00 PM to 7:30 PM Eastern Time
Tuesdays 5:30 PM to 7 PM Eastern Time
Wednesdays 5:30 PM to 7 PM Eastern Time
Wednesdays 9 PM to 10:30 PM Eastern Time
Saturdays 1 PM to 2:30 PM Eastern Time

Five In-person regional meetups and field trips

Tuition includes our five in-person gatherings on Saturday afternoons. These two-hour salons have a literary focus that can include local open mic events, poetry collage/black out poetry, graphic novel writing, Read the book and watch the movie, Wild Writopia and nature writing, Writing Diverse Characters, Live and Virtual Theater. (For those who live far from our regional labs, please inquire about options.)

A one-day on-line Submissions Prep workshop

This one-day workshop in December is held for writers creating and polishing works for the Scholastic Writing Awards deadline

Two hours of one-on-one Portfolio Review sessions between the writer and their instructor to be taken at any point during the school-year
A bound copy of the Creative Portfolio Yearbook — An anthology of writing curated by Creative Portfolio teens
Requirements for the school-year Creative Portfolio program:
An eagerness to be challenged and explore new genres
Attendance at additional in-person regional meet-ups
Read weekly communications from Director of Teen Programs

"Epistles" with relevant information, reminders, sign ups and planning will be sent each Tuesday

Internship - mandatory for Creative Portfolio Teens 10th grade and up

Participants commit to completing at least one trimester-long assistant teaching internship during the school year under the supervision of a workshop instructor OR
Join a committee for the school year

Turning the Page: social justice committee
Editorial Internship: Writopia Litmags
Community Event Committee: helping plan and organize regional events including field trips
Literary Event Committee

Teen Writers Summit
Authors Corners
Open Mic Events

Seniors have the option to fulfill High School senior internship placement
Creative Portfolio tuition:
Payment for this school-year-long commitment can be made one of two ways:

Pay at the beginning of the school year (with a discount)
For families who choose to pay in one sum for the whole school -year, the fee is $2,355 (compared to a $2,600 value), and can be paid before we start in September.
Pay at the beginning of every trimester
For families who need to make payment once per trimester, or wish to use our sliding scale, please reach out to register@writopialab.org. Everyone is able to participate in Writopia Lab programs, despite economic constraints
Make-Up Policy
Creative Portfolio writers are expected to commit to their workshop time throughout the school year and there are no make-ups for absences. However, as we are a national community and Creative Portfolio workshops are online, we are able to make some exceptions if you have a schedule change/conflict. If you have another extracurricular that will absent you from 3 or more workshop sessions, we can work with you if we are given ample notice.