Writopia Lab's Workplace Values
Learning, Community, Innovation, Hard Work, and Communication
At Writopia Lab, we value a work culture driven by open communication within our close-knit community, and a passion for innovation, hard work, and continual learning.
Writopia Lab's Culture of Learning
At Writopia Lab, we believe a culture of learning creates a joyful and productive workplace. We demonstrate learning by participating collaboratively to share best practices with each other, so that we are empowered both as individuals and as teams. We cultivate a space where questions are celebrated; together, we share in a spirit of discovery. By learning and improving educational frameworks, systems, processes, and tools, we support organizational growth as well as our individual growth. Writopia Lab workplace culture fosters learning by inspiring and supporting personal, creative, and professional growth of all our colleagues within and beyond the lab.
Writopia Lab's Culture of Innovation
Writopia Lab demonstrates innovation through experimenting with our thoughts and tools in a lab-like setting, both in and out of the workshop space. To ensure that Writopia Lab remains unique, nimble, relevant, and, ultimately, as impactful as possible, we encourage all employees to share their ideas for workplace, systems, and pedagogical and personal evolution with the understanding that there is no idea unworthy of examination.
Every year, new vibrant programs are inspired, developed, and executed by members of our team. Every employee has a responsibility to share their ideas so we can work together to set them in motion. We encourage risk taking and thinking outside the box because we are optimistic—having the glass-half-full attitude gets things done and fosters creativity. We believe in our team members' creativity and we support innovative ideas; even if one idea doesn't take hold, collectively they all add up to a culture of growth and excellence.
Writopia Lab's Work Culture
At Writopia Lab, our full-time team demonstrates hard work by both independently and collaboratively working to ensure we execute the most innovative, impactful systems and programs. We set and meet deadlines to hold ourselves and each other accountable to execution and excellence, and we work both as a team and independently. Because we are passionate about Writopia Lab's community and impact, we commit to make sure programs run smoothly. We believe programs and projects are successful when they are fun and meaningful for the employees who are leading them and for the youths being transformed by them.
Though everyone at Writopia Lab has a specific role and responsibilities, we have a culture of teamwork and openness. We are a growing organization, and jump in to help our coworkers when needed. Everyone in the organization may spend some time answering phones, talking to parents who stop by with inquiries, and switching gears when the team has a deadline or a special project.
Writopia Lab's unique role in the community lends itself to a unique work schedule. We are here when the community needs us. Summers are an especially busy and exciting time at Writopia Lab, as we serve half of our kids and teens during this season. Writopia Lab employees take opportunities to attend our programs and events on additional evenings and weekends throughout the school year when they feel passionate about the youth served and the impact of the event; these events become opportunities to cultivate a sense of community and to grow as a fulfilled and successful member of the team. Historically, Writopia Lab has become vital to our community because we are driven to meet our families' needs.
As a team, the managers along with all employees acknowledge intersections between work and life; employees are supported by management to maintain a work/life balance through open communication and mutual flexibility.
Writopia Lab's Culture of Open Communication
At Writopia Lab, open, thoughtful, and direct conversations drive individual and organizational growth. This beautiful philosophy is tied fundamentally to the work we do with youths and parents, and is extended directly into our workplace. Even at our busiest times, junior and senior colleagues take the time to listen, respond, and engage in productive conversations with each other about projects, systems, community concerns, and teamwork needs. All Writopia Lab staff members are charged with being change-makers, not complainers; we are empowered to bring issues respectfully to management who brainstorms solutions with us, and addresses them.
At Writopia Lab, our workplace successes are driven by fun and meaningful productive teamwork and discussion, whereas problems are caused by a breakdown in communication. We understand why: most people wish to avoid conflict, and are unsure if it will be productive to bring an issue forward. But we find that as long as all parties approach one another with an open mind—generously offering each other the benefit of the doubt—honest conversations improve workplace culture.
All employees receive feedback on their work in the spirit of growth and professional development. Constructive feedback is a sign of belief in each other and trust in the organization's focus on delivering fantastic experiences to the young writers we work with, their families, and to each other. Much like we tell our writers, we believe that we can only grow if we challenge ourselves and recognize how we can improve. Thoughtful, respectful, direct communication allows for this.
Writopia Lab's Culture of Community Support
Writopia Lab was founded as a writing community for teens and kids, and we apply that same model of support and friendship to our own workspaces. We value empathy and diversity as a means to learn from each other and develop our perspectives as mentors and colleagues; the more we grow, the more impact we can have on our Writopia Lab community as a whole. We strive to give our staff opportunities to support our youths and each other in our professional and personal development. At Writopia Lab, everyone's voice matters.
Impact Spotlight 2019
Check out the latest 2019 Impact Details!
Read the WriCampia Impact Spotlight Report!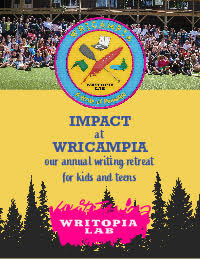 Our Donors
We are so grateful to the donors who have made our outreach programs possible. Writopia Lab relies on their--and your--contributions to ensure that young writers most in need receive the support they deserve.