What is Writopia Lab?
"It is the supreme art of the teacher to awaken joy in creative expression and knowledge."

Albert Einstein
Writopia Lab offers creative writing workshops for young and teen writers. Our method encourages students to write freely about topics of interest to them and prompts both enthusiastic and reluctant writers with engaging writing exercises. This creates an environment in which young writers are able to relax, brainstorm, take risks, write and revise.
Participants in Writopia Lab write more, think more deeply about their own writing, and become more invested in turning ideas into fully developed stories, plays and essays. By encouraging students to become committed and engaged writers, Writopia helps them to unlock their full potential.
"My son has cultivated a complete love of writing through his time at Writopia. He is as excited to go to the weekly workshops as he would be to any of his other fun activities, sometimes even more. He also now writes on his own at home. Writopia had had such a positive impact on not just his writing but in his ability to creatively express himself. "

Writopia Parent
Is Writopia Right for My Child?
Writopia serves a diverse community of writers from all different backgrounds. Writers who enter Writopia programs as enthusiastic writers benefit immediately from a community of like-minded peers committed to the process of composing, workshopping, and polishing their writing. Reluctant writers, guided by our highly-trained instructors — all of whom are published authors or produced playwrights — respond to the student-centered, non-censored, fun, rigorous instruction.
In 2015, about 15% of our participants described themselves as reluctant writers — most of whom "hated" writing when they enrolled. By the end of the trimester, 96% of our writers said that they "liked" or "loved" writing.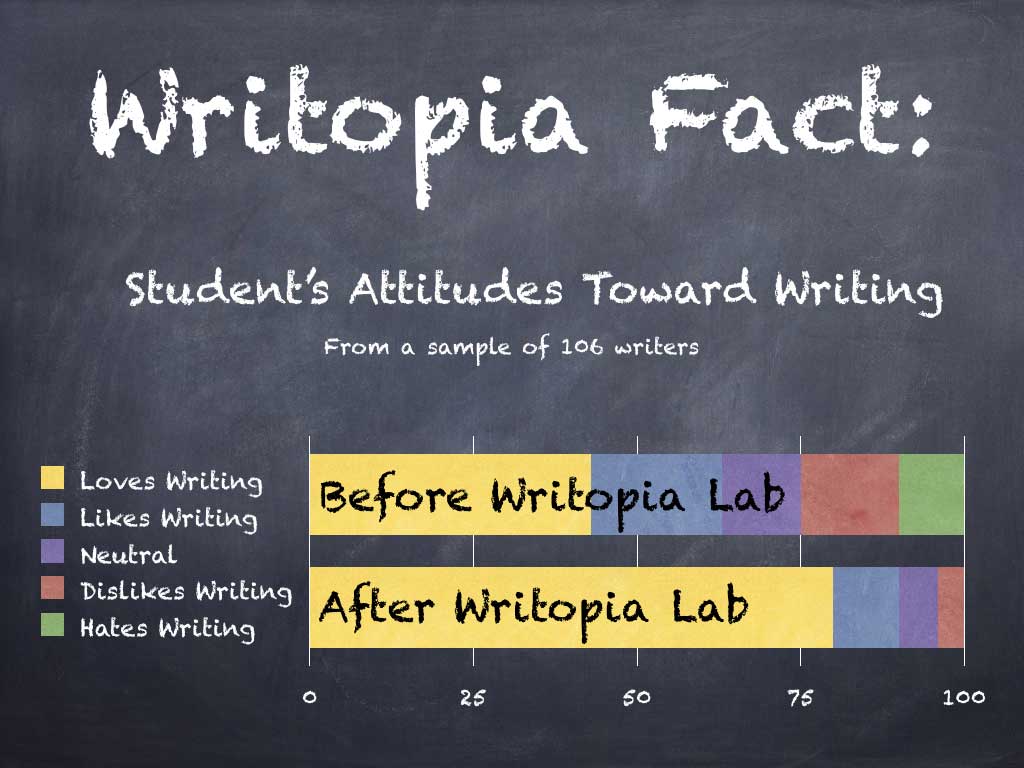 How to Get Your Young Writer Involved with Writopia
With 19 labs and 25 schools at which we currently run workshops, there's a good chance we're within driving distance. Even if that's not the case, there are still ways to sign up your young writer for a workshop or private sessions.
Internships for Your Teen Writer
Writopia also offers summer internships for high schoolers. Review the application process for details.
How Can I Get Involved?
Writopia Lab welcomes any current, past, or prospective parent who wants to get involved!
Family Memoir: For parents who want a firsthand taste of a Writopia workshop, check out our Family Memoir workshops, where you can join your young writer in producing a memoir of your own!
Open Houses: We run two open houses each semester for parents/guardians of our currently enrolled writers during which we play Writopia games and discuss Writopia's instructional framework and methods.
Readings: All of our writers will have the opportunity to showcase their work at various readings throughout the school year and summer. Sign your writer up and come to support them! These readings are open to the public, so feel free to bring a guest!
Volunteer: Writopia Lab is a 501(c)(3) nonprofit organization, tasked with fostering joy, literacy, and critical thinking in children and teens from all backgrounds. You can learn more about how we ensure that we're reaching young writers from diverse backgrounds and you can join us in those efforts!
Donate: We wouldn't be able to do all the amazing work we do without the generous support of our community. You can directly support this work with a donation of your own, below.
Parent FAQ
What kind of Workshops does Writopia offer?

Writopia offers programs in several different creative disciplines. For more information, view our Program Types for Young Writers and Teen Writers.

I am thrilled that my child loves to write, but are workshops actually fun?

Yes! Our workshop method only works because the participants are able to relax, brainstorm, experiment with writing exercises, laugh, and freely write in the genres they wish.

I understand that workshop should be a fun environment, but will the kids be learning the craft of story writing and the mechanics of language?

Our writers won more regional and national Scholastic Art & Writing Awards in the past seven years than any other group of kids in the entire country! While our workshops are indeed quite fun, we have developed a method that teaches students how to transform ideas into fully developed stories and brings out their highest level writing.

What if my child doesn't love to write?

Writopia is a special, safe, exciting place for kids who love to write. Have him or her come in for one trial day to decide for herself. We are proud to report that 99% of our "reluctant" writers choose to stay after their trial session.

My child is a good writer but she is nervous about sharing her work with others. Is this a sign that she may not fit in?

Most young people enter workshop timid about sharing. Within a day, participants are brainstorming, bonding, and laughing together. Ultimately, all of our writers share their work with ease.

Are there other boys in your workshops?

Yes! Most workshops enroll an equal amount of boys and girls, but please do not hesitate to ask us about the makeup of the workshop your child is signing up for.

When Do Workshops Meet?

Trimester Long Workshops meet one day a week during fall, winter, and spring trimesters. Workshops meet for ten 90-minute sessions.
Half-Day Workshops are offered during during holiday breaks throughout the school year and as week-long options over the summer. Half-Day Workshops meet for 3 hours each day.
Full-Day Workshops are offered on holiday breaks and as week-long programs throughout the summer. Full-day workshops run for seven hours with students participating in writing workshops for the first half of the day and an elective for the second half of the day. Examples include Filmmaking, Graphic Novel, World-building, and Songwriting.
Our instructors and tutors are available to meet for private sessions with students to work on short stories, memoirs, novels, college essays, expository writing, or SAT-prep and ACT-prep. Review our Private Sessions page for more information.
Sleepaway Camp is offered in August. Review our Sleepaway Camp page for more information.
Our Mission
Writopia Lab fosters joy, literacy, and critical thinking in children and teens from all backgrounds through creative writing.
We have never turned away a student whose family was unable to pay for workshops. Fifty percent of our students attend on either partial or full scholarships.
Impact Spotlight 2019
Check out the latest 2019 Impact Details!
Read the WriCampia Impact Spotlight Report!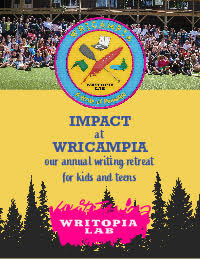 Join the Team!
If you love writing and want to share that love with young writers, apply today to join Writopia Lab! Click here to learn more!