A Legacy of Generosity
"Writopia has been an incredible resource for our family, both prior to and during the pandemic. In this isolating time, it is so valuable for young writers to find a community, and Writopia offers vibrant, passionate groups of young people focused on expressing themselves. It's been amazing to see how effectively this has migrated to a remote environment, and we are proud to support Writopia and your life-changing programs!

During this challenging time, we hope that other families can join us in supporting the critical work that the Writopia team is doing."

Jerra & Paddy Spence, 2020 Benefactors
We are grateful to the following individuals, foundations, and businesses for supporting our mission and programs with generous donations:
Benefactors ($100,000 and up)
Cohanzick Management, LLC.
Crosswicks Foundation, LTD
Spence Charitable Trust
The Hartman Family Foundation
The Joseph H. Flom Foundation
The Pinkerton Foundation
Worldwide Pants Inc.
Sponsors ($50,000 - $99,999)
Meringoff Family Foundation Inc
Empowerment Donors ($10,000 - $49,999)
Andrea Stern
Candice Braun & Benjamin Braun
Jamie Wolf
Joseph S. and Diane H. Steinberg Charitable Trust
Mellam Family Foundation
Natalie P. Silverstein
National Philanthropic Trust - Kenneth W and Janice W Freeman Family Foundation
Nicholas Polsky & Eve Yohalem
Peter Yu & Sandy Mancini Charitable Fund
Jennifer Sylvor & Steven Greenberg
Scholastic Art and Writing Awards
Skadden, ARPS, Slate, Meager & Flom LLP
The Dallas Foundation
Youth Inc
Patrons ($5,000 - $9,999)
AKC FUND, INC
Alane B. McNulty & Paul M. McNulty
Andreas Schlaepfer
Atoosa Rubenstein & Ari M. Rubenstein
Barrett Touhy
Charles P. Rogers Co., Inc.
Christina Davidson.
Debbie Cooper
Edward M Wolfe
Elaine Brodsky & Norm Brodsky
John French
Julie Jacobs
Karen Handler & Patrick Ryan
KEDS Foundation via Morgan Stanley
Liam Katz:Nicole Duval
Lisa Minsky-Primus
Meadowlark Family Foundation Inc.
National Philanthropic Trust - Edward and Elisabeth Wolfe Foundation
National Philanthropic Trust - The French Family Charitable Fund
Northern Trust Charitable Giving Program at The Chicago Community Foundation
Schwab Charitable
Stephanie Hurwitz & Jeffrey Hurwitz
The Benevity Community Impact Fund
Vivian Awner
Major Donors ($1,000 - $4,999)
Adele Griffin LLC
Alison Cowan
Alison Kunofsky
Allegra Parks
Alliance for Young Artists & Writers, Ince. The Scholastic Art & Writing Awards
Amelia Wong & Jeffrey Stern
Amy Lipin
Amy Meltzer
Amy Smith & Jeremy Mindich
Annaka Harris
Anthony Davivid Calnek & Linda Sugin
Arvind Raghunathan & Sribala Subramanian
Balsamiq Studios LLC
Barbara Lembo
Benjamin Aubey
Berman Family Foundation
BNY Mellon Charitable Gift Fund
Brian Stadler
Brittingham Family Foundation
Busboys & Poets.
Calnek-Sugin Family Charitable Gift
Camp IHC
Charlene M Reid
Charlotte Jones
Christina. Davidson
Daedalus Foundation, INC
Danald N Fawcett
Daniel Miller
David Sherman
Davidson Kempner Capital Management
Debra Wasserman
Don Walker
Donna Alpi
Donna Lee Miele
Donna Sheeler
Earle and Elizabeth Yaffa
Elai Katz
Elena Lisitsian & Paul Asoyan
Elinor Bly
Elisabeth Wolfe
Elizabeth Yaffa
Emily A. Tabin & Stewart E. Tabin
Erin Adele Roy & Devraj Roy
Eve Yohalem
Eve Yohalem:Eve Yohalem.
Eytan Tigay
Fidelity Charitable Gift Fund
Frances and Jack Levy Foundation
Franklin Philanthropic Foundation
Fundraiser Donor
Gail Rappaport
Gideon Lieberman:Amy Lieberman
Greta Hyatt
Hite Construction, Inc.
Howard University
Impactassets Inc.
Jaclyn Okin Barney & Mason Barney
Jacob Garlick
Jacqueline Mahal & Benjamin Segal
Jane Green Figless
Jenny Lyn Bader
John Flynn & Eileen Flynn
JONATHAN BERGNER
Joseph E Bonnem
Joseph Renfield
Joshua Getzler & Amanda Newman
Joshua Nash
Joyce Frost
Judith Tolkow & Leland Woodbury
Karen & Jeffrey Bank
Karen Lefcourt-Taylor
Kenneth Hirsh
Kim and Alan Hartman Fund of the Bank of America Charitable Gift Fund
Kory Apton
Laura Anreder
Laura J. Snyder & John McCaskey
Laurie Izes
Lawrence Ackman
Lesley Heller
Linda F Sugin
Linda Sugin
Liz Steinglass
Lori Friedman:Eric Friedman
Marjorie Vandow & Richard Fields
Martin Burger
Mason Barney
Max J. & Winnie S. Rosenshein
Melissa Kornfeld Spohler and Bruce Spohler
Michael Beares
Michelle Canarick
Michelle Noris
Michelle Noris & Joshua Weitzman
Michelle Profit:Profit Investment Management
Nathan Mortenson
Network For Good
Nicholas Polsky
Nicole A. Jacoby & Alexander M. Cooper
Noemie Videau & Jeremiah Zagar
Oren Cohen
Patricia Ting & Alan H L Chuang
Paul McNulty
Playscripts, Inc.
Rachel Segall 1
Rebecca Mai
Richard Fields / Marjorie Vandow Fund
Robert Evans III:Louis Evans
Robin Landa
Robin Schick
Roni Jacobson
Sam Ash Music Corporation and Affiliates
Samantha Shubert
SEED School of Washington, D.C.
Sharon Gitelle
Shifra Bronznick
Steffanie Levin
Stephen & Ellen Dubner
Stephen F Arcano
Susan Cain
Tamara Hubinsky & Adam Bremner:Tamara Hubinsky
Tami Schneider
Tara Ramirez
The Cheshire Company
The DDN Family Trust DTD
The EACH Foundation
The English Family Foundation
Unknown Client
Washington, D.C. Alumnae Foundation Delta Sigma Theta, Inc.
Impact Spotlight 2019
Check out the latest 2019 Impact Details!
Read the WriCampia Impact Spotlight Report!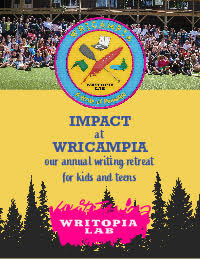 Writopia Lab is a 501(c)(3) nonprofit organization and we run the Scholastic Writing Awards in four regions. Please donate today to help support this important work. Thank you!