03/17/2023
Mommy Poppins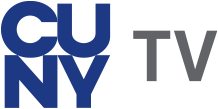 11/14/2022
CUNY TV

06/28/2022
The Village Voice
By Rebecca Wallace-Segall
In 1997, I interned at the Village Voice for Ron Plotkin, the legendary longtime Letters page editor. Within a few weeks, I was pitching and writing pieces about New York's culturally rich but marginalized, mistreated, or stereotyped children and communities. I sat behind Ron as he edited, barking questions but also praise at me while teaching journalistic concepts. What I didn't know at the time: Ron was laying the foundation for a warm but fierce and rigorous instructional teaching method that would impact over 50,000 children in the decades to come. Ron's kindness, passion for justice and fairness, and high standards live on long after his passing, in 2002.
It is still hard to write about Ron's death. I returned to the office once afterward; the seat he'd occupied for years sat empty. It was hard to enter the building without hearing his ghost banging passionately at the keyboard. I was 30. My heart hurt from loss. As Joan Didion said in The Year of Magical Thinking, "A single person is missing for you, and the whole world is empty." I walked around the vibrant Upper West Side, smelling the summer air and taking in the sea of families and children. Their banter and energy filled me with longing. How do I not know a single one of these children? Losing Ron allowed me to ask that question, and I began to look into ways I could connect with children—by asking them the right supportive and challenging questions to unlock their stories. Like Ron did for me.

03/30/2022
Afterschool Matters
By Susan Matloff-Nieves & Rebecca Wallace-Segall
All young people have stories to tell. Yet when children and teens declare that they hate writing or are too embarrassed to admit they like it, elevating their voices becomes challenging. It is urgent that educators, policy makers, youth development workers and leaders, and philanthropists work together to find a way.

06/01/2021
Ridgefield's HamletHub
Written by Eric Freed
Sofia Schaffer, a Ridgefielder who recently completed her sophomore year at Hopkins School in New Haven, earned top honors by being recognized among the 2021 Scholastic Art & Writing Awards national Gold Medal recipients. The awards program, now in its 98th year, is described as "the nation's longest-running and most prestigious scholarship and recognition program for young artists and writers in grades 7-12."
In addition to earning a Gold Medal for her short story "A Scholar in the Battlefield" – a recognition awarded to less than 1% of the nearly 230,000 works submitted for consideration nationwide this past year – Sofia was also awarded an American Voices Medal (a "Best in Show" award presented to one writer from each region who most exemplifies originality, technical skill, and the emergence of a personal voice or vision), as well as the Ray Bradbury Award for Science Fiction & Fantasy (an award sponsored by the Ray Bradbury Foundation that provides scholarships to six students across the U.S. whose entries emphasize supernatural, magical, futuristic, scientific, or technological themes as a key element of the narrative).
This year's Scholastic Art & Writing Awards ceremony was held on June 9 and included remarks from several notable artists, writers, and celebrities, including Oprah Winfrey, Reese Witherspoon, Kelly Clarkson, and First Lady Jill Biden. Past award recipients include Truman Capote, Andy Warhol, Sylvia Plath, John Updike, Stephen King, and, more recently, Lena Dunham and Amanda Gorman.
Sofia has been attending writing workshops at Writopia Lab in Westchester since she was in the third grade. Her amazing teachers at Writopia have encouraged her to pursue her passion and have been instrumental in building her voice and portfolio of work. With the help of their recommendation, Sofia was able to secure a coveted spot at the Iowa Young Writers' Studio summer program – considered among the top-ranked immersive creative writing programs that annually accepts only 144 high school-aged students from around the world.

04/19/2021
The Educational Forum
By Writopia Lab's Danielle Sheeler, Director of Camps and Curriculum (Read Danielle's Bio)
This paper focuses on the partnership between Writopia Lab and PS 89, a K-8, Title 1 School in the Bronx, to explore concrete ways of inviting joy and play into the classroom while interacting with the embedded obstacles within our education culture.
Cultivating wholehearted teaching and learning is much like cultivating a meaningful conversation with a friend. There are three necessary elements. First is play: jokes, funny stories, witty banter, games, puns, shooting hoops, and inside jokes. Second is authenticity. Far from an exchange of pleasantries and small talk, a wholehearted conversation is full of processing worries, venting complaints, talking about scary decisions. Third is listening and giving feedback. One person recognizes what the other person is saying. Sometimes the feedback may be nodding and saying "good point!" Other times, it may be telling your close friend something they may not want to hear.
These three components are at the core of the instructional framework at Writopia Lab, a national nonprofit whose mission is to foster joy, literacy, and critical thinking in children and teens from all backgrounds through creative writing. For the past ten years, I have been teaching with Writopia Lab, running after-school workshops and in-school workshops with youth across New York City. We often refer to ourselves as a "third space": not home, not school, rather a hybrid, ever-evolving space where youth come for both an educational and communal experience (Klein et al., 2013; Zeichner, 2010).
We are intentionally casual, working to create a salon-like environment. Our students, whom we refer to as "writers," sit on couches, some opting to stretch out and take their shoes off. Now on Zoom, our writers are often unmuted with entertaining backgrounds on display. We make use of play, incorporating instructor-led, student-driven writing games. In the tradition of Dewey (1916), we believe that an activity-based curriculum that is responsive to the needs and wants of our writers is the best way for them to grow as writers, thinkers, and people. Thus, we gamify instruction, pairing lessons on literary concepts and grammar with on-your-feet, improvizational storytelling games. We have a host of guessing games, worldbuilding games, peer-to-peer playwriting games, and literary sports aimed at teaching narrative arc, point of view, and craft. Play has been linked to growth in both developmental learning and academic learning (Fisher et al., 2013; Weisberg et al., 2013). Not only do children learn cognitive skills, such as literacy and math through play, but also, they learn problem-solving, conflict resolution, and self-regulation skills (Danniels & Pyle, 2018Danniels, E., & Pyle, A. (2018). Defining play-based learning. Encyclopedia of Early Childhood Development (pp. 1–5). http://www.child-encyclopedia.com/play-based-learning/according-experts/defining-play-based-learning [Google Scholar]).
When we go into classrooms, whether in person or online, we collaborate with teachers to cultivate a joyful space where writers are free to play, invent, express, and share. In the 2019–2020 school year, we were asked to run an eight-week "progressive" ELA test prep at PS 89 in the East Bronx. This was our third year working with PS 89. Formerly, we had been bringing in creative writing workshops to their students in grades two to eight. PS 89 is a magical school bursting with 1,550 elementary and middle school students. The space is filled with eye-catching, galvanizing murals and dedicated, thoughtful teachers. The majority of the students are Latinx and Black (New York Department of Education, 2020New York Department of Education. (2020). https://www.schools.nyc.gov/schools/M089 [Google Scholar] ). Ralph Martinez, the principal, is an energetic, passionate education leader who is committed to giving his students the same opportunities as students in wealthier neighborhoods. He can often be found handing out Broadway show tickets to classes, speaking rapidly about the significance and beauty of theater. "Have you seen the work that our robotics team club is doing?"; "Did you see that the author of All American Boys came to speak at our last assembly?"; "Come see the 4th grade perform at the music concert today." He is always eager to share the students' latest achievements.
Writopia and PS 89 were a great match straight away. We are both deeply invested in both the "hard skills," such as writing and reading, and "soft skills," such as the ability to problem-solve and collaborate (Hendarman & Tjakraatmadja, 2012). Growth in non-cognitive skills or social and emotional learning (SEL) is linked with positive long-term outcomes, such as improved academic performance and workforce readiness (Kautz et al., 2014). Furthermore, SEL is linked to increased self-esteem, improved interpersonal relationships, and decreased risky behavior and emotional distress (Catalano et al., 2002; Durlak et al., 2011; Greenberg et al., 2003; Zins et al., 2004).
Writopia Lab and PS 89's first year working together in the 2017–2018 school year was a success. Over the next two years, we ran multi-genre creative writing workshops in 45 classes. These young writers were writing poignant, beautiful, well-structured pieces that explored mature topics like identity, loss, injustice, friendship, and coming of age. The complex, nuanced characters that they created ranged from displaced couches in search of human company, formerly friendly zombie neighbors thrust into conflict, and a big sister tired of babysitting. The kids were on fire. Many of the writers would work on their writing pieces outside of class. As a rule, Writopia doesn't give homework. Our goal is to cultivate intrinsic motivation and we feel that giving homework often undermines that goal. Regardless, the writers were signing onto their Google documents throughout the week adding dialogue, imagery, and backstory. They were also signing onto each other's documents writing comments like, "Good job with this story," and "I love this character's reaction to his family." Late night emails asking us, "did you read what I added to my story?" were commonplace. The investment was clear.
And the research supported our inclinations. We found that after an average of 15 hours of creative writing instruction in nine 4th grade through 8th grade classes, 97% of the students improved in at least one SEL category—Positive Identity, Self-Management, Academic Self-Efficacy, Social Skills, or Social Capital—that is directly tied to long-term positive outcomes, such as college readiness and career success (Hello Insight, n.d).
Not only were the writers crafting beautiful prose, but they were also sharing parts of their inner world and daily experiences. When reading their work, whether they are talking about a french fry that wants a friend or a boy who wants to find his long-lost father, I am often struck by the sentiment that all art is self-portrait. We see who they are in their stories: the topics that are on their minds, the events that they are looking forward to, and things that they dread.
One day in the fall of 2019, my co-instructor and I were playing a storytelling game with a group of fourth graders. We were discussing main characters and the obstacles we put them through. The students had been writing short stories for the past few weeks and we were jumping into the concept of "raising the stakes." We brainstormed a group character. They decided our character was to be a giraffe named Neptune who was always worried and wanted everything to be safe. Together we imagined a hypothetical: Neptune lost the keys to his mailbox. What will happen to Neptune if he can't access his mail?
The kids were calling out, eager, giggling, climbing out of their seats to give the next idea of what would happen to Neptune if he does not open his mailbox. Iyman shouted, "his winning lottery ticket is in there and now he won't win a million dollars." Roxanna offered, "He won't see a birthday invitation to Chuck E. Cheese from his best alligator friend and if he doesn't get it, she'll think he doesn't want to go and then they won't be friends anymore." Justin said, "he won't be able to get his food stamps and his family will go hungry."
Justin may or may not have been expressing a real concern of his. At PS 89, approximately 80% percent of the students qualify for free lunch (New York Department of Education, 2020). To qualify for free lunch, a family must have an income of up to 130% of the New York City poverty line, which is an annual income of $32,630 for a family of four. Whether or not Justin was struggling with food insecurity, this open-ended story-building game gave him, and the other writers, a chance to draw from what they saw around them. Playfully crafting a fictional story invites them to share their hopes and fears. Fiction is a much-needed vehicle of self-expression; students often explore the adversity they are facing in their stories. Indeed, over two-thirds of children reported experiencing at least one traumatic event before the age of 16 (Copeland et al., 2007). Expressive writing is a therapeutic activity linked to improved health outcomes, such as reduced stress levels and fewer health care visits (Pennebaker, 2018). Creative writing workshops give young writers the opportunity to process their experiences and share them in a safe environment.
While the PS 89 teachers and Writopia instructors were seeing SEL growth and an increased love for writing, the writers' test scores were not going up. In the 2017-18 school year, only 31% of the students at PS 89 were proficient in math and 34% were proficient in ELA, far below the NYC city average of 43% in math and 47% in ELA (New York Department of Education, 2020). The test scores remained relatively the same the following school year. Research showing that high test scores lead to long-term positive outcomes is thin; nonetheless, high test scores do open doors for children. For example, a high ELA test score in the 4th grade and 8th grade is a deciding factor in admission to selective middle school and high schools, which in turn places a student on a solid trajectory to gain college admission. In order to ensure our students get into college and complete it, we need to level the playing field regarding test prep access while also insisting that they receive the SEL support that they need to do so. Only 11% of low-income youth, compared to 58% of high-income youth, across the country earn a bachelor's degree within six years of graduating from high school (Cahalan et al., 2019). The goal of our initiative with PS 89 was to prepare these writers for academic advancement, while cultivating SEL growth through creative writing.
The leadership team for this initiative, including school administrators, teachers, and Writopia curriculum designers and instructors, met to discuss how we could retain the heart of the creative writing workshop while integrating test prep insights and strategies. We drew from our past experiences. Four years ago, we began our partnerships with the Exam School Partnership Initiative: City Smart Scholars, an organization that provides support for academically advanced students from low-income and racially isolated neighborhoods in hopes of helping them into elite NYC exam schools, such as Stuyvesant, Bronx Science, Brooklyn Tech, and Hunter College High School. They find writers who score high on the state exams and offer enrichment to not only help these children gain admission, but also to give them the SEL skills and creative arts exposure that they need to thrive in these environments. Andy McCord, the founder of ESPI, and I often refer to Writopia's test prep as "subliminal" because we teach test-taking strategies in disguise. What felt like a fun, even lighthearted, storytelling game for the young writers also served to help them use more analytical verbs in their short responses on the exams.
Back at PS 89, we worked diligently to expand this ELA preparation aimed to bridge the gap between creative writing and essay writing in the classroom. How could we keep play, authenticity, and workshopping at the forefront while also teaching the typical, oft-used responses and canned phrases ("for example, in the text it states"; "I know this because the author says…")? In other words, how do we create a wholehearted curriculum that prepares the students for their upcoming standardized testing? We were wary that teaching toward the test had the potential to shift our curriculum to a more formulaic, homogenous approach where honing the ability to respond to highly specific exam questions took priority over joy and critical thinking (Respress & Lutfi, 2006). But we knew that art programs provide stimulating environments that are required for higher-order thinking (Respress & Lutfi, 2006). We would not lose sight of that promise. We set out to retain the art and add the test prep.
The irony, of course, is that because of COVID-19, the New York City ELA exam in the 2019-2020 school year was never administered. So, the question remains, apart from preparing the students for the exam, what purpose did this course serve? Did it invite as much joy into the classroom as our creative writing curriculum? What obstacles emerged in the process?
Here's how it went.
In total, we were in 14 classes, grades 4th through 8th. (We doubled up on our 4th and 8th grade classes since they are high-stakes testing years.) We began the first day of class similarly in each grade. Instructors handed out a state of being—or complex emotional state—to each writer. Next, writers were asked to write a scene from first person where a character is feeling the emotion they were given. Why does the character feel this way? What led up to this moment? The tricky and game-like part was that the writer could not state the emotion or use any synonyms. Rather, the writer had to use imagery, sensory detail, and dialogue to paint a picture that showed how the character is feeling. For example, if a writer was given the word "proud," they could show us how a character got a high five from Couch Alice after completing a dynamite backflip. Next, the class had to guess what emotion the character in the scene was feeling. Here is an example from a 7th grade writer:
I felt as if I had a rain cloud over my head as I walked to my classroom. I walked over to my desk and started packing up my belongings. While packing my books, I replayed the moment in my head. "Miss McFurry, I wish I didn't have to do this but…you're fired." I try to hold back my tears. Putting away all my belongings reminds me of the first time I introduced myself, the first time I yelled at my students. *Sigh* I wish it didn't have to end like this. I walked down the hallway with my box full of memories and the tears started pouring out. I felt my dark rain cloud over my head growing larger and larger…but now it had thunder.
Next, we added an analysis component specifically geared toward test prep. After everyone was done writing, they swapped their pieces with a classmate. The reader then had to write three to five sentences about the author's claim (what is the character feeling?) and provide two pieces of supporting evidence (how do you know?). This is one writer's response to the passage above.
The emotion in this story was sadness. I think it was sadness because in this story the author says, "I wish it didn't have to end like this." This shows how she is probably feeling negative. In the story, the author also says, "I walked down the hallway with my box full of memories and the tears started pouring out." This shows that she was crying tears of sadness.
Our intention in pairing creative writing with an analysis exercise was to demystify questions that appear on yearly state exams. We postulated that if we used our writers' pieces as the reference texts, then they would feel an added authority over their work. They've been writing stories for years. Now they had to reflect on a classmate's text through a test-taking lens.
We also predicted that their confidence in their creative writing would more readily translate to their academic writing if we bridged the two endeavors. For over a decade, educators have been urging for the eradication of the dichotomy between creative writing and essay writing in the classroom (Bishop, 1993; Drew & Yost, 2009). In order to stop students from viewing essay writing as a boring endeavor forced upon them by their teachers and creative writing as fun, engaging, albeit trivial, the two must be joined. This is what we aimed to do.
Activities like the aforementioned Emotion Game worked well. However, as the weeks unfolded, as the exam neared, we spent less time on creative writing and more time on sample test questions. No matter how fun we tried to make the practice responses—we incorporated rap music and classwide debates—kids were noticeably less engaged. One of my co-instructors, Janelle Williams, reflects on this shift:
I think the biggest difference I saw was the amount of joy in the classroom decreased with test prep exercises, and it felt like writers weren't able to find their own, unique writerly voices, which is something I think is very important to writing, reading comprehension, and building social emotional skills. I can say that writers gained a better understanding of how to respond to test questions. What they gained seemed to be more specific to helping them pass a test rather than a true understanding and love for language
We began to receive push back from our young writers. They were used to authoring their own stories, learning structure and grammar in order to execute their own ideas. We empathized with our students greatly. We knew that high-level creative writing instruction on its own provides the foundation for literacy and critical thinking success. As Writopia Lab's founder, and Executive Director, Rebecca Wallace-Segall (2012) wrote, "…all good writing requires lucid communication. It is impossible to teach any form of writing without applying and celebrating analytic concepts and mechanical precision" (para. 7). So why bother with the seemingly formulaic aspects of writing required of standardized tests if our writers were shutting down in the process? Is a high test score more valuable than a positive association with learning and writing? Which is a stronger predictor of successful adult outcomes?
When transitioning to the hybrid curriculum, we experienced losses. We learned a lot less about our writers. They had fewer opportunities to process the conflicts around them. And maybe even most glaring, they were less likely to work on their writing outside of classroom hours. We saw a decline in intrinsic motivation and excitement to write. However, there were some wins. When we saw writers' test scores rising on diagnostic exams, we celebrated, exhilarated to imagine more doors opening for our writers and the school.
If our writers had taken the ELA state exam in spring 2020, we and the PS 89 teachers believe their test scores may have improved. But they didn't have the chance. External factors rendered the test prep components obsolete. Meanwhile, their love of writing, and their higher SEL capacities skills during COVID-19 were vital. Students across the country plunged into a world of remote learning requiring more self-motivation and academic self-efficacy than ever. Intrinsic motivation and love of learning, problem-solving skills and the ability to collaborate, were exceedingly more useful than supporting a text-based claim with two pieces of evidence.
As educators, we all want our students to grow up and have successful, meaningful lives, to be academically prepared to go to college, and to secure gainful employment afterward. What is the best way to get there? How do we give young people a robust joy-centered toolkit that allows them to dismantle all barriers so they may grow and thrive ultimately on their own terms?
References
August 14, 2019
HEALING THROUGH STORY
(First published by the Columbia University School of Social Work)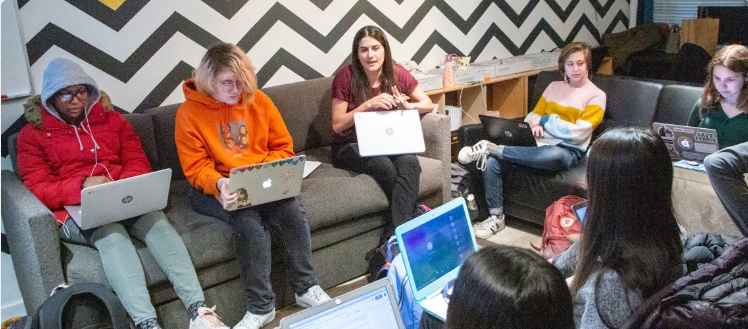 Danielle Sheeler (in red T-shirt) with a group of her writing students at Writopia (taken with their permission).
At Writopia Lab, Danielle Sheeler (MSW'19) has created an innovative narrative therapy program for youth.
It's late afternoon, and inside a nondescript building on the Upper West Side, a number of teens are settled on couches in a homey, casual room outfitted with donated furniture, laptops balanced in their laps. Their writing teacher, Danielle Sheeler, sitting in the middle, is encouraging them to reflect on how they came to be here. What was their personal journey that led them to this after-school program? Soon, she says, each of them will have a chance to tell their story of how they came to this particular crossroads.
The students are all enrolled in Narrative Therapy, a course of Sheeler's own design offered at the Manhattan branch of Writopia Lab, a New York City-based nonprofit whose mission is "to foster joy, literacy, and critical thinking" through creative writing. A 2019 graduate of the School of Social Work, Sheeler was already working for Writopia when she entered Columbia's MSW program. Designing the course counted as part of her field work.
Before coming to Writopia, Sheeler was an experienced teacher of writing—and was also a produced playwright with a masters in Humanities and Social Thought from New York University's interdisciplinary Draper Program. But she now thinks she has found her true calling in narrative therapy—a method that combines her love of writing and teaching with her passion for helping young people tell, write, and rewrite their own stories in ways that can help them better their lives.
What Is Narrative Therapy?
Narrative therapy is an approach that centers on the stories people tell about their own lives, along with the stories of gender, class, race, culture and sexual identity that are told within the broader social context and help to shape individual life stories.
Sheeler first encountered this method in a first-year Family Therapy class at Columbia School of Social Work. She was assigned to read the work of Michael White and David Epston, the founders of Dulwich Centre in Adelaide, Australia, considered to be one of the main homes of narrative practice.
White and Espton are credited with coining the term "narrative therapy" when developing a practice that would help people facing trauma and hardship tell their stories in ways that make them stronger.
SEE: "What is Narrative Practice? A free course," created by Dulwich Centre Foundation
Intrigued by what she read, Sheeler—who, as a reduced residency student, was able to continue her work at Writopia—proposed to create a new type of Writopia workshop based on Epston and White's concepts, as part of her field placement. She would also draw on the methods of cognitive therapy (CT), a type of psychotherapy developed in the 1960s by American psychiatrist Aaron Beck. CT encourages clients to come up with alternative ways of thinking and behaving and thereby reduce their psychological distress.
Sheeler did not know it at the time, but she was contributing to an already rich Columbia University tradition. Columbia University's School of Medicine was first to develop educational programs for narrative medicine, an interdisciplinary field that brings the narrative skills of radical listening and creativity from the humanities and the arts to address the needs of all who seek and deliver health care.
Social workers, too, have become involved in the narrative method, with former School of Social Work professor Ann Burack-Weiss (she now teachers in Columbia's Program in Narrative Medicine) leading the charge. Weiss co-edited the book Narrative in Social Work Practice: The Power and Possibility of Story (Columbia University Press, 2017), a collection of testimonies from social workers about their success with incorporating narrative techniques into their work—from processing their own responses to clients' trauma to running a narrative workshop for mothers whose children are in foster care.
A Comfortable "Third Space"
Sheeler describes Writopia as a unique "third space"—neither home nor school—where her young clients feel relaxed and safe. "Normalization" is an important aspect of her approach, she says. Because narrative therapy is just one of many writing workshops listed on the Lab's website, the therapy is not stigmatized but becomes "just a different form of expression."
Many of the children and teens Sheeler sees are having behavioral problems related to social anxiety, low self-esteem, or attention-deficit hyperactivity disorder. Parents enroll their children in ten-week-long group workshops and sometimes in private sessions as well.
Once the youth get in the door, Sheeler chooses from a range of treatment approaches, and not everything she suggests involves writing. When people hear "narrative therapy" in the context of Writopia, "they think it's solely writing, but I have to reframe it a bit," she explains. Some of the younger children may tell their stories aloud, and sometimes Sheeler will tease out their stories by asking them questions while they are doing a physical activity such as throwing a ball. "It's like play therapy," she says. "We focus on another task so the child feels comfortable revealing what's going on."
Noting that the Manhattan Writopia has a room equipped with a keyboard and electric guitars, Sheeler adds that some of her young clients play instruments and spend half the session in "band mode."
Teens, however, tend to respond well to writing exercises. "A lot of what they've been experiencing is framed in their writing, so I get a lot within an hour." She often has them write in response to a writing prompt such as "I hate it when…" or "I feel motivated by…" Many of them also thrive in a group setting. "They know somebody else is doing it, and it's not as high pressure," she says.
By the same token, she adds, young people benefit from peer feedback, not only on their writing but on their behavior in the group. They "reflect to each other and call each other out in a way that's better coming from them than from me."
When she sees that a young client is having trouble revealing what's troubling them, she might ask the student to rewrite a first-person story in the third person. Developing a character can help them reframe experiences and provide detail and nuance, she says, noting that Epston and White found that externalizing the situation helps clients be less judgmental.
What outcomes has she seen thus far? Although the program hasn't been running for long, Sheeler says she's noticed some of her students seeming less anxious. Also, some of those with learning disabilities have been showing signs of improvement. Likewise, parents have told her that their offspring's school grades and literacy scores have risen since the child's involvement in her course.
Growing the Program
As Columbia graduation approached, Sheeler documented her curriculum so that another Columbia MSW student could continue the work in September. According to Writopia's founder and executive director, Rebecca Wallace-Segall, Sheeler's narrative therapy workshop is a perfect fit. Despite having a clinical goal, she says, "it's still essentially a creative writing program." The difference is that "it's a deliberate processing of our lives through the writing. Whereas in our regular workshops it's therapeutic, but not deliberately therapeutic."
Writopia already draws students and graduates from Columbia and Barnard writing programs for its internships and instructor positions. Now Wallace-Segall hopes that the new field placement will create a pathway for Columbia-trained social workers to contribute their skills and perspectives.
Sheeler for her part is pleased that Writopia will continue to offer both group workshops and private sessions to its existing clients, as well as reaching out to community-based organizations that could benefit from the program. Sheeler's MSW degree, with a concentration in Advanced Generalist Practice and Programming, has equipped her to look broadly at policy and research related to therapeutic writing, and she would like to see the popularity of the program spread. "I would love to just grow this," she says.
July 9, 2019

Is teaching writing as important as teaching reading?
When we think of literacy, we tend to think of reading. Schools, literary nonprofits and philanthropists often focus on encouraging students to be strong readers with solid comprehension skills.
While those skills are crucial, many experts say critical and creative writing skills are equally important, and are too often overlooked.
Compared to reading, writing is more active, encouraging students to be independent thinkers, take ownership over their own stories and ideas, and communicate them clearly to others, says Elyse Eidman-Aadahl, executive director of the National Writing Project, which offers resources for teachers who want to encourage students to write.
"Unless we want an education system just focused on making people consumers and not focused on helping them be producers, this emphasis on reading only, which does happen in so many places, is very short-sighted," she says.
Even when students are given writing assignments, she explains, the work tends to focus on assessing a text, rather than on presenting a new idea. Writing, she says, should be "the central thing you're learning. Not writing on a test, not writing to demonstrate you're learning what someone has taught you, but also really writing as an author writes."
Reading, of course, contributes immensely to one's personal growth. But teaching it together with writing nurtures both, says Rebecca Wallace-Segall, executive director of a New York City writing center, Writopia Lab.
"Writing impacts your ability to read," she says. "Over 90% of our kids who come in as reluctant writers, parents have reported they become more engaged readers as they've fallen in love with the writing process."
From a practical standpoint, writing is more important than ever; we depend on it for personal and professional communication.
"We see this from employers all the time. They're looking for folks who can write," says Eidman-Aadahl. "Certainly with digital tools right now, think of what we're all doing all day. We're probably interacting with the internet through writing."
Kids are already writing all the time, in texts, emails and social media posts.
"Whether they're actually being provided with the opportunity to learn to write, whether schools are addressing it or not, they're already writing and publishing," Eidman-Aadahl says. "Every young person is an author today if he or she is connected to the Internet. So we have to help them do it in the best, most responsible, critical, prosocial way."
Advocates of teaching writing say it is empowering.
"When students own their voices and tell their stories, they become not only stronger and more confident writers, but also stronger and more confident individuals," says Ali Haider, executive director of the Austin, Texas-based creative writing center, the Austin Bat Cave.
Wallace-Segall says writing also helps students work through difficulties.
"Creative writing, it's a lifeline for us," she says. "We're watching kids work through their greatest challenges, subconsciously. They're not writing a story about a difficult father or directly about a bully in class, but they are creating a fictional scenario that might feel distant enough for them to go deep into it."
And teaching students to write can have an impact on the larger world, notes Dare Dukes, executive director of Deep Center, an organization in Savannah, Georgia, that works with young writers to share their stories with policy makers, judges, politicians, police officers and the like.
"So those adults can see that the stories they're telling themselves about those young people are often wrong and doing a lot of harm in the world," says Dukes.
Copyright 2019 Associated Press. All rights reserved. This material may not be published, broadcast, rewritten, or redistributed.
Nov. 15, 2018

CONTESTS
Out of the Classroom and Into the World: 70-Plus Places to Publish Teenage Writing and Art
By Katherine Schulten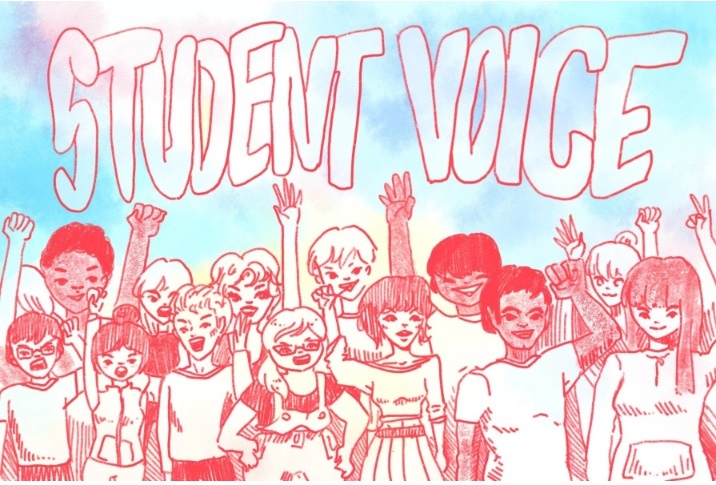 An annual Off-Broadway festival of one-act plays written by playwrights ages 6 to 18 and produced, designed, directed, and acted by New York theater professionals.