Monday, April 14, 2014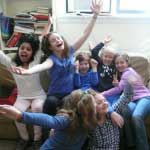 Join Genna Kohlhardt and Maddison Conforti from Writopia Lab DC for May's installment of the Northeast Library's continuing writing workshop series. For kids ages 10-13, Genna and Maddison will lead a fun creative writing workshop including warm-up games to get students inspired, writing exercises led by published instructors, and an end-of-day reading. Writopia Lab focuses on student-driven instruction, so attendees' writing will be inspired by ideas they're already interested in. Workshops provide a safe space for writers to create without judgment; students may write in whatever form they wish, and about whatever content they choose. Attendees are encouraged to bring a laptop or iPad if they have one; pen and paper will be provided. The workshop takes place on Saturday, May 10, at 2 p.m.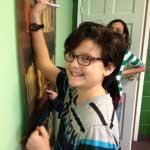 Maddison Conforti happily joined the DC Writopia team in June 2013. She graduated from DePauw University with a BA in English and Latin and has an MFA from Columbia College Chicago where she fell in love with the essay and teaching writing. Maddison's work has appeared in Eye on the World and South Loop Review. Originally from Indiana, Maddison also dabbles in literary translation and is an expert napper, wanderluster, and lover of all things Italian.
Genna joined the Writopia DC team in the fall of 2013. Genna's poems have been published or are forthcoming in Strange Machine, H_NGM_N, Fact-Simile, Jupiter 88 and The Anvil Lit Review. She received her MFA in poetry from Boise State University where she developed a love for teaching while working as teaching-writer and WITS resident at the Log Cabin Literary Center. In 2011 she founded Goodmorning Menagerie, a chapbook press dedicated to publishing works by well-known and emerging poets. Genna grew up in Colorado and graduated from the University of Colorado with a BA in English and Fine Art.
"Writopia Lab is a 501(c)(3) organization that fosters joy, creativity, and critical thinking through creative writing. We run creative writing workshops for kids ages 6 to 18. All of our workshops have a maximum of seven students and are led by a published author or produced playwright who has been fully trained in our time-tested methodology. In each of the past six years, our students have won more recognition for their writing than any other group of students in the nation."
---