February 27, 2013
By John Kelly
Tomorrow's J.K. Rowling, Stephen King or Toni Morrison might be in a room at Wisconsin Avenue Baptist Church, near Tenley Circle. That's where you will find the Writopia Lab, an organization devoted to helping kids from 8 to 18 give voice to their inner novelist.
It's Tuesday afternoon and Kirsten Vanderhorst, 9, is working on a story about Annoy Girl, so called because the protagonist is constantly begging for stuff. ("She asks her parents for an iPad 8, even though she already has an iPad 1 through 7," Kirsten explains.) Paul Medina, 8, has added a new action scene to "Monster Book 1" and is already thinking about its sequel, "Monster Book 2." Isabella Carre-Diaz, 8, is deep into a story about a magical pond whose inhabitants are dying. Eight-year-old London Lawson's story is about a woman who turned evil after being bullied as a child. His sister Jasmine, 9, says she's working on three tales at once.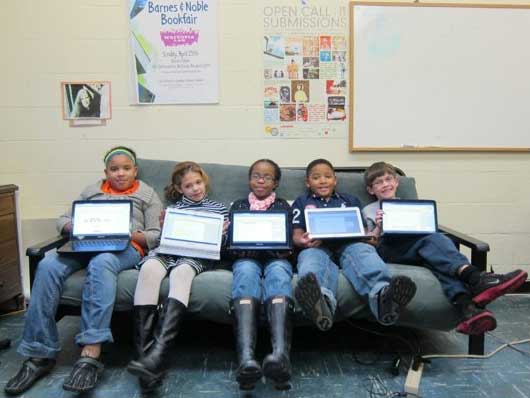 And Sophia Lager, 9, is almost done with her first short story, "The Very Odd Birthday," about a girl named Anna whose little brother, Max, bugs her endlessly.
The 8- and 9-year-olds are tapping away on laptops.
"Who is stuck?" asks instructor Kathy Crutcher, the D.C. director of Writopia and a published writer herself, with an MFA from the University of Arizona.
"I'm not stuck," Paul says.
And, in fact, nobody is stuck.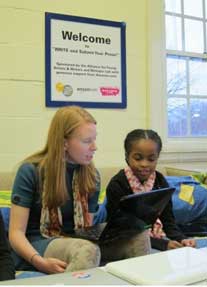 You will not find writer's block in this room. The kids are little plot engines. They haven't developed that doubt and self-loathing common to many writers, that fear that your work stinks, that you'll be found out, that your approaching deadline will suffocate you, that there is nothing more horrible than a blank screen, with its pitiless cursor blinking like an unforgiving eye.?.?.?.
Sorry. Where was I?
Perhaps the kids are comfortable just because they're kids. But there's also the careful way that Kathy and 11 other instructors work, helping but never leading. This isn't a rigid class, more like a workshop where the budding writers learn by reading one another's work and hearing theirs discussed.
"What are some of the big principles?" Kathy asks.
"Setting, plot," says London, sprawled on a blue beanbag.
"A climax," offers Paul, scrunched in the corner of a couch.
Many of the Writopians carry notebooks and scribble in them endlessly: natural writers. Others are struggling at school and need more help.
"We're trying to create a trusting environment," Kathy tells me. "They write about anything they want. There are no prompts they have to answer. Nothing is off limits, no story can be too silly."
The program started in New York in 2007 and came to Washington in 2009. Since then, its students have won all sorts of honors, including at the Scholastic Writing Awards, a sort of teenage Booker Prize.
Such attention isn't inexpensive. The 10-week writing workshop, held at several locations in the District, is $525, although there is a sliding scale for families who can't afford that.
"Some pay the full fee and go to the fanciest schools in D.C.," Kathy says. "There are lots who pay a lower tier. If someone calls me and says, 'My 10-year-old son wants to write screenplays. I don't have the money to pay for this program,' I say, 'Okay, great. Bring him in.' We don't turn anyone away for financial reasons."
Toward the end of the workshop, Kathy reads the afternoon's output aloud. In Sophia's story, Anna sees her birthday sleepover ruined when Max gets sick. But Anna finds herself worried about him, too, saying in the words Sophia has written for her: "And even though he sometimes wasn't very nice to me, I still cared about him."
When Kathy is done reading, Paul says: "I liked the emotion. It's so .?.?. loving."
Isabella pipes up. "For me, instead of 'loving,' I'd say 'caring.' But I'm also wondering what will happen the next day."
One story is over, but lots more are beginning.
Bands on the run
There's a fundraiser Friday night at the Black Cat for Writopia and Reach Inc., a charity that enlists D.C. middle-schoolers to mentor younger kids. Six journalist-led bands are competing in the fifth-annual Journopalooza. My band, the Stepping Stones, won last year with our tribute to the late Monkee Davy Jones. We'll be back to try and retain our crown. Other bands include Butter, Cheaper Than Therapy, Dirty Bomb, Suspicious Package and Nobody's Business.
Tickets are $30 at the door. For information, visit journopalooza.com.
---