Executive Director
Founder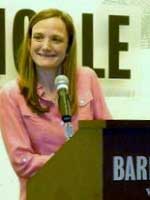 Rebecca founded Writopia Lab in April 2007, currently directs the national organization, teaches writing workshops and college essay writing and runs in-school staff and teacher trainings in New York City through the DYCD, the DOE, and at community-based organizations that serve at risk youth. She has grown the organization in NYC, and established and oversees Writopia in the DC Metro region, NY Metro North, Chicago, Los Angeles, and New Jersey. She trains Writopia instructors across the nation, as well as classroom teachers and volunteers in the Writopia method.
Rebecca has won multiple teaching awards including the Scholastic Awards' 2012 Ovation Inspired Teacher Award for submitting the most outstanding senior portfolios on the national level and for "developing a method of working with students that inspires them to create original work that embodies their unique, personal voice.... Because of [her] tutelage... these students are now empowered to bring that voice into the broader world..." She has also won the 2008, 2009, and 2011 National Gold Apple Teacher Award for "submitting the most outstanding group of submissions on the national level" to the Scholastic Art & Writing event. She lectures at schools, events, and parents' organizations on a variety of topics including "How to Inspire the Writer Within Your Child," "Writing for High School and College Admittance," and on "Identifying and Participating in Positive Competitions." Previously, Rebecca established the creative writing program at the Abraham Joshua Heschel Middle School on the Upper West Side of Manhattan as a consultant. While she was there, the program outperformed every other school in the city (including every elite public and private institution) in Scholastic's prestigious Art & Writing Awards competition. She has been awarded recognition from The Scholastic Art & Writing Awards as an "outstanding educator" every year since 2006. (Writopia won Scholastic's official endorsement in 2007.) Rebecca was also nominated by students and selected to be entered into the 11th Edition of Who's Who Among American Teachers.
Rebecca has taught at SUNY Albany, New York University, and at Gotham Writer's Workshop. In 2009, Rebecca was invited to join The Op-Ed Project Mentor Editor Program and has since helped several brilliant women break into some of the nation's most widely read national opinion pages. In 2002, she had the pleasure of working with young writers in New York City public schools for the first time as a resident writer with the Teachers & Writers Collaborative. By 2003, she was working at the Heschel School, planting the seeds for a unique and successful creative writing program there. She also participated in the judging of the Scholastic competition in 2006 and currently serves as a judge of several national youth writing competitions (in which her students are not involved).
Rebecca oversees impact assessment at Writopia. She took part in Harvard Business School's Performance Measurement for Effective Management of Nonprofit Organizations for organizational leaders in 2015 and continues to refine Writopia's impact assessment practices as a Youth Inc partner.
Rebecca also serves on Writopia Lab's Board of Directors and is thrilled to have a team of accomplished board members from various social and business sectors, help shape the future of Writopia's youth literary community.
Writings
Rebecca began writing for publications in 1997. She has contributed opeds about education and writing to the The Atlantic Monthly and The Wall Street Journal, and thought pieces to The Huffington Post and The Nation, along with five cover stories (and other pieces) to the Village Voice. She has contributed the foreword to Bryant Park's Poem in Your Day Chapbook 2012 and to The Scholastic Award's 2012 Best Teen Writing. She also served as Senior Editor at Psychology Today Magazine, and won Salon's "Best People Story of the Year Award" for "Love Labor's Flossed." In 1999, she became a Journalism Fellow at Brandeis University. In 2003, she entered the world of comedy writing, and began writing and performing sketch comedy around NYC. She won a "Best Sketch" competition at the Upright Citizens Brigade in 2006.