Instructor
Artistic Director of Writopia Plays Festival
Playwriting and Screenwriting Specialist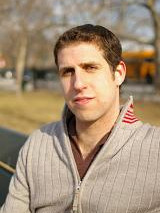 Dan Kitrosser has been teaching year-round at Writopia Lab since 2007. He teaches musical theater, playwriting, language play, and fiction workshops, and also produces and directs Writopia Lab's annual Best Playwrights' Festival. Dan is the resident storyteller at Central Park and an award-winning playwright. His plays and musicals have appeared at Urban Stages, 45 Bleecker Theatre, The Ohio Theatre, The Brooklyn Lyceum and American Place Theatre. His children's musical, Night of the Butterfly, has been declared "a winning original musical!" by TimeOut Kids, and had an extended Off-Broadway run. He was the recipient of the 2010 Brooklyn Arts Council Grant for his one-man musical The Legend of Ichabod Crane (Halloween Pick - Village Voice) which he continues to tour around the city. At Writopia, six of Dan's students have won "Best Play" in Stephen Sondheim's 2008, 2009, and 2010 Write a Play! contests, and many others were named finalists or won honorable mentions. A graduate of NYU, Dan's screenplays include Old Days, directed by Matt Shapiro and starring Brad Oscar (Tony Nomination, The Producers) and Mary Beth Piel (Dawson's Creek) and Bodybuilder Island, directed by Matthew Kliegman. Dan has been a final committee judge for the Philadelphia Young Playwrights Festival for four years (this coming summer will be his fifth). Dan's play Be Here Now won this festival and was a finalist in Stephen Sondheim's National Playwriting Competition.