Creative Writing Workshop
A creative writing workshop is a 15-hour program that meets as a trimester-long workshop, half-day workshop, or full-day camp. Workshops are age-based and enroll a maximum of six to eight students depending on the program.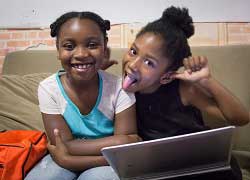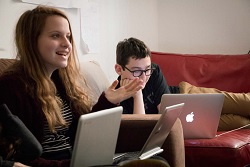 Workshops are fun, engaging, and highly productive. We challenge students to set and achieve writing goals: they are encouraged to complete at least one well-developed, polished piece throughout the course of their workshop. Through our innovative workshop method, we empower students as peer leaders as they gain skills in writing, editing, analysis, and effective communication. The workshops allow a community of young writers to find each other, connect via their literary passions, and have lots of fun.
Workshops are student-centered and author-led. Students may find themselves drawn to any number of forms and genres, including fiction, personal narrative/memoir, playwriting, and screenwriting. Our students flourish in these multi-genre workshops where they can gain exposure to diverse styles and voices. Instructors help writers harness their ideas with the goal of completing one, polished piece by the end of each trimester or summer session.
Sessions are peppered with original and fun writing exercises, but focus primarily on writing—and completing—stories. It is a true workshop in which students get to share their writing in a safe and supportive space; students learn how to give and receive insightful feedback.
Creative Writing: Religious & Social Justice
Designed for young thinkers and writers to process their emotions surrounding social justice issues in today's society. Writers will reflect through dialogue and writing focused on empowerment and empathy.
Letter Writing
The Letter was once an artform unto itself. It was drafted to a friend or family member and sent far and wide to give someone comfort or express something meaningful. Historians use letters to piece together moments in history. Stories throughout time have romanticized the notion of the letter, the idea of finding a letter in a bottle at sea. Today, we write quick clipped emails and texts to one another. We re-tweet. But right now, more than ever, in this period of distancing, we need to communicate in a deeper way.
In Letter Writing workshop, we explore the letter as art. We'll write letters to those we care about deeply and to those who we disagree with, in gratitude and protest, to our heroes and to politicians, to fictional characters we create ourselves in original pieces of epistolary fiction, to each other, and even to ourselves.
Novel Writing
Novel Writing workshops are open to all stages of novelists. Whether you already have a complete draft or are just starting one, we will explore the elements of story and the literary tools needed to guide and optimize your process. Writers will start by creating a log line (elevator pitch) that will become the North Star for the novel and then delve deep into character and story development. For those who want to workshop a completed novel or one in progress, a published author will read 50-100 pages of your novel and give you feedback. By the end of the workshop, writers will have a killer first chapter, peers to serve as beta readers, and (at the very least) a detailed chapter synopses to give you the confidence to finish.
Private sessions are also available to receive creative writing instruction.