Creative Writing Workshop
Click here to see Creative Writing workshops on the schedule!
A creative writing workshop is a 15-hour program that meets as a trimester-long workshop, half-day workshop, or full-day camp. Workshops are age-based and enroll a maximum of six to eight students depending on the program.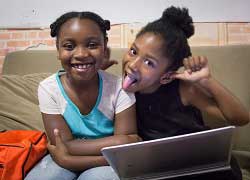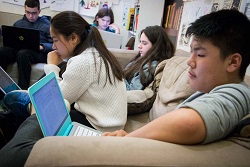 Workshops are fun, engaging, and highly productive. We challenge students to set and achieve writing goals: they are encouraged to complete at least one well-developed, polished piece throughout the course of their workshop. Through our innovative workshop method, we empower students as peer leaders as they gain skills in writing, editing, analysis, and effective communication. The workshops allow a community of young writers to find each other, connect via their literary passions, and have lots of fun.
Workshops are student-centered and author-led. Students may find themselves drawn to any number of forms and genres, including fiction, personal narrative/memoir, playwriting, and screenwriting. Our students flourish in these multi-genre workshops where they can gain exposure to diverse styles and voices. Instructors help writers harness their ideas with the goal of completing one, polished piece by the end of each trimester or summer session.
Sessions are peppered with original and fun writing exercises while workshoppers write—and complete—stories. It is a true workshop in which students get to share their writing in a safe and supportive space; students learn how to give and receive insightful feedback.
Private sessions are also available to receive creative writing instruction.
---
"I wanted to take the time to express my deepest gratitude for the phenomenal programs that Writopia uses to help shape our children. My gratitude not only comes from the quality of the programming but the absolute clarity that they are lead with the hearts and souls of change makers. As a single mom who is currently unemployed I could never imagine being able to afford to give this gift to my children. The fact that I do not have to worry about my children missing out on this priceless experience because of my inability to pay at this time, leaves me in awe. There are only a finite number of programs, organizations, or experiences on the same tier as Writopia that are completely committed to leveling the playing field. Thank you!" Sharnickqua Wright, Writopia Parent
"Thank you so very much for this helpful feedback on my daughter and her writing progress. She has really enjoyed her Saturday morning workshops, and we feel the class has been wonderful for her. You have a fantastic organization, and we're thrilled we found you! My daughter will take this feedback and grow from it." Writopia parent, 2021
"My son's instructor perfectly understands his strengths and weaknesses. Indeed, they work amazingly together: she is helping Markian blend in with the other classmates, build his confidence in expressing his thoughts from a structural standpoint and encouraging him to productively put ideas on paper line after line. Everyone is enjoying this class and the time just flies by… Thank you!" Lilya