The Writopia Lab Training Institute
I absolutely recommend this class. Discussions and readings changed my thinking about how to teach writing... The classes were fun especially the writing games and exercises. I felt like a kid again.

NYC DOE educator's evaluation of Writopia Lab's Training Institute
Professional Development Courses
The Mini-Workshop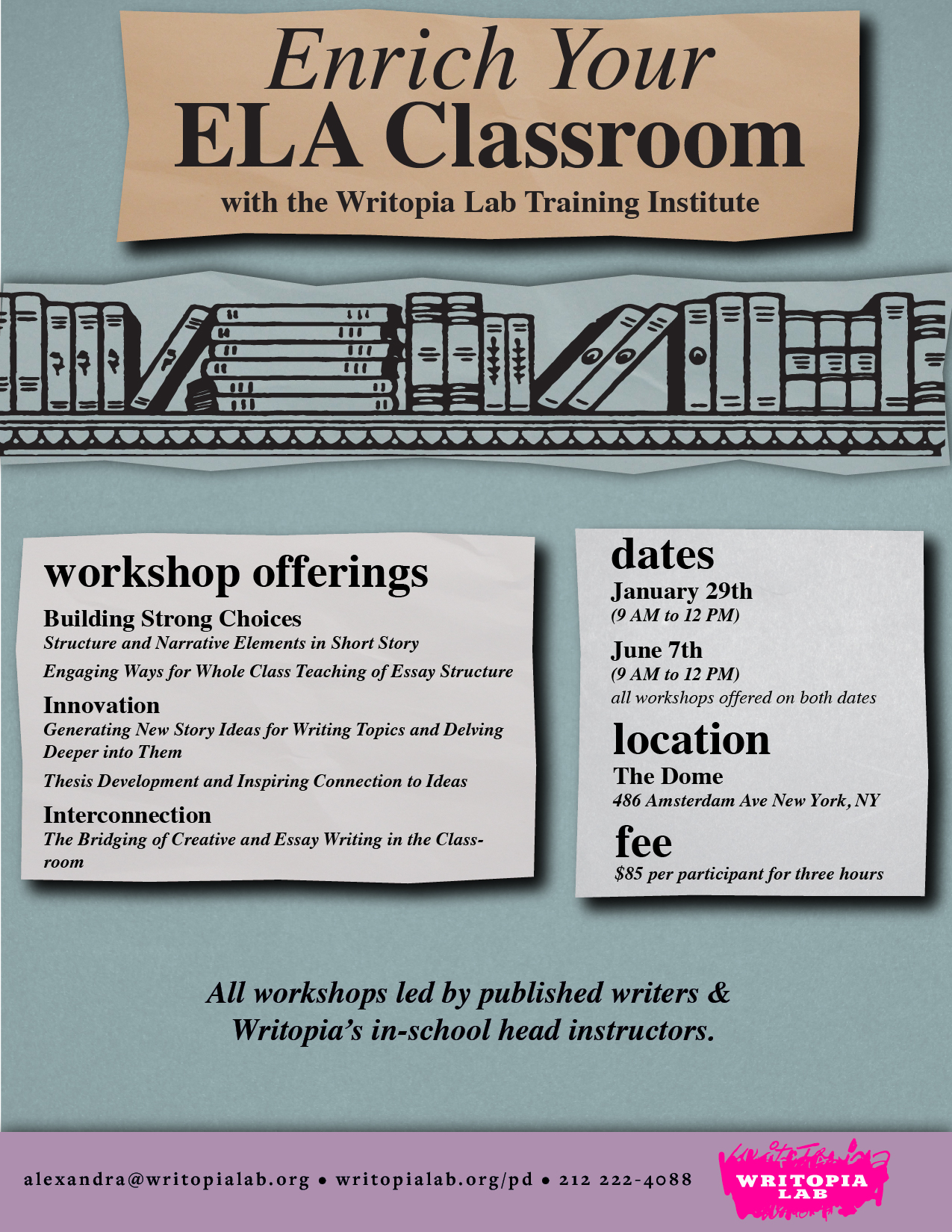 Writopia Lab is an NYSED-approved CTLE sponsor. Our mini-workshops are applicable to CTLE hours and professional certification within the New York City Department of Education.These workshops focus on specific themes and concepts that apply to whole-class instruction on creative and essay writing. Participants who sign up for these sessions will be trained in games and pedagogy directly applicable to the classroom and curriculum development. Please view our offerings below and sign up for a workshop today!
Location and Registration
These workshops are at Writopia Lab's space at 486 Amsterdam Ave, New York, NY, 10024. Upon request, we will run The Writopia Mini Workshop at schools. Register here or email ProfessionalDevelopment@writopialab.org for the workshop option that best suits your needs.
Mini-Workshop Offerings
All workshops will be offered for teachers of grades three through twelve.
Building Strong Choices: Structure and Narrative Elements in Short Story (Creative Writing)
In this workshop, participants study interactive ways to teach plot structure, perspective, and tense. Group writing exercises are the focus of this session and provide teachers with new techniques to engage students during instruction. A pedagogy of interactive play guides this session in its application to whole class instruction. Participants will leave this session with new games and classroom management techniques that are directly applicable to the classroom. Mini-Workshop FAQ
Innovation: Generating New Story Ideas for Writing Topics and Delving Deeper into Them (Creative Writing)
In this workshop, participants explore new teaching techniques that help generate fresh ideas and deepen writing output in the classroom. Participants learn new, interactive writing exercises that can be implemented in whole class or one-on-one instruction. This workshop aims to provide teachers with fun, engaging creative writing games that promote critical thinking and help students generate unique ideas during story development. These games help students write beyond the themes of mentor texts and enjoy the fulfillment of writing original stories. Mini-Workshop FAQ
Innovation: Thesis Development and Inspiring Connection to Ideas (Essay Writing)
In this workshop, participants learn and practice interactive thinking and writing games that invigorate student engagement and that inspire and deepen the complexity of thesis development in the classroom. Participants leave this session with new instructional methods that foster a culture of genuine inquiry in their classrooms. Participants also leave with clear directives that enhance whole class instruction and help students formulate specific claims in their thesis statements that they feel invested in. Mini-Workshop FAQ
Building Strong Choices: Engaging Ways for Whole Class Teaching of Essay Structure (Essay Writing)
In this workshop, participants learn new techniques in approaching essay structure in the classroom. Participants study innovative teaching methods, interactive classroom activities, and key concepts for instruction of these activities. Games are played in real time with instructors and are then practiced in breakout sessions. Participants leave with a better understanding of new exercises, tips for implementation, and reference materials for whole class instruction. Mini-Workshop FAQ
Interconnection: The Bridging of Creative and Essay Writing in the Classroom (Creative and Essay Writing)
In this workshop, participants examine the innate relationship between creative and essay writing. Through critical readings from acclaimed scholars and comparisons of classroom instruction versus third spaces, participants gain a better understanding of an effective fusion of these two types of writing. In breakout sessions, participants practice games and obtain practical tools for direct implementation in whole class instruction. Participants leave more connected to their own writer self and with tools to inspire student investment in writing projects. Subsections: Structure, Innovation, Effective endings, Voice/Purpose, etc. Mini-Workshop FAQ
---
Bridging the Gap Between Creative and Essay Writing in ELA
This course is designed to provide participants with the best practices to integrate essay writing and creative writing into classroom curriculum. This focus will help their students discover essay writing as an exciting, engaging activity that requires creative thinking and clear, original expression. This course tackles how to build a student's self-confidence and voice throughout the entire ELA curriculum. The course covers topics that will help participants connect simultaneously to themselves as writers and to their students as fellow writers. It teaches writing games specific to both creative and essay writing and covers the ways these two forms of writing interconnect and complement one another.
Particular emphasis is placed on writing games designed specifically to bring joy and critical thinking into essay writing curriculum. Participants partake in these games themselves to learn first-hand the application of these games to student learning. Participants will have the opportunity to create a lesson plan that integrates the two genres of writing. The course will ultimately leave participants with insights and lesson plans that can be directly brought into their broader curriculum. Teaching methods include writing exercises, lectures, critical readings, classroom discussion, feedback, sharing, and writing assignments. All written work will be done on Google Docs. Participants will be provided with a laptop onsite upon request.
Bridging the Gap Between Creative and Essay Writing in ELA is a DOE After School Professional Development Program. To begin the registration process, fill out our online form. Registration must also be completed through the ASPDP's course catalog. Please submit payment for our Education Partner fee below to confirm your spot.
Other Professional Development Opportunities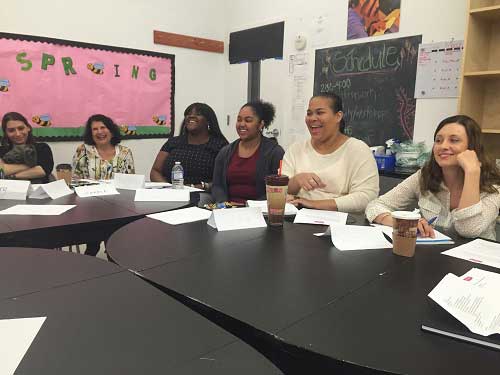 Thanks to the Pinkerton Foundation, Writopia launched the Writopia Training Institute in 2016. We have since partnered with many public and private schools and community-based organizations in New York City and Washington D.C. to share our most effective methods with hundreds of classroom teachers and after school education directors. Our mission is to give classroom teachers and after-school educators instructional tools to help their students fall in love, or deepen their love, of writing and improve their literacy and literary skills along the way.
We train classroom teachers and nonprofit leaders from organizations that serve low-income youths and graduate-level volunteers from NYC's graduate schools.
We offer in-person sessions with administrators, teachers, and community based organizations in the tri-state area. These sessions can happen on-site at the school or organization, as well as at Writopia Lab's National Headquarters in Manhattan.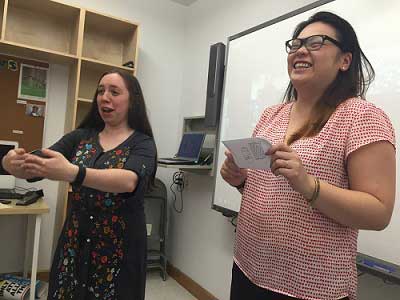 We have provided professional development to teachers from Stuyvesant High School, La Scuola d'Italia, Association to Benefit Children, Goddard Riverside, University Settlement House, and many other schools and organizations through the NYC Department of Youth and Community Development. For schools and organizations further afield, we offer online sessions for local, national, and international schools. Our fees vary depending upon the location of the school.
Schools and nonprofits can request tailored enrichment training sessions for their staff. To inquire further and bring the training program to your school, please contact ProfessionalDevelopment@writopialab.org.