The Writopia Lab Training Institute
"I absolutely recommend this class. Discussions and readings changed my thinking about how to teach writing... The classes were fun especially the writing games and exercises. I felt like a kid again."
-NYC DOE educator's evaluation of Writopia Lab's Training Institute
---
Professional Development Opportunities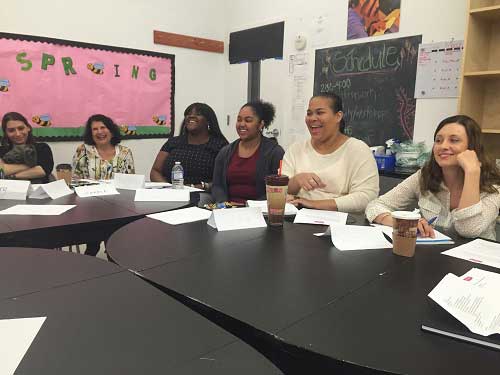 Thanks to the Pinkerton Foundation, Writopia launched the Writopia Training Institute in 2016. We have since partnered with the NYC DOE Chancellor's Office as well as many public and private schools and community-based organizations in New York City and Washington D.C. to share our most effective methods with hundreds of classroom teachers and after school education directors. Our mission is to give classroom teachers and after-school educators instructional tools to help their students fall in love, or deepen their love, of writing and improve their literacy and literary skills along the way.
We train classroom teachers and nonprofit leaders from organizations that serve low-income youths and graduate-level volunteers from NYC's graduate schools.
We offer in-person sessions with administrators, teachers, and community based organizations in the tri-state area. These sessions can happen on-site at the school or organization, as well as at Writopia Lab's National Headquarters in Manhattan.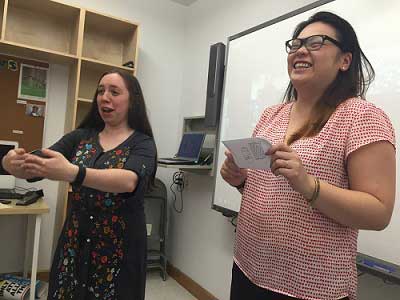 We have provided professional development to teachers from Stuyvesant High School, La Scuola d'Italia, Association to Benefit Children, Goddard Riverside, University Settlement House, and many other schools and organizations through the NYC Department of Youth and Community Development. For schools and organizations further afield, we offer online sessions for local, national, and international schools. Our fees vary depending upon the location of the school.
Schools and nonprofits can request tailored enrichment training sessions for their staff. To inquire further and bring the training program to your school, please contact ProfessionalDevelopment@writopialab.org.
"The writing sessions you provided for our scholars were a great success! The scholars who participated have solid personal statements for the high school process next year. The best part of your program was the entry points—even the scholars who typically struggle the most were able to be successful. I also really enjoyed the professional development aspect of the pilot, specifically being in the scholars' shoes and writing the same kind of essay they would be asked to write. This was one of the most enjoyable PD sessions I have ever experienced. Afterward, I was able to share the personal writing from the PD session with my students, and it helped them feel comfortable being vulnerable after hearing me read what I had written. We hope we can have you back next year, not only for the personal statement but for other types of writing, as well! Thank you for everything!"
-- Ms Gennaro, Mott Hall II