The Writopia Lab Training Institute
I absolutely recommend this class. Discussions and readings changed my thinking about how to teach writing... The classes were fun especially the writing games and exercises. I felt like a kid again.

NYC DOE educator's evaluation of Writopia Lab's Training Institute
---
Bridging the Gap: Creative Writing, Essay Writing, and SEL.
Writopia, in conjunction with ASPDP, will be offering a spring class entitled Bridging the Gap: Essay Writing, Creative Writing, and Social Emotional Learning. The course will address both in-person and remote learning.
Who: This course is open to teachers whose students are in 5th to 8th grade
Dates: 3/16/2021, 3/23/2021, 4/6/2021, 4/13/2021, 4/20/2021, 4/27/2021, 5/4/2021, 5/11/2021
Time: Tuesdays from 4PM to 7PM
Where: Online, sessions will be held through Zoom

Click here to register.
This course is designed to provide participants with the best practices to integrate essay writing and creative writing into classroom curriculum. This focus will help their students discover essay writing as an exciting, engaging activity that requires creative thinking and clear, original expression. This course tackles how to build a student's self-confidence and voice throughout the entire ELA curriculum. The course covers topics that will help participants connect simultaneously to themselves as writers and to their students as fellow writers. It teaches writing games specific to both creative and essay writing and covers the ways these two forms of writing interconnect and complement one another.
Particular emphasis is placed on writing games designed specifically to bring joy and critical thinking into essay writing curriculum. Participants partake in these games themselves to learn first-hand the application of these games to student learning. Participants will have the opportunity to create a lesson plan that integrates the two genres of writing. The course will ultimately leave participants with insights and lesson plans that can be directly brought into their broader curriculum. Teaching methods include writing exercises, lectures, critical readings, classroom discussion, feedback, sharing, and writing assignments. All written work will be done on Google Docs. Participants will be provided with a laptop onsite upon request.
Other Professional Development Opportunities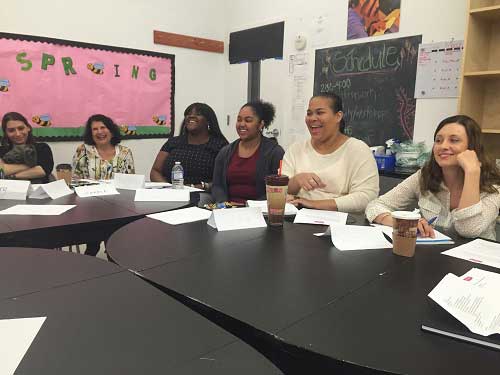 Thanks to the Pinkerton Foundation, Writopia launched the Writopia Training Institute in 2016. We have since partnered with many public and private schools and community-based organizations in New York City and Washington D.C. to share our most effective methods with hundreds of classroom teachers and after school education directors. Our mission is to give classroom teachers and after-school educators instructional tools to help their students fall in love, or deepen their love, of writing and improve their literacy and literary skills along the way.
We train classroom teachers and nonprofit leaders from organizations that serve low-income youths and graduate-level volunteers from NYC's graduate schools.
We offer in-person sessions with administrators, teachers, and community based organizations in the tri-state area. These sessions can happen on-site at the school or organization, as well as at Writopia Lab's National Headquarters in Manhattan.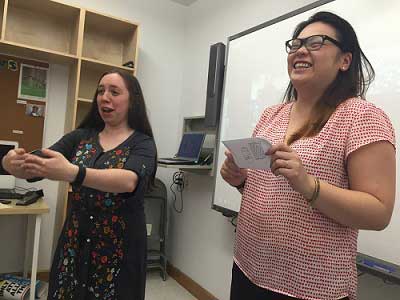 We have provided professional development to teachers from Stuyvesant High School, La Scuola d'Italia, Association to Benefit Children, Goddard Riverside, University Settlement House, and many other schools and organizations through the NYC Department of Youth and Community Development. For schools and organizations further afield, we offer online sessions for local, national, and international schools. Our fees vary depending upon the location of the school.
Schools and nonprofits can request tailored enrichment training sessions for their staff. To inquire further and bring the training program to your school, please contact ProfessionalDevelopment@writopialab.org.