Politics and Pens
Click here to see Politics and Pens and Writing Your Activism workshops on the schedule!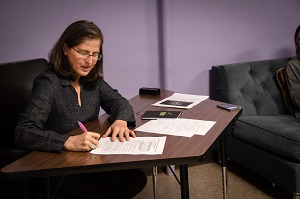 In the morning workshop, writers will play the role of a member of congress and write a piece of legislation, arguments, and speeches for a fictional scenario, mimicking the real process of government. In the afternoon, writers will have the opportunity to participate in a variety of multi-genre writing electives with a political spin, including graphic noveling, filmmaking, spoken word poetry, songwriting, literary sports, worldbuilding, improv, playwriting & performance, zinemaking, and speech writing. The week will culminate in a visit from a local elected official who will play the role of president in a mock session of Congress. Writers will then get to share their elective projects and discuss civic action outside of Writopia.
Writing Your Activism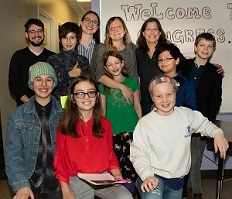 Writing Your Activism is a workshop designed for teen writers looking to transcend the page by using the power of their words to engage with their communities. With instructor support, writers will select a research topic with a civic engagement component to explore in the workshop. Each writer will develop at least one creative, journalistic, or political piece that addresses an issue of their choice and a call to action. Writers will explore issues ranging from the local landscape (e.g. housing, hunger, and school lunch issues) to the national and international political landscape (e.g. climate crisis, systemic injustice, immigration). Writers will learn the research process through reading, listening to, and watching a diverse array of podcasts, documentaries, and articles. Projects can include writing letters to the editor, protest signage with strategic copy, op-ed pieces, odes to inspiring activists, speeches, and more. The workshop will culminate in a submissions process and a visit by a local politician, journalist, or activist. Writing Your Activism is designed to promote deep learning and real-life change; come, join the discussion, and help build a better future!