Writopia Lab and Your School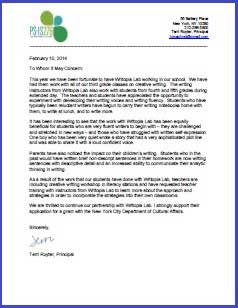 Click the image above to read a testimonial from the principal of NYC's PS 276
We serve students grades K-12. We run in-school and after school programs.
Please contact us so we may learn about your needs, answer all of your questions, and plan an in-school program at your school together!
Modules:
One-day sessions
Week-long sessions
Semester-long residencies
Year residencies
Multi-year residencies
and many more, please inquire
Sample programs:
Creative Writing
Playwriting
Memoir
Essay Writing
Social Justice Writing
Bereavement Writing
and many more, please inquire
Writopia Lab is currently running weekly or one-day in-school workshops across New York City, New York Metro North, and the greater DC Metro, Chicago, The SF Bay Area, and Los Angeles.