Writopia's Music Lab
Click here to see Music Foundry and Songwriting Studio workshops on the schedule!
Writopia's Music Lab is for musicians of all backgrounds and all skill levels—from beginner to advanced—who want to develop and sustain their lifelong passion in music.
Our programs include: 1) The Music Foundry band program, where teens with intermediate or advanced experience on any instrument come together to discover their own style and sound, and to create, record, and perform new, vital, original music; and 2) Exploratory Music Collective workshops, for beginning musicians to explore instruments, production tools, and music fundamentals; and 3) Songwriting Studio workshops, a place for singer-songwriters to write and share songs with each other, get feedback, and ultimately build community.
Compared to many music schools, Writopia's Music Lab is first and foremost a place for exploring your own sound, creative voice, and passion in music. Our pedagogy is rooted in the belief that finding one's place and sound in the world of music lays the foundation for lifelong musicianship. Mimicking and covering the greats or memorizing a songbook of standards are a rite of passage, but not the final destination. Best of all, engaging the creative process in this way deepens our understanding of ourselves and our peer community.

Workshops and band programs at Writopia's Music Lab are accessible to all income levels through our sliding scale fees or through further financial aid.
Schedule for Writopia's Music Lab programs.
Music Foundry
Music Foundry is a school-year-long band program for intermediate and advanced teen musicians who want a relaxed, non-judgemental place to collaborate, take creative risks, and explore their own sound and lyrics. Over the course of the school year, each band will write at least three original songs, record and edit them in Logic to produce a demo EP, and perform them live.
Whether a teen has taken a couple years of rock instrument lessons or is deep into formal training in jazz or classical instruments, Music Foundry is designed to sustain their passion for music by augmenting their ongoing instrument lessons with the tools to embrace new sounds and develop an original musical voice. Intermediate musicians should come with 1 to 3 years experience on any single instrument, while advanced musicians will have 3 or more years experience on any single instrument. Multi-instrumentalists are welcome, of course!
Beginning musicians are encouraged to start with our Exploratory Music Collective workshops before taking the next step with Music Foundry. Music Foundry is 33 two-hour band sessions that meet once-weekly at Writopia's Upper West Side location. Each band-sized group of teen musicians is matched by age (13+) and experience. In the fall, bands focus on techniques for jamming together, and on developing new music and lyrics. In the winter, the focus includes rehearsing, preparing arrangements, and recording, including a field trip to a recording studio. In the spring, each band will explore stagecraft and promotion, culminating in a live set of their original work.
Payment for the school-year-long Music Foundry program can be made one of two ways:

Pay at the beginning of the school year (with a discount)

For families who choose to pay in one sum for the whole school year, the fee is $2,145, and can be paid before we start in September.

Pay at the beginning of every trimester

For families who need to make payment once per trimester, or wish to use our sliding scale, please reach out to register@writopialab.org. Everyone is able to participate in Writopia Lab programs, despite economic constraints
Late-joining musicians may be allowed up through December (and accordingly pro-rated) only if a placement for them can be found, and with the understanding that they will have missed some of their bands' writing time.
Songwriting Studio
For singer-songwriters looking for a community, Songwriting Studio workshops offer a focus on poetic techniques, album arrangement, and introductory music theory. In Songwriting Studio, songwriters have dedicated time each week for writing and workshopping new pieces with fellow musicians. Through each trimester's eleven 90-minute sessions, songwriters learn ways to grow as lyricists and musicians, and bring their art to the world through basic home-recording techniques.
Exploratory Music Collective
Through Exploratory Music Collective workshops, beginning musicians will learn the basics of how to write a song, from lyrics to musical accompaniment. Guided by their instructor, they will each create lyrics, melody, and chords for their songs. Each group will explore their new creations with a variety of instruments. Don't know if you are a drummer, guitarist, bassist, or pianist? This program allows writers to try those instruments, digital sounds, and more! Once ready, musicians in EMC workshops will also begin their introduction to collaborative playing. Following eleven 90-minute sessions, musicians in Exploratory Music Collective will each be encouraged to share their work, either through an open mic performance opportunity, or by trying their hand at the basics of recording with Garageband.
---
Malcolm Knowles
Program Manager, The Writopia Music Lab
Creative Writing and Songwriting Instructor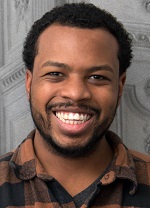 Malcolm Knowles has been part of the Writopia Lab team since 2018. He is a writer and multi-instrumentalist originally from Houston, Texas, where he learned to record and release music during his teenage years. He later attended Sarah Lawrence College with a focus in Jazz Guitar, Composition, and Radio. During the summer, Malcolm teaches Creative Writing and Songwriting at both the Writopia Full Day camp and WriCampia, and is the Division Head of Upper Boys at WriCampia. After two years of developing the Writopia Songwriting Studio and its camp electives, Malcolm co-designed, launched, and began overseeing the Writopia Music Foundry in 2021. Both programs are offered as part of Writopia's Music Lab. During the school year, Malcolm helps young and teen writers navigate the process of Essay Writing, Creative Writing, and Songwriting. When not teaching, you can often find Malcolm next to the closest musical instrument.
Weekly Workshops generally meet for 1.5 hours after school, one day a week. If there are no listings on the schedule below, contact register@writopialab.org to inquire about when this program will be offered again, or set up a private session by filling out this form.
Half-Day workshops generally meet for 3 hours, and run on school holidays and throughout the summer. If there are no listings on the schedule below, contact register@writopialab.org to inquire about when this program will be offered again, or set up a private session by filling out this form.