Writopia Alumni Association
Welcome to the Writopia Alumni Association! Our mission is to
1) serve as a community for alumni to engage with each other
2) organize opportunities to support Writopia's mission by raising funds for, and mentoring, underserved young writers
We look forward to the years ahead when our Writopia Alumni Association grows to be thousands deep and will be dispersed across the nation. Perhaps across the globe!
---
Alumni Workshops
Periodically we offer Alumni Workshops. Please inquire by contacting Alumni@writopialab.org.
---
Past Events
October 2020
Writopia Lab alums, Jonathan Bar-On and Benjamin Oestericher, have launched Writopia Lab's very own voting rights institute, Write to Vote (WTV).
Writopia Lab's mission is to foster joy, literacy, and critical thinking in all young people, and one way we do this is through our debate and newspaper programs. Our debate alum created this new initiative, Write to Vote, in order to promote voter education through writing and discourse. The ACLU initiative that Write to Vote is participating in entails sharing and discussing platform information with potential voters in a nonpartisan way, without promoting specific candidates; The One Arizona initiative that they are participating in entails volunteers writing summaries of each and every one of the candidates' positions as a resource for voters. All ages are welcome to participate.
Writopia Lab is a nonpartisan organization that does not support or endorse candidates.
September 2020
Virtual Phone Bank Collab between ACLU and Vote Tripling
All ages welcome to participate
WTV is mobilizing a college-age and early professional volunteer corps dedicated to protecting the voting rights of all Americans. We are super excited to be partnering with several grassroots organizations such as the ACLU and OneArizona to help educate and register voters.
This will be a new phone bank to talk with voters who've already told us they will vote in 2020. We will train you to ask supporters to turn out 3 friends/colleagues/family members to this year's election.
---
2019 Fundraiser
For our first efforts as a Forever Writopians Alumni Collective, a group of us -- Katie Hartman, Charlotte Raunser, Ian Sherman, Rachel Calnek-Sugin -- organized a series of events to raise money for the Dan Kitrosser Playwriting Scholarship.
We thank all those who participated in these events and contributed towards our fundraising efforts. We were able to raise a seed fund of $1,500 towards the Dan Kitrosser Playwriting Scholarship that will benefit low income playwriting students looking to participate in Writopia's workshops and in Writopia's Worldwide Plays Festival.
It is only the beginning. Come join us! Reach out to us at Alumni@writopialab.org.
Here are some of our first active alumni!
Eunju Namkung

Eunju recently founded a communications and marketing firm, Description Pills, that primarily serves public policy-oriented organizations including associations, educational institutions, and nonprofits. She began initiating the Writopia Alumni Association and is thrilled to be helping it become a sustainable, impactful wing of the Writopia community. Eunju is also received a Masters in Urban and Regional Planning and a Masters in Public Administration from the Virginia Tech School of Public and International Affairs in May 2020. She graduated from Yale University with a Bachelors in Film and Media Studies in 2013. Upon graduation, she returned to Writopia Lab where she founded the Filmmaking Program.
Emma Goldberg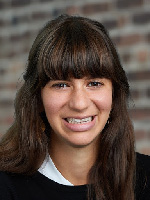 Emma is a researcher at the New York Times, and she is excited to be hosting summer Writopia writers on field trips to the paper! Emma joined Writopia in the first-ever workshop in 2007, and it changed her life. Writopia was the most important community that she got to be a part of growing up, and being a Writopian made her want to be a lifelong writer and full-time journalist. She is infinitely grateful to Writopia, Rebecca, and everyone who has enabled this transformative organization to touch so many lives.
Ian Sherman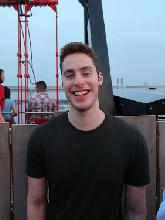 Ian graduated from Brown University and works in digital marketing. He joined Writopia in high school when he moved to New York City, and it has been one of the most transformative decisions of his life. He not only cultivated long lasting friendships, but also carried the skills of storytelling, emotional expression, and understanding people with him in all aspects of his life from how he interacts with friends and family to how he puts together decks and proposals at work.
Rachel Calnek-Sugin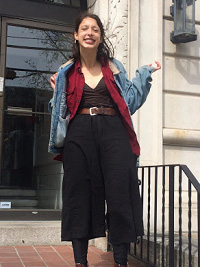 Rachel graduated from Yale University in May 2019, with a double major in English (with a creative writing concentration in playwriting) and Women's, Gender, and Sexuality Studies. She is working in the summer literacy learning program at New Haven's refugee resettlement organization, teaching poetry and theater to recently resettled children in grades K-12. Rachel first attended Writopia workshops in 2008, when she was twelve years old, and her workshop consisted of just two students in Rebecca Wallace-Segall's living room. She continued to take weekly workshops with Rebecca and Dan Kitrosser until she graduated high school; Writopia gave her a writing community within which she found comfort, challenge, growth, and expansiveness in so many parts of her life. Rachel also worked as a teaching intern at Writopia's main location and in the Homes for the Homeless program at the Saratoga Family Inn, and she has worked at WriCampia for three summers. Her experiences at Writopia have shaped how she thinks about the world, her search for community, and her desire to be a writer, in so many ways.
Katie Hartman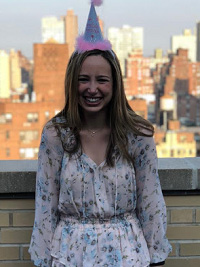 Katie Hartman joined Writopia in middle school, when the classes were taught in Rebecca's apartment! She continued to attend after-school workshops throughout high school (shout out to Courtney's Tuesday group!). Katie is now a special education teacher and recently graduated with a Masters in elementary and special education. She will be returning to NYC this summer after six years in Philly and is looking forward to getting back in touch with Writopia friends.
Charlotte Rauner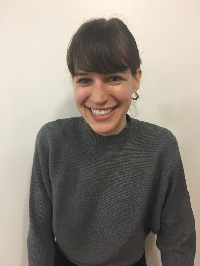 Charlotte just completed a bachelor's degree in Economics and Social History from Barnard College of Columbia University. She will be working for a management consulting firm.
Charlotte's sister and Emma Goldberg were friends throughout high school and Emma's love for Writopia brought it to her family's attention. In February of 2012, during her freshman year of high school, she attended a President's Week workshop led by Danielle. Her sister urged her to write a play, and because of that her romance with Writopia started. From 2012 until Charlotte graduated high school in 2015, she was a member of Dan's Tuesday night workshop, an intern on Sunday mornings for 1st and 2nd grades, and a participant of the Worldwide Plays Festival. These three and a half years refined not just who she is as a poet and playwright but who she is as a thinker, question asker, and creative person in the world. She is indebted to Writopia in more ways than one and the growth of an alumni network is just part of something she can do to say to thank you.
Our Donors
We are so grateful to the donors who have made our outreach programs possible. Writopia Lab relies on their--and your--contributions to ensure that young writers most in need receive the support they deserve.