Support Writopia Lab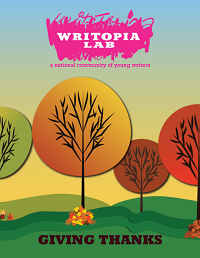 A Letter From Our Founder
As the holiday season approaches, I want to thank you once again for your most generous contribution to Writopia Lab and to share with you some updates about the children and teens whose lives you've impacted. Your support makes it possible for us to bring our literacy programs to children throughout the nation who are in need of support, enrichment, and empowerment.
Writopia Lab is an inclusive environment where kids from all backgrounds come together in intentionally diverse groups to share uncensored, original writing with each other. For most of our inner-city youth, WriCampia, our two-week writing retreat, is the only camp they have ever attended.
While we find tremendous value in these open, complex spaces, we introduced two popular new electives this summer: "Voice, Culture, and Race" and "Plus," an LGBTQ+ group. Writers referred to these spaces with a sense of reverence, sometimes likening them to home and church. It was deeply moving to witness the transformative power that these additional safe spaces had on our writers as they reunited with the broader camp with voices more defined and confident. As these teen writers shared their work in their workshops, bunks, and camp-wide events, the whole camp benefitted from their newfound articulation of their experience and insight.
The best part: today, most of these young people are continuing their work at Writopia, either in our Write to Recognition program or at Homes for the Homeless, funded by you and the entire 2017 benefit.
Thank you for your continued support.
Rebecca Wallace-Segall
Our Donors
We are so grateful to the donors who have made our outreach programs possible. Writopia Lab relies on their--and your--contributions to ensure that young writers most in need receive the support they deserve.