Our Impact
Why imagine, think, create, and write?
Children and teens come to us yearning for a creative outlet — often an escape from test-prep dominated curricula. Writing is not only a powerful way to spark engagement, though. It is also a skill that yields long term success. Studies show, over and over, that being a strong writer is advantageous whether you are a lawyer, a salesperson, or a carpenter.
Our workshops create an inclusive environment, mixing the region's most gifted writers with young people who are beginning to discover their own voices; our workshopping method, our competitive hiring process, and our thorough training enable us to help all of these young people to write the best work they are capable of producing. From our instructors' perspectives, Writopia Lab is an exciting place to work because we have the pleasure of witnessing this reinvigoration every day. And this invigoration leads to fabulous accomplishments for thousands of our youths, to lives changed forever.
2023 Impact Spotlight
2022 Impact Spotlight
2021 Summer Impact Report
2020 Impact Report
2019 Spring Impact Report
Children and teens look forward to walking into our after-school programs, and they cheer as our instructors enter classrooms in their schools. It's not just because we make writing fun and help our students feel deeply connected to their own work. It's also because when schools join forces with strong education partners — partners that bring passionate writers and high-level professional development programs into their schools — students have a better chance at happiness and success.
At Writopia Lab, we measured both our social-emotional learning impact and our literacy impact this past school year, and we are thrilled to share these results in both quantitative and qualitative terms.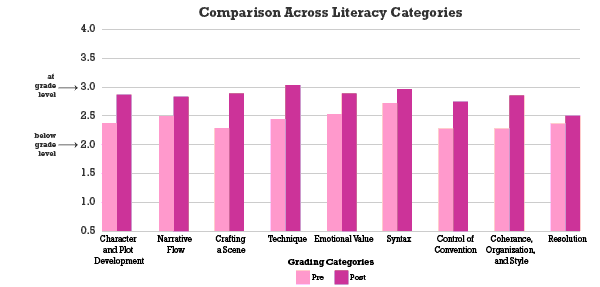 Social-Emotional Learning
In partnership with Youth INC, Writopia joined the Hello Insight platform this past school year to measure the social-emotional impact our student-centered approach has on the writers we served at PS 89, a Title 1 school in The Bronx. The results: student skills showed remarkable across-the-board gains — and this was particularly true for populations with the highest needs. Our writers improved 61% to 71% in areas of Positive Identity, Self Management, Academic Self-Efficacy, Social Skills, and Social Capital.
Literacy Impact
This joy lends itself to skills-based literacy improvement. Last fall, the Columbia University School of Social Work (working with middle school teachers from the Computer School) reported that Writopia Lab's creative writing workshops had strong literacy impact on students at the Sojourner Truth School, a Title 1 school in Harlem, where students improved substantially in every single Common Core category, from "Control of Conventions," to "Syntax," to "Coherence" after 30 hours of Writopia Lab intervention.
What This Impact Looks Like in Real Life
This work regularly leads to moments like the following: An employee from Queens Family Court reached out to Writopia Lab, New York this spring to share that Sean, an adjudicated teen who lives in a residential treatment facility in New York City, "brought up a play he just wrote at Writopia Lab when the judge asked what progress he had made. The judge, who is usually strict, broke character and was super happy for him." His play explored family and addiction and won a production in a festival that Writopia runs. "I feel like I can do anything now," he said.
In the land of free speech, young Americans of all backgrounds need the tools to actualize their freedoms.
Help us ensure another 15 years of young people finding their voices, turning pain to power, transforming their ideas into accomplishments, and achieving their award-winning potential regardless of their economic status.

86% of parents choose Writopia Lab as a creative outlet for their children, and 75% choose Writopia Lab as a support system to focus and deepen their work
77% of the parents of reluctant writers believe that their child's academic success has been positively impacted by their experiences at Writopia Lab
The vast majority of Writopia parents report that their children enjoy:

The freedom to write in whichever genre interests them (85%)
The opportunity to receive feedback from their instructor (83%)
Data from the 2011 National Center for Educational Statistics and the National Center for Educational Progress found that only one in four students in the U.S. is able to write competently.
Somehow, in the land of free speech, three quarters of our population lack the skill to exercise that basic, human, American right.

Rebecca Wallace-Segall, Founder and Executive Director, Writopia Lab
Our Mission
Writopia Lab fosters joy, literacy, and critical thinking in children and teens from all backgrounds through creative writing.
We have never turned away a student whose family was unable to pay for workshops. Fifty percent of our students attend on either partial or full scholarships.
Impact Spotlight 2019
Check out the latest 2019 Impact Details!
Read the WriCampia Impact Spotlight Report!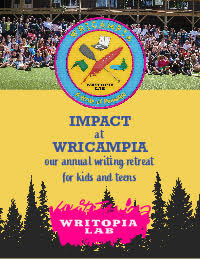 Our Donors
We are so grateful to the donors who have made our outreach programs possible. Writopia Lab relies on their--and your--contributions to ensure that young writers most in need receive the support they deserve.
Join the Team!
If you love writing and want to share that love with young writers, apply today to join Writopia Lab! Click here to learn more!