Songwriting Program Developer
Assistant Office Manager
Instructor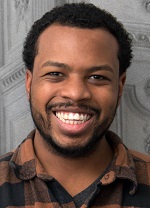 Malcolm Knowles is ecstatic to be a part of the Writopia team. He is a writer and multi-instrumentalist originally from Houston, Texas, where he learned to record and release music during his teenage years. He later attended Sarah Lawrence College with a focus in jazz guitar, composition, and radio. During the summer, he leads the songwriting elective at both the Writopia day camp and WriCampia and is currently developing the Songwriting Studio Program for the Fall, Winter, and Spring trimesters. When not teaching, you can often find him next to the closest musical instrument.