Kellie Watkins
Instructor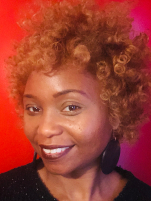 Kellie Watkins is a writer and co-owner of Jahphut, a small publishing company. She is the author of If These Shoes Could Talk: The Awakening and Savvy Diva's Take On…44 Days of Random Thoughts & Observations, under her pen name, Jahzara the Savvy Diva.
Kellie possesses her MFA in Creative Writing from Full Sail University and a BA in Journalism/Mass Media and Communications from the University of the District of Columbia. If Kellie isn't sleeping or devouring her favorite cupcakes, she's writing and pitching screenplay ideas, sharing random thoughts and observations through her blog and social media platforms, teaching creative writing workshops, or empowering the youth through community engagement. Kellie is also a ghost writer and provides book consulting services to aspiring writers who are stalled in their journeys. In between inhaling and exhaling, she pauses to appreciate her family of humans, lions, and wolves.
Join the Team!
If you love writing and want to share that love with young writers, apply today to join Writopia Lab! Click here to learn more!