Director of Camps and Curriculum
Instructor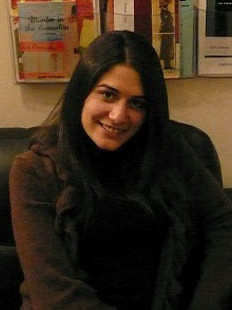 Danielle has been part of the Writopia team since 2011. She currently codirects Writopia's NYC full-day camps and WriCampia, Writopia's Sleepaway Camp, and develops in-school and essay writing curricula. Danielle teaches writing workshops at Writopia, in schools, and in Residential Treatment Facilities for incarcerated youth. She provides literacy support and creative writing workshops for at-risk teens who are transitioning these facilities into adulthood as part of Writopia's Write to Independence Program. She launched the Essay Writing program at Writopia in 2013. In 2015 and 2016, she was recognized by the Scholastic Awards "as an outstanding educator whose dedication, commitment, and guidance are represented by student work selected for national honors." Prior to Writopia, Danielle tutored for the SAT, ACT, and SAT Subject Tests both privately and with a Long-Island based company called Dynamic Tutoring.
She has studied writing at Stanford University and New York University, and received her Masters in Humanities and Social Thought from the Draper Program at NYU in January 2010. She has co-written (with Yael Schick) a new musical How to Click, which was showcased at Shetler Studios and the Sorter Lee Theater. Her one-act play, Under Somebody's Nose, was produced at Roy Arias theater in November of 2012. She produced and performed the one-acts Graduands to Graduates; The Megalomaniac and Valedictorian Commence; and Scene From a Dartboard at the Manhattan Repertory theatre in March through June 2010, and the one-act Look at Me When I Am Talking to You at the Wings Theatre in New York in May 2008. She has had the opportunity to teach English and creative writing in a classroom setting to children in Pram-pram, Ghana; Quito, Ecuador; Chinatown, New York; East Palo Alto, California; and New Orleans, Louisiana.